Green Bay Packers: History of First Round Picks from USC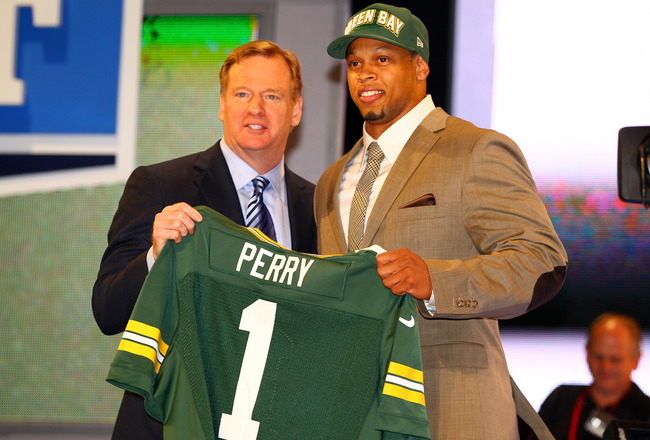 Al Bello/Getty Images
On April 26, OLB Nick Perry became the fifth USC Trojan to be selected by the Green Bay Packers in Round 1 of the NFL draft. The others are HB Al Carmichael (1953), OT Ken Ruettgers (1985), OT John Michels (1996) and OLB Clay Matthews (2009).
For the most part, except in the case of Michels, all of these selections turned out to be very good for the Packers.
Three of these players, Ruettgers, Michels and Matthews all were on Super Bowl winning teams as well. Perry certainly hopes to carry on that tradition. If he plays the way many of us expect him to, that may indeed become a reality.
Here is the history of first-round picks from USC who played for the Packers.
HB Al Carmichael (1953)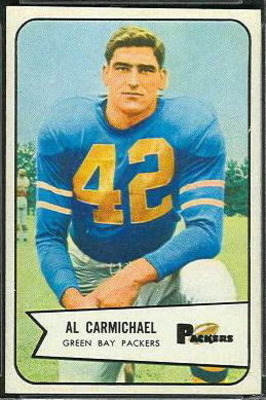 Al Carmichael was drafted in 1953 and played with the Packers through 1958. Carmichael was a decent running back who also caught the ball pretty well. In his career in Green Bay, Carmichael rushed for 712 yards and two TDs, plus caught 75 passes for 994 yards and three more TDs.
However Carmichael really shined in his returning abilities. Over his career, Carmichael had 3,907 yards in kickoff returns, plus had two TDs. Carmichael also had 753 punt return yards.
A couple of side notes. Carmichael scored the only TD in the 1953 Rose Bowl, when USC defeated Wisconsin. Carmichael also scored the first TD in AFL history when he caught a 59-yard pass from Frank Tripucka when he was with the Denver Broncos.
OT Ken Ruettgers (1985)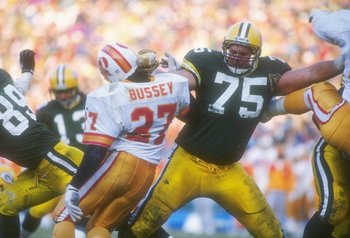 Todd Rosenberg/Getty Images
Ken Ruettgers was drafted in 1985 and played with the Packers through 1996. Ruettgers was a very solid LT for the Packers over that time. He became a full time starter in 1986 and had the longest tenured stint (10 years) starting on the offensive line since C Larry McCarren started for 11 straight years.
Ruettgers is considered one of the three best starting left tackles in Green Bay history, along with Bob Skoronski and Chad Clifton. Ruettgers was never named All-Pro and didn't make any Pro Bowl teams, but he played at an All-Pro level.
Overall, Ruettgers started 140 games at LT for the Packers.
He started the 1996 season on the PUP list (physically unable to perform). Ruettgers was finally activated and started one game that season. Bottom line, numerous injuries had taken a toll on Ruettgers, and he had to retire after playing in only four games that Super Bowl-winning season.
OT John Michels (1996)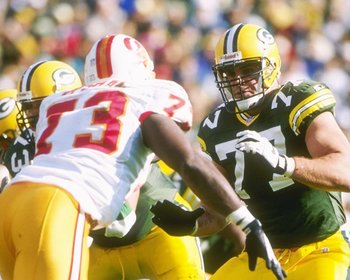 Jonathan Daniel/Getty Images
John Michels was drafted in 1996 and was with the Packers through 1998. Michels was forced into starting at LT in 1996 because of injuries to Ken Ruettgers, who started the 1996 on the PUP list.
Michels started nine games in 1996, but his inconsistent play led to a place on the bench as he was replaced by veteran Bruce Wilkerson. Michels was used primarily on special teams after he was replaced in the starting lineup.
Michels started five games in 1997 at LT, but gave way to rookie Ross Verba after a knee injury.
He spent the 1998 season on injured reserve due to a knee injury.
He was traded to the Philadelphia Eagles in 1999.
OLB Clay Matthews (2009)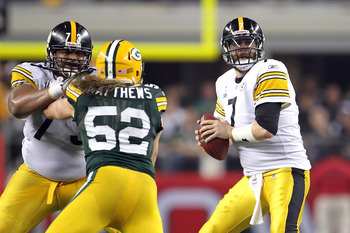 Jamie Squire/Getty Images
Clay Matthews was the second 1st round draft choice (26th pick) of the Packers in 2009, after B.J. Raji was selected with the 9th pick. Matthews has had a prolific career with the Packers already.
The three year veteran has 161 tackles, 29.5 sacks, four interceptions, six forced fumbles and has three defensive TDs in his career.
Matthews has been selected to three Pro Bowls, has been named All-Pro once (2010) and was also The Sporting News defensive Player of the Year in 2010.
Matthews also made the key defensive play in Super Bowl XLV. The Packers were leading the Pittsburgh Steelers 21-17 as the fourth quarter was just getting started. However, the Steelers were driving and were in Green Bay territory going for the go-ahead score.
It was then when Matthews, along with help from DE Ryan Pickett, made a huge play. Both Pickett and Matthews simultaneously hit RB Rashard Mendenhall as he was running with the ball and the force of their impact caused a fumble. LB Desmond Bishop of the Packers recovered and the Packers went on to score another TD in the ensuing drive.
Bottom line, the Packers held on to win to win Super Bowl XLV 31-25, and there were many big plays, but none was bigger than the fumble that was caused by Matthews and Pickett.
OLB Nick Perry (2012)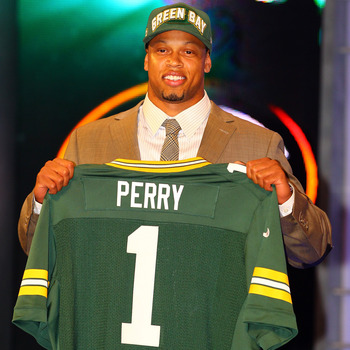 Al Bello/Getty Images
Nick Perry was chosen by the Packers with the No. 28 pick of the first round in the 2012 NFL draft. Perry will be given every opportunity to man the ROLB position opposite Clay Matthews, who is at LOLB.
The Packers hope that Perry's body of work at USC will continue in Green Bay.
Perry declared for the draft in December after a nice junior season at USC. Perry had 9.5 sacks for the season and was a 2011 All-Pac-12 Conference first team member at DE. Perry also had 54 total tackles, which included 13 tackles for losses, and three forced fumbles his junior year.
Overall in his career at USC, Perry had 21.5 sacks, 29.5 tackles for loss and five forced fumbles.
Perry also looked great at the NFL Scouting Combine as he looked very quick and strong in his workouts.
Keep Reading

Green Bay Packers: Like this team?