NFL Draft 2012: What to Expect from Zach Brown's Rookie Year
May 3, 2012

Streeter Lecka/Getty Images
After months of media hype, the draft is over and fans finally have new members of their team to welcome to town. Expectations for draft picks are high, but are they too high?
Over the course of the next few weeks, "What to Expect" will examine every draft pick from the AFC South in its historical context. Using past performances from similarly drafted players and by examining the way in which each team develops certain positions, I will create a realistic baseline by which to judge the performance of each pick.
Readers should be aware that rookies historically perform much, much worse than fans' expectations. Also keep in mind that I am not saying the player will perform to these expectations, but rather anything better than the results should be considered a successful rookie year, and anything worse would be a disappointment.
These are not predictions. They are baselines.
The Titans followed up their first-round selection of Kendall Wright with the controversial choice of Zach Brown with the 52nd pick. Brown is a talented and athletic linebacker, but many have questioned his discipline and ability to play in a scheme.
What can Titans fans hope to get out of Brown in his rookie year?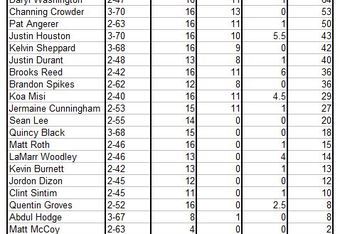 From 2005 to 2011, there were 28 linebackers taken between picks 40 and 70 of the draft. Here's what we can learn about them:
Thirteen of them started at least half the games their rookie year. Fourteen of them didn't start any games. Six of them played in fewer than half their teams' games.
Six of them had at least four sacks. Thirteen of them had no sacks.
Nine of them had at least 40 tackles. Fourteen of them had fewer than 20.
Some may say that linebackers in this zone often take time to develop. What of the players who did little in their first year? Did they ever go on to have successful careers?
By and large, no.
Of the players who didn't start half their games in their rookie years, only a couple went on to any real success. LaMarr Woodley had a good rookie year, though he didn't start. He did ring up four sacks, so it was clear he was a player. Kevin Burnett would change teams several times before going on to success with the Chargers.
Overall, the best names on this list are Lofa Tatupu, Channing Crowder, Pat Angerer and LaMarr Woodley. The ceiling for Brown is probably a productive starting linebacker, with the occasional Pro Bowl-caliber season. Anything "Woodley-like" is probably not in the cards because of the difference in the defense he plays in.
Summary
The chances for Brown to be an outright bust are about even with the chances of him being a very good pick.
A good baseline for 2012 would be 10 starts, 30 tackles and a sack. If he beats that baseline, he's likely on his way to a very solid career. If he finishes under it, the odds are long that he'll be productive. Because he's such a raw athlete, it's possible his career path could be a little slower than normal, however.
Watch Brown's progress closely. It doesn't matter where he is Week 1, but if he can't regularly find playing time by the end of the year, the Titans may have made a serious mistake in the second round.