Cleveland Browns NFL Draft 2012: Multiple Mistakes Were Made, Future Looks Bleak
May 1, 2012

Al Bello/Getty Images
Back in March, I wrote how Cleveland needed to do anything in its power to acquire the No. 2 pick from the Rams in order to select QB Robert Griffin III. Instead, they gave away three picks to the Vikings, drafted an already aging QB and took a stud running back.
Let's start with their top pick. How Cleveland general manager Tom Heckert was fooled into believing that the Vikings had any other serious offers for their No. 3 overall pick is one thing. To give away three picks to obtain said pick is downright silly. 
One thing Cleveland fans told me in droves back in March was that Heckert values his draft picks above anything else, and that was one reason he wouldn't trade up for RGIII.
I suppose it's reasonable to think Tampa Bay wanted to trade with Minnesota as they could have used Trent Richardson, but giving up three draft picks just to move ahead one slot is not smart, especially for a team now in full rebuilding mode. 
Heckert gets his man in running back Richardson. Giving away picks in the fourth, fifth and seventh rounds, Heckert was not about to let another elite-level talent elude his franchise as he did with RGIII. Whether there was a legitimate threat of another team making a trade with the Vikings, Heckert felt he could not afford to miss out on drafting Richardson.
Richardson should be a solid back in the NFL, but he is by no means a sure thing. We have seen several big-time running backs fizzle out quickly. For Heckert's sake, let's hope Richardson is a big hit.
Even if he is, the Browns had Peyton Hillis when he was a dominant running back, and it still didn't translate to winning in the playoffs. How much help Richardson can help is yet to be seen.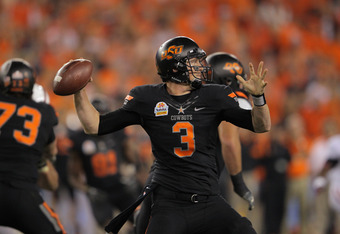 Doug Pensinger/Getty Images
Cleveland then selected a QB with the No.22 overall pick, making Oklahoma State's Brandon Weeden the newest Brown. This pick was a bad one.
Not only could they have traded down for more picks and still gotten Weeden, but the veteran college QB is a 28-year-old who already tried his hand at baseball. Drew Henson anyone? 
Either way, this pick indicates the end of Colt McCoy's reign as starting QB in Cleveland. Many fans told me that McCoy is a solid QB, and just needs to have some help. Well, apparently the Browns organization didn't feel the same way. McCoy should end up where he belongs, as a backup QB somewhere closer to Texas.
Forget that Weeden is older. Forget that he has only come on as a top prospect in recent months. Forget the majority of his stats came from star wide receiver Justin Blackmon. Forget that every single highlight of him had No. 81 on the receiving end of his passes. 
Now remember that Cleveland has no offensive line, no receivers and no conceivable way of giving Weeden enough time to find any receivers who might navigate their way into some open field. There is no reason to think Weeden will be any more successful than McCoy was with this team.
They did select an offensive tackle from Cal in Mitchell Schwartz, which was a solid decision. Schwartz should be a starter for a while, barring injury. 
The Browns did not do much through the rest of the draft. They tried to get some defensive help, adding defensive tackle John Hughes from Cincinnati and James-Michael Johnson, a linebacker from Nevada. 
As is the case with most bad teams in the NFL, the Browns drafted poorly overall. Richardson is the lone bright spot, but trading up to get him taints the selection a bit. Weeden is a third-round talent at best, and was taken purely as a lottery ticket. Since today's NFL demands you have a franchise QB, we will see more and more teams reaching at the QB position.
Overall, the Browns should be about the same next season and for the foreseeable future. A non-factor who still needs help at way too many positions to be relevant.