All Too Easy: Reviewing the Green Bay Packers' 2012 NFL Draft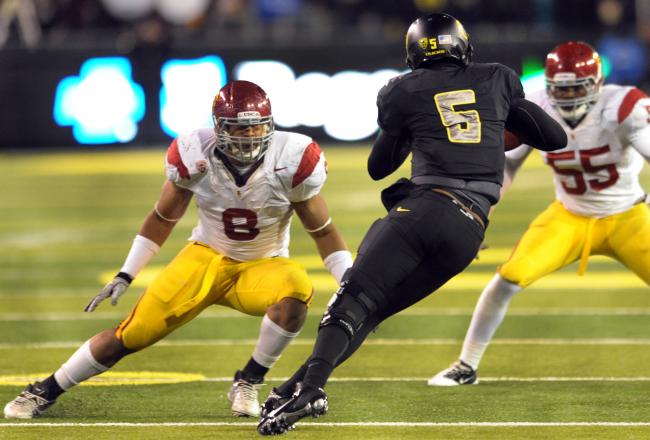 Steve Dykes/Getty Images
This week we're taking both a look back at the 2012 NFL draft AND a look forward for each team in the NFC North. Today is Packer Day—although Green Bay fans insist that EVERY DAY is Packer Day.
What can you say? These guys wear cheese on their head.
*puts on his airplane-shaped Jets hat*
The Packers' draft really played out just about how they wanted it. The headline says it well: all too easy. This is not to imply that Ted Thompson is Darth Vader (especially since after that line he still missed capturing Luke, lost another Death Star and died).
It's just that when it comes to the NFL draft, Thompson rarely makes a wrong move.
We knew going in how this would likely go, and for the most part, it did, though there was more trading than normal.
I believe that this section of the article that I wrote pre-draft proved true pretty quickly.
Jonathan Daniel/Getty Images

The Packers, as mentioned in the Thompson piece above, don't draft purely for need, nor do they rank their players that way. They rank their players individually not positionally.

In other words, the Packers will rank a linebacker against only himself—not all linebackers. He will get an individual grade based on multiple criteria and then ranked accordingly.
This was true for their first pick, Nick Perry, who they took with Alabama linebacker Courtney Upshaw still on the board. They had to like what Perry brought to the table more to select him over a guy who is outstanding and one they wouldn't have to convert positions.
Again, we saw it when they traded up for Michigan State defensive tackle Jerel Worthy. Clearly he was far and away the top guy on their board, so much so that it triggered a trade—not a frequent Thompson staple.
Not that he doesn't trade, just that he and the team are very specific about when they do. It's always about talent.
It was interesting to see just how much of that talent was aimed at fixing a bad 2011 defense. Honestly, the way they went after defensive players. you'd think they were rebuilding.
However, if we look back to just before the draft, was there really anything they needed on the offense? Maybe some offensive line depth? Perhaps a running back?
Truly, there were no ultra-critical needs on the offense.
So we should have seen it coming, though perhaps the near-totality of the defensive nature of the draft would have still surprised some.
With Nick Collins done and the defense unable to find a pass-rusher, it was obvious that would be a major focus.
Joe Robbins/Getty Images
Picking Jerron McMillian and Casey Hayward (though McMillian may end up on special teams at first) could be a sign that the shift I've talked about before—Woodson to safety—might be happening, even though Mike McCarthy says no.
Ultimately, this draft will hinge on the impact Perry and Worthy have in a few years. Both are question marks to some extent, and both picks did have some analysts wondering if the Packers were being too risky.
Perry I have no worries about, as I made clear earlier today, and Worthy was a first rounder in my mind.
In the minds of many analysts though, it comes down to them.
All that means is that they are missing the rest of the draft.
The rest of the draft continued to be all about value—that most of it was defensive in nature is almost besides the point.
Smartest part of the Packers' draft:
The most brilliant part of this draft—and this is something I am only just getting to appreciate as I look it over the last day or so—is the use of the compensatory picks. Not so much the actual picks themselves, thought they were largely very good value. Just that the Packers used them in a way that allowed the regular picks to be expendable and fodder for trades to move up and get guys they wanted.
Of the 12 picks they began with, they ended up just picking eight players. Half were compensation picks, and half of the remaining they traded up for, using picks that the compensation picks made up for.
A combination of shrewd trading and the old Thompson stand-by of falling value made for a draft which, having given it a solid B a few days ago, I am now realizing was much, much better.
This article is
What is the duplicate article?
Why is this article offensive?
Where is this article plagiarized from?
Why is this article poorly edited?

Green Bay Packers: Like this team?