Fantasy Football Rankings 2012: Rookie WRs Ready for Immediate Impact
April 29, 2012

Patrick McDermott/Getty Images
Fantasy football gurus are already crunching college statistics and projecting the NFL futures of the 2012 rookie class. Rookie wide receivers will make an impact on several teams this season. 
Drafting rookies in fantasy land is usually greeted with hesitation, but these receivers are ready to help your team this season. 
1. Mohamed Sanu, Cincinnati
Grabbing a capable No. 2 receiver to pair with budding star A.J. Green was a top priority for the Bengals front office. They waited until Round 3 to make it happen, but Sanu is a tremendous value.
Sanu is a great athlete with unrefined ability. Once he learns the nuances of NFL route-running he will be a great complement to Green's dynamic ability.
Sanu has above-average size with a solid catch radius. He will use his speed to take attention from Green and improve the Bengal offense from day one. 
A 40-50 catch season and 800-plus yards are not out of the question for this budding target. Just like the 2012 NFL draft, fantasy owners will be able to snag Sanu for great value.
2. Alshon Jeffery, Chicago
Jeffery was once a first-round lock. Instead, he fell into the Bears' lap in Round 2.
Drafting a speedy receiver to offset Brandon Marshall's possession style would have been a better idea, but Jeffery will be productive. He is actually comparable to Marshall as a player. 
Jeffery's enormous frame will be a go-to target for Jay Cutler in the red zone. He is dominant in jump-ball situations and will haul in his share of touchdowns this season.
The Bears grabbed an NFL-ready frame in Jeffery. If he improves his explosiveness off the line, he will be better than anticipated. 
Chicago has lacked go-to receivers for years. Now, they have two. Fantasy owners need to take a heavy look at Jeffery.
3. Michael Floyd, Arizona
Floyd would be No. 1 on this list if he were on a different team. Instead, Arizona's regrettable quarterback situation will hamper his production this season.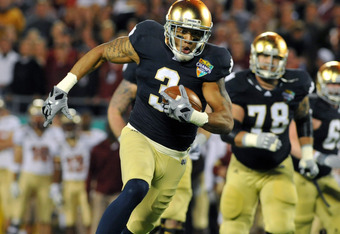 Al Messerschmidt/Getty Images
Floyd is the most talented receiver in this draft. He has an NFL-ready body with tremendous hands in traffic. Minus the character concerns Floyd is a can't-miss, bonafide superstar. 
Playing next to Larry Fitzgerald will help Floyd develop. However, Kevin Kolb does not have the arm to maximize Floyd's ability this year. 
Fantasy owners will want to grab Floyd based on ability alone. He has the talent to excel regardless of his quarterback, and will show that this season. 
4. Rueben Randle, New York Giants
The Giants are fond of three-receiver sets. Randle will immediately replace Mario Manningham as Eli Manning's third option.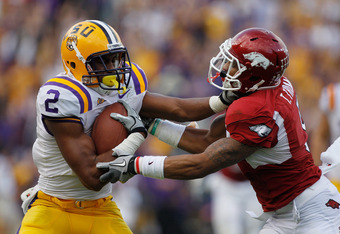 Chris Graythen/Getty Images
Randle's production at LSU was curtailed by the Tigers' pathetic quarterbacks. Do not let his numbers fool you. Randle has the frame, hands and athleticism to make a name for himself in the NFL.
The Giants will plug Randle into their starting lineup immediately. He will fit perfectly next to Hakeem Nicks and Victor Cruz. His blend of size and speed will create mismatches over the middle of the field.
Randle will get a lot of balls thrown his way, and be a quality fantasy contributor this season. He will outplay his draft slot early in the 2012 NFL season.
5. Brian Quick, St. Louis
Quick comes from an unknown program, but will not be unknown for long. Quick will be given the chance to start in St. Louis right away and make an immediate impact.
The Rams need a receiver to stretch the field. Quick's size makes him a great red zone target. His speed and athleticism make him a viable vertical threat. 
Quick enters a very bare Rams' receiving corps. He will get every chance to make a name for himself, and Sam Bradford will look his way often. 
Quick will go down as one of this draft's biggest sleeper picks. Make him the same thing in your fantasy league and scoop this dynamic pass-catcher up while you can.