2012 NFL Draft Grades: Teams Who Hit Home Runs on Day 3
April 29, 2012

Kirk Irwin/Getty Images
While the first two days of the NFL draft are some of the most exciting, Day 3 isn't shabby itself.
The third day features the fourth, fifth, sixth and seventh rounds. These four rounds carry some of the biggest mysteries, but players that can very much become huge pieces to any team's future success.
It will remain to be seen how these late-round picks will end up being, but for now, these teams seemed to come away with some of the better picks on Day 3.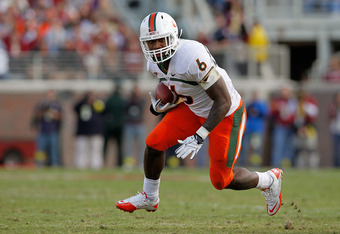 Mike Ehrmann/Getty Images
Selections: No. 97 (R4) Lamar Miller, RB, Miami; No. 183 (R6): B.J. Cunningham, WR, MSU
The Dolphins seemed focused on offense this draft, adding a new quarterback in Ryan Tannehill and an offensive tackle in Jonathan Martin in the second and third rounds, respectively.
They continued that pattern on Day 3, most notably grabbing Hurricanes running back Miller, who was originally seeming to be a first- or second-round pick. Without a doubt, that pick was a steal for the Dolphins.
They made many other solid picks throughout the day, but the one that may pay off the most was the selection of B.J. Cunningham. The Michigan Spartans wide receiver had over 1,300 receiving yards, as well as having 12 touchdowns.
The team traded away top option Brandon Marshall this offseason, and they may have snuck away with a receiver who can make up for some of that lost production.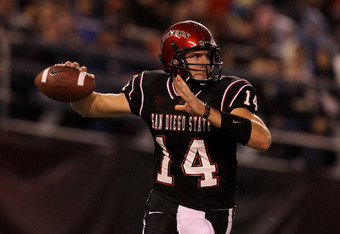 Stephen Dunn/Getty Images
Selections: No. 112 (R4) Bobby Massie, OT, Mississippi; No. 185 (R6) Ryan Lindley, QB, SDSU; No. 221 (R7) Nate Potter, OT, Boise State
The Cardinals had one major problem last season, and they did their best to resolve that issue in the draft. 
In order to increase the protection of their quarterback Kevin Kolb, who they hope to get the most out of this season, the team drafted three offensive lineman on Day 3. They took Ole Miss' Massie in the fourth, as well as offensive guard Senio Kelemete in the fifth and Boise State's Potter in the seventh.
The team also added another quarterback in the sixth-round, grabbing the Aztecs stud quarterback Lindley. The team doesn't need another passer, but after how things went down last season, it won't hurt to have a little insurance under center.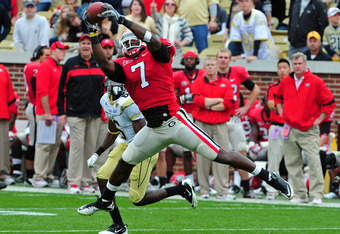 Scott Cunningham/Getty Images
Selections: No. 116 (R4) Orson Charles, TE, Georgia; No. 167 (R5) George Iloka, S, Boise State; No. 191 (R6) Dan Herron, RB, Ohio State
The team that perhaps did the most work this draft was the Bengals, who came away with a total of 10 picks this year.
They made some impressive picks in the first three rounds with players like Dre Kirkpatrick, Devon Still and Mohamed Sanu, but upped that with five excellent selections on Day 3.
The team came away with a new option at tight end in the Bulldogs' Charles, as well taking a gamble on Boise State's safety Iloka and the Buckeyes running back Herron.
Herron missed most of this past season with the Buckeyes, but could be a stud in the making. The Bengals aren't desperate for a back after signing BenJarvous Green-Ellis this offseason, but it won't hurt to have another option that could be a nice change of pace.