2012 NFL Draft: Grading Reggie McKenzie's 1st Draft in Oakland
April 29, 2012

Kevork Djansezian/Getty Images
Reggie, Reggie, Reggie—in the immortal words of Vince Lombardi: What the hell's going on out here?
Mark Davis elected you to be the President of the Raider Nation; a fanbase has trusted in you to return the Silver and Black to its rightful glory; we have had faith that you will be committed to excellence and "Just Win, Baby." And this is how you repay us?
It's not that I hated new Oakland general manager Reggie McKenzie's draft picks—he made some solid picks in the fourth and fifth rounds—but consider me very, very underwhelmed.
This team entered the offseason with a glaring weakness: defense. Sure, McKenzie signed some players to replace all of the salary cap casualties, but there's no world beaters there. Shawntae Spencer? Yawn. Philip Wheeler? Yeah, he's cool, I guess. The Raiders had massive salary cap issues, so there wasn't any cap room to be spent on big name players. "It's OK," we reasoned, "Reggie will come through at the draft."
So much for that idea.
McKenzie didn't pick any awful players, nor did he make any horrendous overreaches—unlike the Jacksonville Jaguars, who selected a freakin' punter in the third round. Seriously, Jacksonville? I don't want to get sidetracked, but come on. Don't get me wrong, I really, really like Bryan Anger. As a Cal alum who was in school during Anger's career, I had the pleasure of watching him punt in person many times. It's rare to see a crowd get excited over punting, but his monster leg had the fans "oo-ing" and "aw-ing" almost every time he was on the field. Anger is a hell of a punter, but he could have been had much, much later.
OK, sorry for the aside, back to the Raiders. McKenzie didn't have a terrible draft, but most of his picks simply haven't been very practical. It's bad enough the Raiders only started with five draft picks, but then to use them so poorly? That really hurts.
Let's start with the Raiders first selection, which didn't come until the final pick of the third round. The Raiders had a decent-to-good offensive line, anchored by standout second-year tackle Jared Veldheer and promising rookie Stefen Wisniewski. So why on Earth did McKenzie draft an offensive lineman?
Look, by all indications, Tony Bergstrom (Utah) is a nice player. He's versatile, having played guard and tackle, he's talented, yeah, yeah, fine. But why are you drafting for depth when there are glaring needs on the defense? How about an outside linebacker? Or a defensive back?
I am absolutely infuriated the Raiders didn't select the very talented Ronnell Lewis (OLB, Oklahoma), who was available, even though he was considered a possible second-round pick. Other outside linebackers they passed on: Kyle Wilber (Wake Forest), Josh Kaddu (Oregon) and Nigel Bradham (Florida State)
In the fourth round, McKenzie did the smart thing by drafting an outside linebacker (even though it was a round too late): Miles Burris (San Diego State). It was a solid, if unspectacular pick, and Burris is a thick bodied boy (246 pounds on a 6'2" frame)—not the kind of guy you want to be running into when he's got a full head of steam. Burris could become a starter for this team down the road.
Now, I must give credit where it is due: McKenzie made a very shrewd move by trading down 10 spots in the fifth round and picking up a seventh-round selection. It's the kind of move we didn't see a lot from Al Davis, but McKenzie must have known his guy would be there, and the Raiders were definitely in need of some extra draft picks.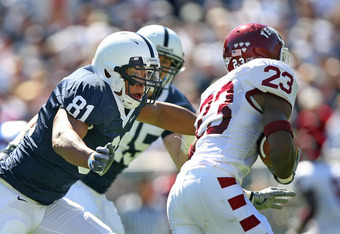 Hunter Martin/Getty Images
The guy McKenzie wanted was apparently Jack Crawford (DE, Penn State), who was forecasted to go in the fifth round and is a bit of a project player. Crawford had 6.5 sacks last season, but scouts see him as a flawed prospect with lots of room for improvement. I view Crawford as a high bust risk, but that's OK—this is the fifth round, there's going to be a lot of those kinds of players. The Raiders need defensive line depth; he helps with that.
Strictly on a name basis, I would have preferred defensive end Tim Fugger—can you imagine how much fun I could have had writing about him, possibly for years to come? "Let me tell you, that guy is a crazy Fugger." "What the Fugger was he thinking?" "Get the Fugger out of here."
Next came Juron Criner. Initially, I hated this pick, because the last thing the Raiders should be doing is drafting a receiver—they're pretty stacked at that position already. But after reading up on Criner, I'm fine with this pick. He's a different kind of receiver than the guys already on the roster, who are all speedsters. Criner is a big dude (6'4" and 224 pounds), and certainly has elite physical skill, but is terribly slow (he ran a 4.68 40-yard dash at the combine).
Criner was forecasted by some as a possible second- or third-round pick, so the Raiders got incredible value here. This is a case where the Raiders followed the draft strategy of taking the best player available instead of drafting for need.
So by this point in the draft, McKenzie has made up for his terrible first pick by selecting three straight solid players. I'd almost forgiven him—until he decided to destroy all of the good will by making an astoundingly stupid pick.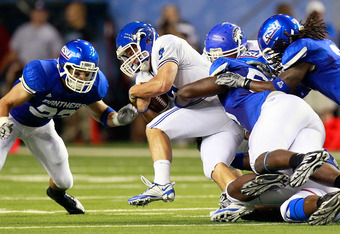 Kevin C. Cox/Getty Images
Christo Bilukidi (DE, Georgia State).
You might be saying to yourself, "Who?" Don't feel bad, everyone in America was thinking the exact same thing. Well, everyone but Bilukidi and his family. When the NFL Network can't find tape of you (which I'm told happened when the pick was announced), that should be a red flag.
Like most of America, I don't know the first thing about Bilukidi. From what I've read, he's played both defensive end and linebacker and is a solid pass-rusher. But regardless of how good he may or may not end up being, it's incredibly unwise to take him in the sixth round.
Why would you waste this draft pick on a guy who will be there in the seventh round, or might not even be drafted at all? I'm almost certain the Raiders could have passed on drafting Bilukidi altogether and just signed him as an undrafted free agent.
McKenzie selected outside linebacker Nathan Stupar (Penn State) in the seventh round, another pick that left me scratching my head. Sure, it's the seventh round, and any player picked here might not even make the team, but I'm virtually certain Stupar won't be a factor in the NFL. Nothing I've read about him made me excited about the idea of him as a Raider. Why not take a flyer on 2012's greatest wild-card draft prospect, Vontaze Burfict?
If you haven't heard (and if you haven't, you've probably never watched the NFL draft and are reading this article by accident), Burfict was considered a possible first-round pick, but a subpar junior season (with countless personal foul penalties), character concerns and a terrible showing at the combine made him a virtual pariah. NFL Network draft expert Mike Mayock went so far as to call Burfict undraftable. What more perfect team could there be for a ruthless malcontent than the Raiders?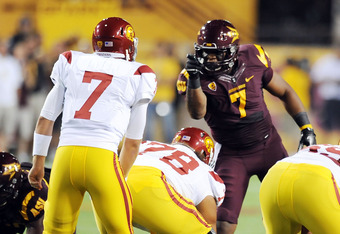 Norm Hall/Getty Images
I like most of the players McKenzie selected, but his overall draft strategy was poor, and there are needs that went unfilled. Selecting a tackle with Oakland's first pick was a terrible decision, as was selecting Bilukidi in the sixth round. The Raiders also didn't draft a single defensive back, which was a mistake—Spencer and Ron Bartell are stopgaps at best, and the jury is still out on DeMarcus Van Dyke and Chimdi Chekwa.
Oakland really could have used another cornerback prospect on the roster. Tight end is also still a glaring need on the roster. Could the Raiders have found a starting tight end? Maybe not. But even adding depth at that position would have been a big plus for Oakland, and I'm still convinced Oklahoma's James Hanna will be a good player in this league.
Overall, Reggie McKenzie certainly looked like a rookie general manager this weekend, and I expect a better performance when he has more draft picks next year.
Overall draft grade: C-
For more foolish analysis, along with the occasional witty comment, Follow @FernandoRGallo