Cam Newton vs. Andrew Luck: Why Luck Will Have the Better Career
April 28, 2012

Al Bello/Getty Images
Both of these players have seen their fair share of hype. 
Andrew Luck has had to field some big questions (like being compared to a legend like John Elway) before he's even set foot on the field. And you can't turn your head without seeing Newton endorse some sort of sports equipment. 
But as these two will be forever linked in a lineage of No. 1 picks, it's only fair that we guess who's going to have the better career. 
For three specific reasons, I believe that Andrew Luck will be the better quarterback by the end of their careers. 
1. Individual Talent
There's no question Cam Newton has some serious talent. I mean the guy destroyed Peyton Manning's rookie records.
But no one's going to question that Luck is a better passer than Newton. His accuracy and pure pocket ability set him apart from a lot of other quarterbacks already playing in this league. 
The real interesting piece comes in looking at their athleticism. During the combine, Luck proved to be just as athletic as Newton. Kind of scary when you think about how athletic Cam actually is.
Luck almost will certainly not have the rookie campaign that Newton did, but over the long haul, his talent will prove he's the better pro QB.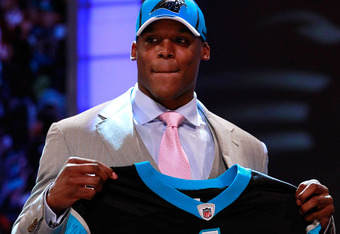 Chris Trotman/Getty Images
2. Front Office
This one's a little harder to decide, because the Colts relieved longtime GM Bill Polian of his duties earlier this offseason. Polian was instrumental in building the Super Bowl team around Peyton Manning, but without him, this might be a little harder to convince.
I think, just by looking at what the Colts did in the draft compared to Carolina, they're starting to build something nice around Luck. Adding Coby Fleener and Dwayne Allen gives the Colts two nice pieces for Luck to grow with.
The Panthers, on the other hand, really only added Joe Adams in the fourth round and another running back via free agency, which they don't need.
Jerry Richardson hasn't ever really struck me as a guy who's all in to win either. Call it a hunch, but this just seems like a job to him and not really his passion.
I think the Colts, over the next few years, are going to put a nice corps of people around the franchise signal-caller, while Carolina is most likely going to lose guys like Jonathan Stewart and even an aging Steve Smith.
3. Division
Playing in the NFC South is something brutal, especially when it comes to talking about quarterbacks. Newton has to live up to players like Drew Brees and Matt Ryan, with Josh Freeman potentially on the upswing.
Luck, on the other hand, really only has a strong Texans team to worry about, and then not much else.
If Luck can conquer the Texans as his predecessor did, there will be no stopping the Colts from getting back into the NFL's elite, all while Newton is still competing with the likes of Brees and Ryan for the next five years at least. 
This isn't to say that Newton's not going to have a very good career, which I think he will. I just believe that with all the tools given to him, Luck has all the opportunity to be the best quarterback in the last 25 years of the NFL. And that's pretty tough to beat.