Oakland Raiders Draft Grades 2012: Report Card for New GM Reggie McKenzie
April 28, 2012

Christian Petersen/Getty Images
It took quite a while for the Oakland Raiders to get in on the fun of the 2012 NFL draft, as the Silver and Black didn't get to pick in either the first or second rounds.
They have the old regime to thank for that. The Raiders made some silly trades before new general manager Reggie McKenzie arrived (see Palmer, Carson).
The Raiders finally made their first pick at the end of the third round, and they've been a part of the draft rotation ever since. Here's a look at the players they drafted so far, with grades for each pick.
Tony Bergstrom, OT, Utah (No. 95 overall)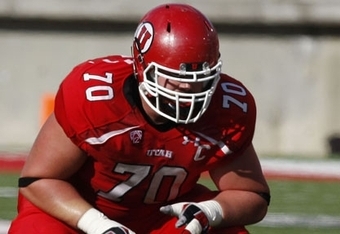 You can never have enough offensive line depth, so it makes sense that the Raiders would go for an offensive lineman with their first pick.
The thing that stands out about Tony Bergstrom is his age. He's not ancient like Brandon Weeden, but he's going to be 26 by the time the 2012 season rolls around. No doubt that scared a lot of teams off.
Bergstrom could conceivably fill in at right tackle, but he's more likely to fill in on the inside of Oakland's offensive line. He doesn't have the greatest physical tools, but he's a technically sound and tough son of a gun who plays until the whistle blows.
Not a bad pick by the Raiders. 
Grade: B
Miles Burris, OLB, San Diego State (No. 129 overall)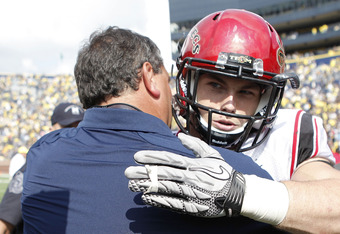 Leon Halip/Getty Images
The Raiders needed to find front-seven depth, and that need was satisfied with this pick.
Miles Burris is nothing special as a linebacker, but he's an above-average athlete who can cover a lot of ground in a hurry. He also plays with a lot of energy, which in his case is both a blessing and a curse.
Burris doesn't appear to be starting material, but he will be able to help out on special teams and fill in at linebacker if need be. Nothing special, but not a wasted pick either.
Grade: B-
Jack Crawford, DE, Penn State (No. 158 Overall)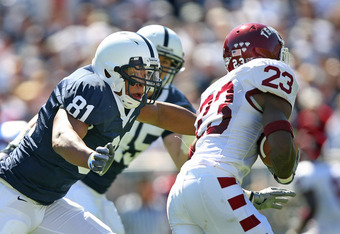 Hunter Martin/Getty Images
Oakland's defensive line wasn't as dangerous last season as many anticipated it would be. Adding another guy to compete for playing time was in the team's interest.
Jack Crawford comes straight from one of the nastiest front sevens in college football at Penn State. Crawford helped out by picking up 6.5 sacks.
Not bad for a guy who's new to football. Crawford didn't start playing the sport until 2006, and that's because he moved to the States from England in 2005. 
The Raiders must have been intrigued by Crawford's measurables. He checks in at around 6'5" and 275 pounds, and he's plenty strong. He'll need some seasoning before he can make an impact, though.
Grade: C+
Juron Criner, WR, Arizona (No. 168 Overall)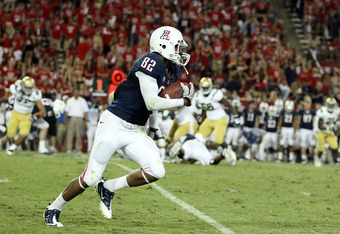 Christian Petersen/Getty Images
The Raiders got some great work out of Darrius Heyward-Bey and Denarius Moore in 2011, but wide receiver depth was very much an issue heading into the draft.
Juron Criner is Oakland's big steal, in my opinion. He battled through some injuries at Arizona, but we're talking about a guy who's about 6'3" and 225 pounds with great hands. He's not a burner, but he'll be able to move up the field and then catch a ball thrown up for grabs. He's going to be a great red zone asset.
Look for the Raiders to use Criner right away. Don't be surprised if he's the team's No. 2 receiver by the end of the 2012 season. That would be really good value for a fifth-round pick.
Grade: A-
Christo Bilukidi, DE, Georgia State (No. 189 overall)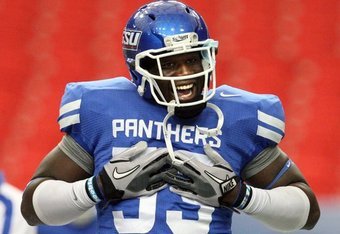 Before you ask, I don't know how to pronounce his name either.
There's not a whole lot of literature out there about Christo Bilukidi, but you don't need a scouting report to see that he's a big dude. He's as tall as Crawford at 6'5", and he weighs in at about 290 pounds. 
Bilukidi is in for a wake-up call in the NFL after going up against inferior competition in college, so it may be a while before his name is heard again after this. He's big and strong, but he'll have to develop as a football player before he can make an impact.
The Raiders may look to groom him as a guy who can play DE or DT. If he responds, they'll have a much-needed versatile D-lineman.
Grade: C-
Nathan Stupar, OLB, Penn State (No. 230 Overall)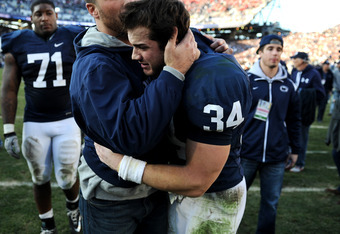 Patrick Smith/Getty Images
The Raiders wrapped up their draft by taking yet another player from Penn State's front seven.
Nathan Stupar comes from a long line of Penn State football players, so he's got good football bloodlines going for him. He also has good recognition skills, especially against the run.
The problem is that Stupar is a bit undersized, and he's not a phenomenal athlete. He'd be overmatched against a more physical running back, and he'll be a liability in pass coverage.
So, in short, nothing special. Typical seventh-rounder.
Grade: D