NFL Draft 2012 Results: 5 Losers from Rounds 2 and 3 of the Draft
April 28, 2012

Stephen Dunn/Getty Images
With the second and third rounds of the 2012 NFL draft in the books, we look back on five potential losers from Friday's proceedings: 
Picks: Utah State LB Bobby Wagner (No. 47 overall), Wisconsin QB Russell Wilson (No. 75 overall)
After taking Bruce Irvin in the first round Thursday, Seahawks GM John Schneider continued to make observers scratch their heads on day two. Wagner was a reach at No. 47 overall despite playing a need position, and Wilson could realistically start the 2012 season as the Seahawks' No. 3 quarterback.
For a team on the verge of competing for the playoffs, it's hard to say the Seahawks have gotten much better through three picks.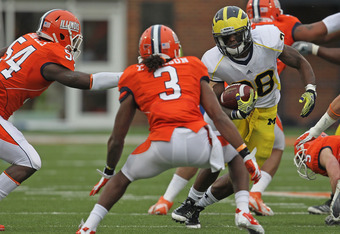 Jonathan Daniel/Getty Images
Picks: Illinois CB/S Tavon Wilson (No. 48), Arkansas DE Jake Bequette (No. 90)
Wilson was probably the biggest reach of the second round, with most analysts featuring a late-round grade on the former Illinois cornerback. Bill Belichick sees some versatility to play safety out of Wilson, but he probably could have gotten him two to three rounds later. Bequette was a better pick, but he's just another guy in terms of pass-rushing defensive ends.
New England could have gotten better value on day two. 
Picks: Clemson DE Andre Branch (No. 38), California P Bryan Anger (No. 90)
Branch was a wonderful decision value need-wise, but there's no excusing a punter in the third round. That kills Friday for Jacksonville. With so many other players available that could have developed into impact players for Jacksonville, taking a guy that could see five or six plays a game in a specialist role is probably the worst pick of the entire 2012 NFL draft.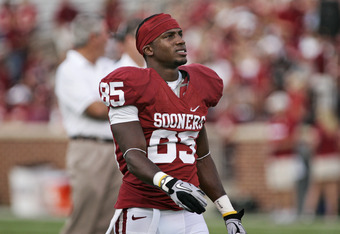 Brett Deering/Getty Images
Picks: Oklahoma WR Ryan Broyles (No. 54), Louisiana-Lafayette CB Dwight "Bill" Bentley
Broyles could be an impact slot guy down the road, but he's still in recovery mode from ACL surgery last season. It was shocking to me that Detroit went offense with its first- and second-round picks, even if Bentley was OK value later in the third round. The Lions' offense was going to score plenty of points in 2012 without two draft picks, but that secondary will likely head into next season as a big question mark. 
Bobbie Massie, Chris Polk and Brandon Boykin
We're talking about three guys who were fringe first-round players but seemingly got locked into the top 50 picks. All three fell to the third day. Massie could be a future left tackle in the NFL, and Polk and Boykin are playmakers at their respective positions. Each should be off the board early Saturday.