Miami Dolphins 2012 NFL Draft: No Receivers Yet? No Problem
April 28, 2012
Kevork Djansezian/Getty Images
With the 78th pick already spent on a tight end and the second day of the draft complete, I can already feel the uneasiness mounting.  I can hear a shrill, collective cry from the Miami Dolphins fanbase:
O Receivers, Where Art Thou?
Stop panicking.  Take a deep breath and relax.
Yes, it's been three rounds.  Yes, it's been four picks.  And yes, the Dolphins have yet to select a receiver. 
Even though it is a definite need, there are a myriad of reasons why Jeff Ireland is reluctant to pick one.
They have other needs.
The Dolphins also had to address the holes in the offensive line, the lack of a complementary pass-rusher and the need for a seam-threat tight end.  They signed a phenomenal value pick in Jonathan Martin, an offensive tackle who only a few weeks ago was in the top-10 on several draft boards.  The Dolphins also signed an athletic pass-rusher to help Cameron Wake and a Jermichael Finley-type tight end in the third round.
This draft has been extremely strange.
This year, teams have been selecting out of position like it's the thing to do.  I really don't understand the reasoning behind a lot of the picks selected so far.  For instance, Bobby Massie, the top-rated offensive tackle, is still on the board after three rounds.  Bryan Anger, a punter, was selected before him in the third round.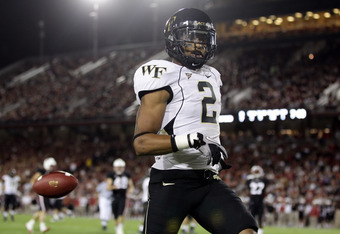 Ezra Shaw/Getty Images
The 49ers picked up LaMichael James when they already have workhorses like Frank Gore, Brandon Jacobs and Kendall Hunter.  Shockingly, the list goes on and on.
This is a good thing.  A very good thing.
This was already a deep draft for wide receivers.  As teams continue to make strange decisions, the likelihood of picking a solid wide receiver for the Dolphins increases.
There are plenty of good receivers still available.
Chris Givens, Marvin McNutt, Joe Adams, Nick Toon, Marvin Jones, Junon Criner and Tommy Streeter are waiting to hear their names called.  All of these receivers were projected to go somewhere between the second and third round.
I think this has been a good draft for the Dolphins, so far.  By not jumping the gun and selecting a receiver early on, they have been able to address a lot of needs.  They can still come away with a great receiver, or two.
What do you guys think?  I'd like to read your opinions.
Update: Lamar Miller was an amazing pick.  Reggie is in a contract year and Miller is an explosive playmaker.  He was supposed to go somewhere in the second round.  The Dolphins selected him in the fourth.  Great work, Ireland.  Dolfans have a lot to get excited about.
Fifth Round Update: Chris Givens, Joe Adams, and Nick Toon went to the Rams, Panthers, and Saints, respectively, in the fourth round.  Dolphins swapped picks with the Titans and drafted Josh Kaddu, the outside linebacker from Oregon.  Criner and Jones were picked up late in the 5th.
Sixth Round Update: Dolphins got their WR.  B.J. Cunningham.  Great value.  He fits perfectly in their West Coast offense.