Green Bay Packers Draft Grades: Team Earning an "A" After 3 Rounds
April 28, 2012

Al Bello/Getty Images
The Green Bay Packers are having an excellent draft through three rounds.
General Manager Ted Thompson seems to have kept his reputation alive with his excellent draft picks. Obviously we can't see the results of his picks until the season starts but as of now they have nothing but promise.
First Round
The first-round pick of Nick Perry was a great choice for the Packers since outside linebacker was the team's biggest need. Perry has proven at USC that he can rush the passer in multiple ways. He is a fantastic edge rusher and can use his power to bulldoze through the line.
Perry or Andre Branch were the best options left for Thompson if he wanted to improve on the front seven in the first round. Choosing Perry proves that Thompson thought he was the best player left on the board across all positions. While there is criticism of Perry's coverage skills, if Thompson chose him for the Packers then most likely it's a good pick and he can learn how to become a better pass-rusher.
Second Round
Just like outside linebacker, the defensive line was also a big need for the Packers. Viewed by most as the second-biggest need, Green Bay addressed this problem by selecting defensive tackle Jerel Worthy from Michigan State.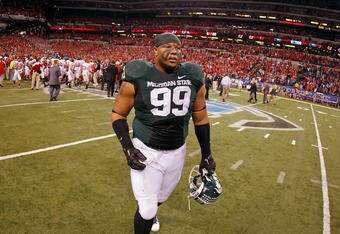 Gregory Shamus/Getty Images
Thompson and the Packers swapped second-round picks with the Philadelphia Eagles who also obtained one of Green Bay's fourth-round picks (No. 129). Worthy can be a dominate player at the line but his problems seems to be his durability or his lack of intensity throughout the game.
However, if the Thompson wanted to trade up to secure picking Worthy, he must see something in him. It will be interesting to see how Worthy is used and if he will start this season at defensive end.
After trading their third- and fifth-round pick (No. 90 and 163, respectively) with the New England Patriots, the Packers selected cornerback Casey Hayward from Vanderbilt.
This continued the trend of rebuilding the Packers 31st-ranked defense. Cornerback is another need for Green Bay. They were ranked first in interceptions last season with 31, but with Charles Woodson getting close to the end of his career, the Packers needed to get more depth for their secondary.
Sam Shields is currently the slot corner for Green Bay but he still lacks tackling receivers and has not shown much progress since coming into the league. Hayward is a great tackler and plays bigger than his size (5'11", 185 lbs). He is also a great playmaker as he has great coverage skills and can recognize routes easily to get a good jump on the ball.
Why the Packers Get an "A"
Thompson and the Packers were very smart in the first three rounds in the draft. They used all their picks on defense and got players at three positions that were team needs.
After helping the defensive front seven with the first two picks, the next option for the Packers was thought to be safety after the release of Nick Collins. However, the safety's in this year's draft are weak compared to cornerback and getting more secondary help at corner is still a good pick.
Trading up in the draft is something that Thompson does not have a history of doing but he took advantage of his extra picks to make moves. Moving up in the second round twice shows me that Thompson had his eye on these two players and wanted to make the move before they were taken.
All three of these players should make an immediate impact for Green Bay and help them make another run at the Super Bowl.