Andrew Luck, RG3 Kick off 2012 NFL Draft; Trades, Surprises Make This Fun
April 27, 2012

Al Bello/Getty Images
The NFL draft has become quite a show. As a fantasy geek I'm fascinated by the high-stakes game of poker being played out in front of us. While I'm no Mel Kiper, Jr. or Todd McShay, here are my thoughts on Round 1.
No breakdown here of Andrew Luck's release versus Robert Griffin III's elbow angle (is elbow angle even a thing to consider?). A major reason the Indianapolis Colts took Luck instead of RG3 is that it's the safer pick. No matter how they turn out five years from now, no one will kill the Colts for taking Luck. The fact that the Colts came out on the right side of the Peyton Manning/Ryan Leaf decision in 1998 played into this, too. They know all too well what can happen if you reach and lose.
The Minnesota Vikings made a great move next by moving down one spot. For swapping their third pick for Cleveland's fourth, they picked up extra picks in the fourth, fifth and seventh rounds. Then they drafted the guy they wanted at three anyway, USC offensive tackle Matt Kalil. (I'm still amazed every time I hear a 300-pounder referred to as "light.")
The question here is whether or not the Browns needed to make this move. The Vikings weren't going to take Trent Richardson, so was someone else going to move up and do that? Cleveland obviously wasn't willing to take the chance.
Neither team was done after this deal.
The Vikings made another move later jumping up to grab Notre Dame safety Harrison Smith. Another very nice addition.
Cleveland was expected to take a receiver at 22 to help quarterback Colt McCoy. The Browns were bereft of weapons last year. They were reportedly ready to take Baylor receiver Kendall Wright, but Tennessee beat them to it at pick 20. In what looks like a desperation move, the Browns completely changed directions and took Oklahoma State quarterback Brandon Weeden. In one minute McCoy goes from a starting quarterback about to get some more help to a backup who might not even be on the team. Strikes me as an unprepared, panic move by the Browns.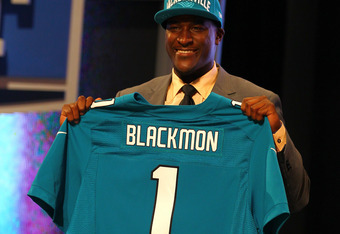 Al Bello/Getty Images
A couple of good moves were made early by the Jacksonville Jaguars and Dallas Cowboys.
The Jags gave up a fourth-round pick to move up two spots and take Oklahoma State receiving stud Justin Blackmon. Blackmon gives young quarterback Blaine Gabbert some serious help and also is an exciting, known player for a franchise that has historically toiled in obscurity.
Dallas moved up to take one of the five stud players available and filled a critical need by taking LSU corner Morris Claiborne.
The drama was palpable at eight, waiting to see if Miami would indeed take Texas A&M quarterback Ryan Tannehill. Considering the Dolphins' huge need at quarterback and his college coach now running their offense, it would have raised major questions had they passed. It would have sent Tannehill into a slide reminiscent of Brady Quinn. However, I still think eight was a reach for an uncertain quarterback. We'll see.
My first observation on Kansas City's pick at 11, Memphis defensive tackle Dontari Poe, was that he was wearing a sun dial on his wrist. That watch was huge! If he weren't 346 pounds, I might think he passed on a lot of meals to save the money for it. (What? You doubt he paid for it? Probably a topic for another time.) Poe is a freak. A 346-pounder who ran a 4.96 40-yard dash. That's just not right. If Chiefs coach Romeo Crennel can keep his motor running, this pick could be a steal.
The secondaries in the NFC West cringed at pick 13 last night as Arizona took Notre Dame receiver Michael Floyd to play on the other side of Larry Fitzgerald.  Good luck with that 49ers, Seahawks and Rams.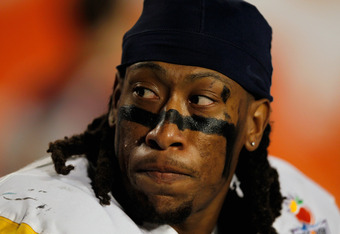 Streeter Lecka/Getty Images
And then came the first pick that caused puzzled looks on the faces of the TV guys. Seattle took West Virginia linebacker Bruce Irvin at 15. A huge reach for a guy with off-the-field troubles. Great job recruiting at USC, but questionable personnel moves in the NFL for Pete Carroll.
After watching film of San Diego's pick at 18, South Carolina defensive end Melvin Ingram, I don't understand how he lasted that long. He is a beast.
Tennessee took a chance at 20 by picking Baylor receiver Kendall Wright. Wright says the reports of his 16 percent body fat are wrong. I'd be worried about his 4.59 40 time at the combine becoming 4.4 at his pro day. Maybe that's common, but seems like a red flag.
I doubt any player has a bigger smile this morning than Syracuse defensive end Chandler Jones. A potential third-round pick not that long ago, he was picked 21st by New England. Getting picked by a good team that has a need at your position is hitting the lottery for these guys. Mike Mayock said on NFL Network earlier this week that Chandler Jones will be looked on as the best defensive player from this draft in three years.
As a Packers fan, I like the pick of USC linebacker Nick Perry to team with former Trojan Clay Matthews III.
How many times has Boise State had two players taken in the first round? Betting 2012 was the first. Linebacker Shea McClellin was a good pick by Chicago at 19 and just looks like a Bear. At 31, Tampa Bay made a trade and took running back Doug Martin. After taking Alabama safety Mark Barron at seven, Bucs fans should be happy.
Rounds 2 and 3 tonight. Quite a show.