2012 NFL Draft: Quinton Coples and Best Value Picks from First Round
April 27, 2012

Al Bello/Getty Images
For every headscratching surprise sprung during the first round of the NFL Draft, there's bound to be another highly-regarded college football player (or two) who get knocked down the order as a result.
A disappointment for the kids, to be sure, though certainly a pleasant situation for those teams waiting to catch them later on.
Surely, the organizations that picked up these three studs, who were expected to go earlier, won't be disappointed to welcome them into the fold once training camps open up this summer.
Quinton Coples to the New York Jets at No. 16
Quinton Coples' day at the draft could've gone in any number of directions on Thursday. The 6'6" Julius Peppers clone out of North Carolina had the size, strength, athleticism and versatility to be a top-10 pick.
Coples could've also "dropped" considerably in light of questions regarding his inconsistency and his perceived lack of effort at times on the field.
In any case, Rex Ryan and the Jets were more than happy to welcome him into their midst after the Jacksonville Jaguars, Carolina Panthers and Seattle Seahawks (among others) passed him up. He figures to be an excellent bookend to Muhammad Wilkerson along Gang Green's defensive line.
He will be a terror in the AFC East for years to come.
Melvin Ingram to the San Diego Chargers at No. 18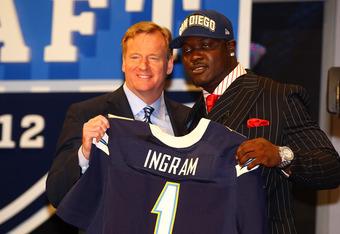 Al Bello/Getty Images
The pass rush was also of chief concern to the Chargers, who were among the worst teams in the NFL in third-down defense last season.
Melvin Ingram should help tremendously in that regard. The South Carolina product was considered by some to be the best defensive lineman in this draft class, though he'll likely play outside linebacker in San Diego's 3-4 scheme.
Not that such a switch should bother Ingram, who earned the nickname "Super Melvin" in high school for his ability to play so many different positions.
The situation in San Diego should suit Ingram just fine, too. He'll be given the opportunity to learn the pro game and develop his skills while playing in a rotation alongside the likes of Shaun Phillips, Larry English, Travis LaBoy, Antwan Barnes and Jarret Johnson.
Riley Reiff to the Detroit Lions at No. 23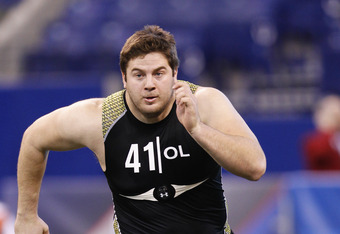 Joe Robbins/Getty Images
The Lions could've used an upgrade at corner, but with the top prospects (Morris Claiborne, Stephon Gilmore and Dre Kirkpatrick) already off the board, they did well to snag an upgrade for their offensive line in Riley Reiff.
The 6'5", 313-pound tackle out of Iowa had the look of a top-10 pick, but tumbled when teams in the early portions of the first round decided to jump on some prime (and some not-so-prime) defensive prospects.
Detroit certainly didn't mind seeing him drop. Granted, the Lions don't exactly need help up front, with a veteran group already entrusted with the task of protecting Matthew Stafford.
But the Lions' linemen sport an average age of 30, meaning that some turnover will be in store before long. By picking up a young prospect like Reiff now, Detroit will have plenty of time to groom an eventual successor to 34-year-old Jeff Backus at left tackle and execute a seamless transition at the position.