Bill Belichick, New England Patriots: Has the Hoodie Lost His Defensive Genius?
April 27, 2012

Jeff Gross/Getty Images
The New England Patriots traded up twice in the First Round of the NFL draft on Thursday night, selecting Syracuse defensive end Chandler Jones and Alabama linebacker Dont'a Hightower.
Jones is an excellent prospect who could develop into a star defensive end down the line for the Patriots.  However, Hightower is a big, plodding linebacker that is not built for stardom in today's pass-happy National Football League. 
Is Bill Belichick trying to build a defense to go back in time and win it all in 1985?  With Hightower, incumbent linebackers Brandon Spikes, Jerod Mayo and Rob Ninkovich, defensive tackles Vince Wilfork, Kyle Love and free agent acquisition Jonathan Fanene, the Patriots have built their defense around big, slow players who do not cover well or rush the passer at an elite level.
The Patriots' two highest paid defensive players are a defensive tackle (Wilfork) and an inside linebacker (Mayo).  If Wilfork could rush the passer the way that Richard Seymour once did for the Patriots and if Mayo could play linebacker like Patrick Willis of the 49ers, then it would make a lot of sense to build the defense around those two players.  Alas, Wilfork does not rush the passer well at all, and while Mayo is an above average player, he is not at the elite level of Willis. If your two highest paid defensive players are a defensive tackle and an inside linebacker that are built to play the run and not the pass, you are miss-allocating your limited resources given the evolution of the passing game.  Is it any wonder that the Patriots finished near the bottom of the league in passing defense again last season?
It is hard to critique a coach that has gone 27-5 over the last two regular seasons while winning the AFC East twice and nearly winning the Super Bowl last year.  However, Belichick's once renowned defensive acumen has come into question during the last two seasons with the Patriots finishing near the bottom of the league in yards per play allowed.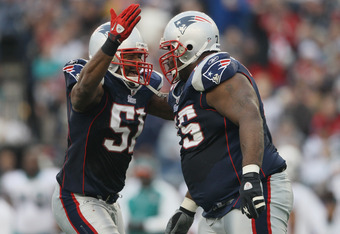 Elsa/Getty Images
The Patriots offseason moves have not strengthened their defense in any significant way.  The defensive backfield was their most significant weakness last season as they turned to converted wide receivers Julian Edelman and Matthew Slater and street free agents like Sterling Moore and Nate Jones.  This offseason, they added depth players in free agent safety Steven Gregory and free agent cornerback Will Allen, but neither move is going to make a major impact.  Moving Devin McCourty to safety and inserting Ras-I Dowling into the starting lineup at cornerback shakes things up, but neither player is a proven commodity at this point. 
The interior pass rush was also a significant weakness with Wilfork, Love and veteran free agents Albert Haynesworth, Shaun Ellis and Gerard Warren struggling to generate any kind of pressure.  The outside pass rush was actually a strength with the the free agent acquisitions of Andre Carter and Mark Anderson.  Carter remains unsigned at the moment and Anderson signed with the Buffalo Bills, meaning the only proven pass-rusher on the current roster is Ninkovich. 
Perhaps Jones can play a significant number of snaps right away and provide a new pass-rushing threat.  Maybe Carter will be brought back for another season to lead the pass rush again.  Maybe the acquisition of Hightower will allow the Patriots to use Ninkovich as a pass-rusher more next season, which is his biggest strength in my view.  Maybe Fanene will move inside on passing downs and provide more of an interior pass rush with Wilfork ultimately playing fewer snaps. 
If Dowling and Patrick Chung stay healthy and produce, the Patriots secondary will be much improved without making any big splashes in free agency or the draft.  Or, the Patriots may use the second round of the draft as an opportunity to improve the secondary. 
Maybe the plan of building a deeper, more versatile defense will bear fruit next season, and the Patriots will not need to be as reliant on Tom Brady and their elite offense.  However, as Bill Belichick so eloquently put it last season, "if if's and buts were candy and nuts, every day would be Christmas."
And the Patriots would play good defense, too.