2012 NFL Draft: Start Time, Latest TV and Online Info for 1st Round
April 26, 2012

Chris Trotman/Getty Images
The 2012 NFL Draft is mere hours away. This is a big day for everyone involved in the NFL from the casual fan to the team executive.
I, for one, can't wait and see what the picks will be and if my Mock Draft will hold up. What trades will go down? Who will the Miami Dolphins take? Who will be the first wide receiver off the board? 
You can find out all the answers to these questions in due time. Here is all the information you need to watch the draft wherever you are. 
When: Thursday, April 26 at 8 PM ET 
Where: Radio City Music Hall, New York City 
TV: ESPN, NFL Network 
ESPN Broadcasting Information
Host: Chris Berman
Analysts: Jon Gruden and Mel Kiper, Jr. 
NFL Insiders: Chris Mortensen and Adam Schefter (separate set) 
Reporter: Suzy Kolber
At Bristol: Bill Polian 
NFL Network Broadcasting Information
Host: Rich Eisen
Analysts: Mike Mayock, Marshall Faulk, Steve Mariucci and Michael Irvin
NFL Insiders: Michael Lombardi and Jason La Canfora (news desk)
On Stage: Deion Sanders
Green Room Reporter: Melissa Stark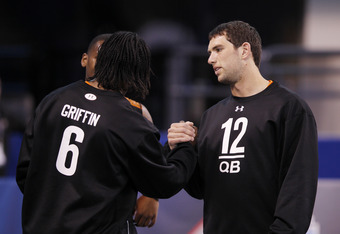 Joe Robbins/Getty Images
Watch Live Online: NFL.com or ESPN.com
Great Online Mock Drafts
Michael Lombardi, NFL Network
Mel Kiper Jr., ESPN
Peter Schrager, FOX Sports
Mike Tanier, Yahoo! Sports
Matt Miller, Bleacher Report
Charlie Campbell, Walter Football 
Picks You Can't Miss
The Number One Pick: Everyone knows what this pick is going to be for the Indianapolis Colts. But it is still the number one pick. If you are an NFL fan there is no way you can miss this. The fanfare and the history of the NFL is deeply rooted in the draft. 
Fans always remember the number one pick. Also, this will be the start of a much-hyped NFL career for Andrew Luck. Watching him start his epic journey in the league will be exciting. 
 
The Number Three Pick: For months, the pick for the Minnesota Vikings has been USC tackle Matt Kalil and with good reason. Kalil is big and athletic, and with an eye for blitzes, he will be a guaranteed opening day starter. He would give franchise quarterback Christian Ponder time to make good passes and let a healthy Adrian Peterson run wild.
Kalil will be the franchise tackle Minnesota is looking for. But recent rumblings suggest that the Vikes might trade the pick or draft a franchise corner in Morris Claiborne. You have to watch this pick to see what will happen.
The Number 31 Pick: The New England Patriots have this pick and should use it to rebuild an aging, fledgling defense. But they won't. What will most likely happen is that Bill Belichick will use the slot as trade bait for a team that is quarterback hungry. Bill Belichick plays the draft better than anyone in the NFL and this will be a highly coveted pick.