Tracking Michigan State Football Players in the 2012 NFL Draft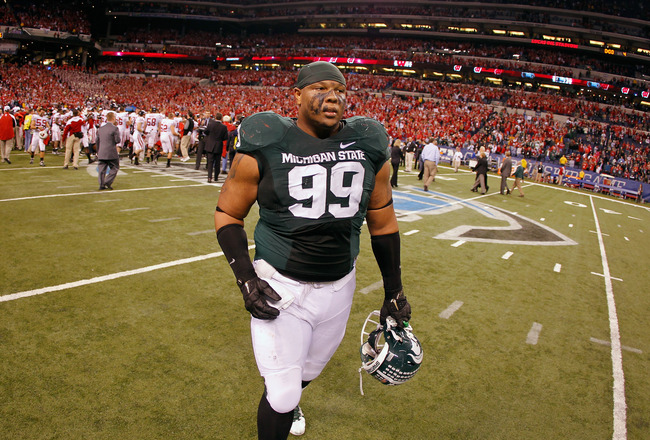 Gregory Shamus/Getty Images
Michigan State has not had a lot of players drafted into the NFL over the past few years and since 2000, they have not had a draft with more than five players selected.
This could be the year they change that.
The Spartans were very talented last season on defense, and a lot of those players will be taking their skills to the NFL starting this weekend.
While the Spartans may not have a player selected on the first day of the draft, they will have plenty selected over the final two—and we will be there every step of the way to bring updates as they happen.
Check back here for all of the latest information on the Michigan State Spartans as they are drafted into the NFL.
Jerel Worthy, DT, Drafted by Green Bay Packers, 2nd Round (No. 51 Overall)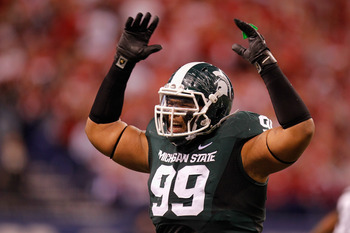 Gregory Shamus/Getty Images
Michigan State's Jerel Worthy is a physical specimen who doesn't always play up to his ability, but his talent cannot be denied. At his best, Worthy is able to shoot gaps with an amazing first step and be disruptive in the opponents' backfield. However, his motor definitely runs hot and cold.
The 6'2" 308-pound former Spartan never dominated against top competition in college, and showed trouble getting off the types of double teams he can expect to see in the NFL on a regular basis. With that said, when he is on he is lightning quick and able to give offensive lines headaches.
What the Experts Are Saying:
Strength:
From Pro Football Weekly's Nolan Nawrocki:
Excellent size and natural girth. Is quick off the snap and very effective penetrating the backfield when he is slanting and stunting. Surprising initial quickness. Can be disruptive when he keeps his pads low and shoots gaps. Has enough size, mass and power to bull his way into the backfield and two-gap. Solid tackler.
Weakness:
From National Football Post's Wes Bunting:
Lets his pad level rise through contact causing him to struggle with balance, which negates his quickness to shed. Once a defender gets their hands on him, he has a tough time freeing himself. When he sees the double team tends to lock his legs out and try to anchor his feet, instead of dropping his pad level. Is a naturally strong kid, but lacks balance inside vs. the double team and too often ends up on the ground because of lacking balance.
While Worthy won't be ready to be a starter in the NFL right away, the tools and the talent are definitely there for him to start sometime in the future. It really is up to him to decide how badly he wants it.
Pick Analysis
The Packers' lack of defense was rather apparent last season, and the speedy Worthy will help add some much-needed backfield pressure into Green Bay's repertoire.
Kirk Cousins, QB, Drafted by Washington Redskins, 4th Round (No. 102 Overall)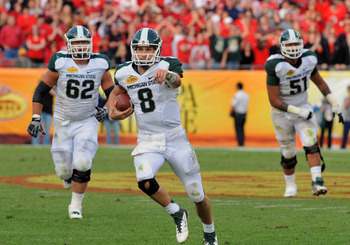 Al Messerschmidt/Getty Images
With all of the talk going to the top three quarterbacks of this year's draft class, there lies a lot of intrigue with Kirk Cousins as a potential NFL starter.
In his 39 starts for the Spartans, Cousins won 27 of them and set just about every meaningful record for a Michigan State quarterback, including 66 touchdown passes and over 9,000 passing yards. For all of the success Cousins enjoyed in college, there are many differing opinions as to how he projects at the NFL level.
Cousins throws a good ball with average arm strength, but under pressure, he tends to fold. However, he is very mobile and showed improved throwing mechanics at the Senior Bowl.
Here is what Doug Farrar of Yahoo! Sports had to say about Cousins:
Cousins is an ideal developmental West Coast Offense quarterback in most aspects, specifically when it comes to his ability to be functionally mobile from the snap and make short to intermediate throws with good timing. It will be no issue for him to adapt to "Sprint Right Option." The question is, as it was with Cam Newton and Christian Ponder last year: How much can an NFL team go on faith when it comes to mechanical fixes?
To me, Cousins is still a year or two away from being a starter in the league. For now, he can be a solid backup, and with some proper coaching, can develop into a potential long-term starter, a la Kevin Kolb or Matt Flynn.
The Redskins add Kirk Cousins as a potentially quality backup to RGIII (and, ostensibly, Rex Grossman). Under Mark D'Antonio at Michigan State, Cousins had a dominant career and is maybe the best QB in Spartan history. Needless to say, he'll have to adjust.
Kewshawn Martin, WR, Drafted by Houston Texans, 4th Round (No. 121 Overall)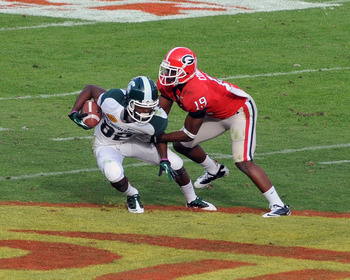 Al Messerschmidt/Getty Images
Michigan State wide receiver Keshawn Martin is going to be an x-factor in the NFL, especially on special teams, and he's a great pickup in the 2012 NFL draft.
At 5'11'', 189 pounds, nobody is going to mistake Martin for a big-time physical threat at the next level, but he does bring a distinct skill-set that can be incredibly dangerous when used correctly. He was a play-maker during his time with the Spartans, and finished his collegiate career with ten touchdowns through the air, three rushing touchdowns, two punt return scores, and one kick return touchdown.
What Martin Brings to the Team
Martin was probably drafted with an immediate special teams impact in mind. He's a shifty returner with great vision and speed, and he should be able to translate that into the NFL right away.
On offense he looks like he will fit the prototypical slot receiver role. He's small, very quick and elusive, and he can be very effective in open space. Look for him to be utilized in the slot on slant passes, and as someone who can find holes in a zone defense with his speed and vision.
Once he gets the ball he has the skills to get yards after the catch, and he has the explosiveness to take it to the house.
What Experts Are Saying
Here's what the NFL Network's Mike Mayock had to say about Martin via Justin Rogers of Mlive.com:
"He ran a 4.4 at the combine. I like his value. He's a slot receiver who can also return punts and kickoffs. He caught the football extremely well. He's going to be a value play for somebody."
It seems like Mayock and I are on the same page here. Nobody is going to confuse Martin for what he is not, but instead try to highlight and find the value in what he is. He can be very dangerous in the slot, but chances are we'll see him make his immediate impact on special teams.
Rookie Impact
Expect Martin to make a push to be the guy that returns both kickoff and punts for the team. His speed, elusiveness and vision will make him a great candidate, and even if he doesn't take one to the house, he'll be able to set the offense up in good field position. He'll be a candidate to get on field for the offense, but he may be more of a backup or injury replacement in his rookie year.
Pick Analysis:
Martin will fill an immediate need for the Texans in his rookie season in the return game. A slenderly built speedster, Martin should also work into the offensive mix out of the slot. Nice pick by Gary Kubiak and his staff.
Trenton Robinson, S, Drafted by San Francisco 49ers, 6th Round (No. 180 Overall)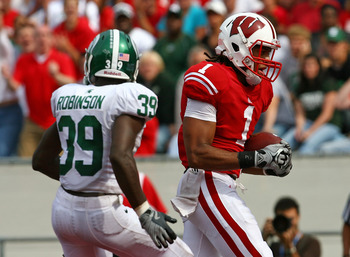 Jonathan Daniel/Getty Images
Trenton Robinson had some big games during his time at Michigan State, including a 12 tackle performance in the B1G title game against Wisconsin last season.
At 5'10" and 195 pounds, he is small for a safety, and is compared to Bob Sanders based on size and hard hitting ability.
Staying healthy will be a big deal for him and if he can do so, he should be able to contribute on special teams and as a backup down the road for the 49ers.
B.J. Cunningham, WR, Drafted by Miami Dolphins, 6th Round (No. 183 Overall)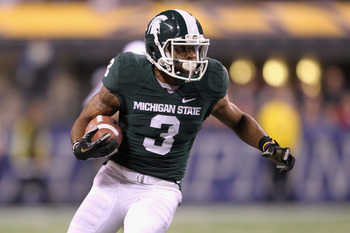 Andy Lyons/Getty Images
B.J Cunningham owns the record for the most receptions and yardage by a receiver at Michigan State with 218 catches for 3,086 yards. That's impressive coming from a school whose wideout alumni include Plaxico Burress, Kirk Gibson, Derrick Mason and Charles Rogers.
He has the size for the receiver position at 6'2", 215 pounds. Cunningham has the reputation as a solid route runner with great hands. His speed has been a concern for some, as he ran the 40 in a blazingly slow 4.59.
NFL.com sees Cunningham's strengths and weaknesses as follows:
Strengths

Cunningham is very savvy off the ball to get into his route, uses his core strength to swat away hands and leans on corners as he works into his route. He has very quick feet to get corners off balance in-route and the explosion to burst and then snap off routes quickly and gain separation. He is a good zone-feel receiver who likes to sit in holes, catch the ball and then work up field. He is a strong and physical player who makes his presence felt when blocking downfield.

Weaknesses

Cunningham can struggle to get open at times if he doesn't get open quickly with his footwork. He can be physical in routes, which at times can allow defensive backs to run in-phase with him.
Cunningham should have an impact in his rookie season as a No. 2 receiver. He will make a great addition with his solid work ethic and positive attitude.
Cunningham's intangibles along with his raw talent should bode well in the NFL.
Pick Analysis:
Not an outstanding pick for the Dolphins. Cunningham measured relatively small hands by NFL standards at the Combine and doesn't have elite linear speed. At best, will be a weapon out of the slot.
Edwin Baker, RB, Drafted by San Diego Chargers, 7th Round (No. 250 Overall)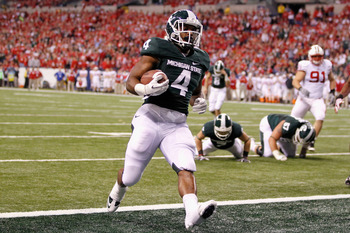 Gregory Shamus/Getty Images
After an impressive 2010 season as Michigan State's leading rusher, Edwin Baker split carries in 2011 and turned pro at the conclusion of his junior campaign.
Baker, a 5'8", 204-pound back who squats 600 pounds, is one of the more qualified mighty mites in the draft. His combination of strength and vision has caught the attention of an assortment of NFL suitors.
NFL Draft Scout at CBSSports.com analyzed how Baker's rushing style will translate to the pro level.
Strengths: Has shifty footwork with the natural burst and lateral quickness to make defenders miss and turn upfield in a hurry—tough to tackle in space…Physical at the point of attack and keeps his feet moving through contact to fight and squirm through tackles.

Weaknesses: Lacks elite size for the position and looks maxed out physically -- also carries some durability concerns. Not the most instinctive runner and too often tries for the big play, dancing and losing yards. An inconsistent receiver out of the backfield with suspect concentration and limited experience (only 15 receptions in his MSU career). Also has ball security questions with some costly fumbles over his career.
Rookie Impact
I wouldn't expect fireworks in his first year, but Baker has the tools to contribute in the Chargers' rushing attack in 2012.
Given opportunities in the open field, the Michigan State product has the vision and low pad level that could translate to positive returns early. However, everything without the pigskin in his hands is what worries scouts.
If he addresses the receiving and blocking concerns, Baker could be a complementary piece in the Chargers' running back committee. Think a poor man's Ahmad Bradshaw.
Otherwise, he'll be a one-trick pony at the bottom of the depth chart.
Keep Reading

Michigan State Football: Like this team?