2012 NFL Mock Draft: Running Down the Picks in the Bleacher Report Blogger Draft
April 25, 2012

Joe Robbins/Getty Images
This morning on Twitter, myself, NFL lead blogger Aaron Nagler, NFL Associate Editor Michael Schottey, AFC South correspondent Nate Dunlevy, AFC North lead blogger Andrea Hangst, AFC East lead blogger Erik Frenz, NFC South lead blogger Knox Bardeen and NFC North lead blogger Andrew Garda conducted a mock first round where we each represented one division. Here's a review of the proceedings and my thoughts on the picks:
1. Indianapolis - Stanford QB Andrew Luck (Autopick)
2. Washington (from St. Louis) - Baylor QB Robert Griffin III (Autopick)
3. Minnesota - USC OT Matt Kalil (Garda) - The easy call no matter what you're hearing.
4. Cleveland - Alabama RB Trent Richardson (Hangst) - Again, easy call.
5. Tampa Bay - LSU CB Morris Claiborne (Bardeen) - Another easy call.
6. St. Louis (from Washington) - Mississippi State DT Fletcher Cox (Schottey) - Not what the masses expect, but the smart pick.
7. Jacksonville - Oklahoma State WR Justin Blackmon (Dunlevy) - I won't fault the Jaguars for taking Blackmon, but I expect they'll exhaust all possibilities of trading down before taking him.
8. Miami - North Carolina DE Quinton Coples (Frenz) - The Dolphins sorely need another end and Coples has top-five talent, so I can see opting for him over Ryan Tannehill, but I don't endorse it. 
9. Arizona (from Carolina) - Iowa OT Riley Reiff (Schottey) - Schottey gave up two third round picks to get this done, and I hate it. There's no clear signal that Buffalo will take Reiff, and the Cardinals don't have a second-round pick, so this would keep them on the sidelines until the third day without another trade. Reiff is good, but not THAT good. The Panthers, on the other hand, made out like bandits.
10. Buffalo - Boston College LB Luke Kuechly (Frenz) - Not the direction I would have gone, but not a reach either. Kuechly could play MLB or WLB, and he would complete the overhaul of the Bills front seven into one of the best in the league.
11. Kansas City - Texas A&M QB Ryan Tannehill (Bloom) - I've never been sold on Matt Cassel, but I do see franchise potential in Tannehill. The Chiefs contended without their top offensive and defensive players last year, so they can afford to spend a first-round pick on a player who won't contribute this year.
12. Seattle - South Carolina DE/OLB Melvin Ingram (Schottey) - I don't know if he's as good a fit at LEO as Courtney Upshaw, but he would still be a great pick for the Seahawks at No. 12.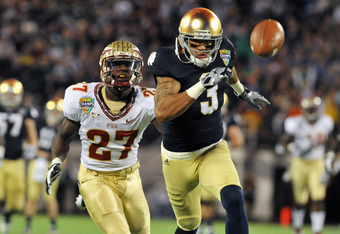 Al Messerschmidt/Getty Images
13. New York Jets (from Carolina) - Notre Dame WR Michael Floyd (Frenz) - I believe Knox Bardeen got a fifth-round pick and bump from the fourth round to the third round here. More patching of the hole left by the Greg Olsen deal last year. I can see the Jets trading up, but Mark Barron or Courtney Upshaw would be the target, not Floyd. I also don't see the Cowboys or Eagles taking Floyd ahead of the Jets, so it's a bit of a head scratcher.
14. Dallas - Alabama S Mark Barron (Nagler) - One of the more inevitable picks of the first round unless you buy the latest rumors that Buffalo could take Barron. Adam Schefter said "mark this down" when he stated Barron won't be there for Dallas on Twitter this morning.
15. Philadelphia - LSU DT Michael Brockers (Nagler) - Trench players in the first round fit the Eagles' draft history. Props to Aaron Nagler for getting these picks in while he was covering an NFL draft event in New York.
16. Carolina (from New York Jets) - Memphis DT Dontari Poe (Bardeen) - I don't love the pick, but Bardeen picked up so much extra draft capital to mitigate the bust risk, I can't argue with it. 
17. Cincinnati (from Oakland) - Stanford OG David DeCastro (Hangst) - A dream pick. DeCastro is one of the five safest picks in the entire draft, and he'll start from day one.
18. San Diego - Alabama DE/OLB Courtney Upshaw (Bloom) - Everything Larry English has never been. Upshaw's two-way game, leadership and bully mentality are sorely needed in San Diego.
19. Chicago - Illinois DE/OLB Whitney Mercilus (Garda) - Solid pick as a counterpart to Julius Peppers. Just about where I have him going off of the board.
20. Tennessee - USC DE/OLB Nick Perry (Dunlevy) - I can see the Titans going DE here, but I wonder if Chandler Jones (who didn't go in the first round in our mock) might have passed him on most boards.
21. Cincinnati - South Carolina CB Stephon Gilmore (Hangst) - The Bengals will do backflips if a corner of Gilmore's elite physical talent is there at 21. DeCastro/Gilmore is a best-case scenario for them.
22. Cleveland (from Atlanta) - Baylor WR Kendall Wright (Hangst) - The Browns get some speed to complement the rugged game of Greg Little. Can't argue with it.
23. Denver (from Detroit) - Alabama CB Dre Kirkpatrick (Bloom) - As soon as I saw the corners falling, I hit up everyone from 19 on to get Denver on the clock for Kirkpatrick. He has to be one of their main targets, and he would at worst be in nickel and dime packages. Garda was willing to do the deal for a fourth-round pick, which the Broncos have two of after the Tim Tebow deal. I suspect fans in Detroit would be livid if Martin Mayhew did something like this instead of taking Kirkpatrick, an ideal pick for the Lions.
24. Pittsburgh - Alabama ILB Dont'a Hightower (Hangst) - All of the AFC North picks are on the nose perfect, a testament to the work of Ms. Hangst. Hightower fills a need and he plays like a natural Steeler.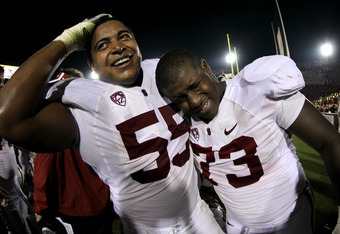 Stephen Dunn/Getty Images
25. Detroit (from Denver) - Stanford OT Jonathan Martin (Garda) - This is a need-based pick, and one I don't expect the Lions to make, especially with Chandler Jones on the board. Martin might only be a marginal upgrade at offensive tackle.
26. Houston - Georgia Tech WR Stephen Hill (Dunlevy) - A massive addition of speed will keep defenses off balance, although mocking a wide receiver to Houston seems too easy. I expect to see them go another direction Thursday night.
27. New England (from New Orleans) - Boise State DE/OLB Shea McClellin (Frenz) - McClellin fits one of the Pats needs, and he has been a hot name of late. This is looking very possible unless he goes earlier.
28. Green Bay - Clemson DE/OLB Andre Branch (Garda) - He will bolster the Packers pass rush but has a ways to go as a linebacker, especially against the run. This doesn't feel like a Thompson pick, but it is not impossible.
29. Baltimore - Wisconsin C Peter Konz (Hangst) - Andrea said she was trying to deal up for Hill or McClellin, but was forced to settle for Konz. He can start at guard while Matt Birk is in the autumn of his career. Solid pick, although Andrea agreed with me that GM Ozzie Newsome would probably try to trade out of the first in this scenario.
30. San Francisco - Wisconsin OG Kevin Zeitler (Schottey) - Wisconsin OL are safe and smart picks for playoff teams. An instant starter.
31. New England - Michigan State DT Jerel Worthy (Frenz) - A curious pick as Worthy is a project as a 3-4 DE, or otherwise, as a two-gap player. He could provide pass rush from the interior DL, and you can't ever rule out any pick for the Patriots.
32. New York Giants - Ohio State OT Mike Adams (Nagler) - I'm not a huge fan of Adams, but the Giants strong football culture could light his fire.