NFC South Morning Jog: Falcons Agree to Deal for CB Asante Samuel
April 25, 2012

Scott Cunningham/Getty Images
Each morning, I like to start the day off with a workout—usually a morning jog. I can clear my head, plan my day and think about what's going on around the NFC South.
According to a tweet from Jeff Skversky of WPVI-TV 6abc in Philadelphia, the Falcons have agreed to terms (an undisclosed late-round draft pick) in trading for Philadelphia Eagles corner Asante Samuel. Not only could this have draft implications because of the loss of the late-round pick, but also it would likely mean the team wouldn't have to look at cornerback as early, or at all, in the draft. 
As soon as the rumors broke that the Falcons were talking to Philadelphia about trading a draft pick for corner Asante Samuel, current corner Brent Grimes, who was slapped with the franchise tag recently, appeared at the Falcons facility and signed his offer sheet.
Samuel's new deal with the Falcons is worth $18.5 million, according to the Atlanta Journal-Constitution, over three years.
Charlotte Observer beat writer Joe Person wrote that the Panthers made a visit to North Carolina defensive end Quinton Coples Monday. Last season, the final visit made to a draft prospect was to eventual first-overall pick Cam Newton.
Jeff Duncan, of the New Orleans Times-Picayune, explained the Mickey Loomis eavesdropping allegations very well in this video and talks about how hard this will be to prove. [Video]
Since I'm on a video kick with the Saints today, I'll throw in interim head coach Joe Vitt's pre-draft presser from Tuesday. Oh, and by the way, he doesn't like the "interim" tag. He still considers himself to be the assistant coach. [Video]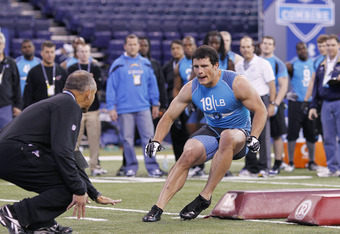 Joe Robbins/Getty Images
Ira Kaufman, of the Tampa Tribune, comments on each of the draft picks in the Bucs' last three draft classes. 
If Morris Claiborne and Trent Richardson go before Tampa Bay's pick at No. 5, Rick Stroud of the Tampa Bay Times, suggests the team will pick linebacker Luke Kuechly.