Deion Sanders Charged with Misdemeanor Simple Assault Following Altercation
April 24, 2012

Former NFL star Deion Sanders isn't walking away from a Monday altercation with his estranged wife completely scot-free. 
According to a report from the Associated Press, Sanders has been charged with misdemeanor simple assault for his role in yesterday's altercation with Pilar Sanders.
Pilar was arrested on Monday on a misdemeanor domestic-violence charge, saying she was innocent upon her release on Tuesday. Sanders himself was not arrested, as the police said that the charge did not warrant an arrest.
According to NFL.com, the charge against Sanders is one that covers "any act considered aggressive and could be as simple as touching or defensively jerking away from someone's grip."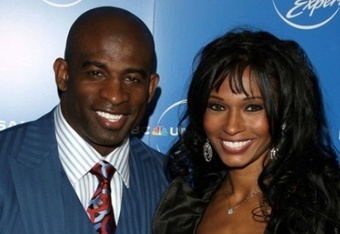 Sanders, who tweeted on Monday that Pilar and a friend of hers has "jumped" him inside his home, was not shy about sharing the news with the public. He said that he had notified the police, and he even tweeted a picture of himself and his kids filling out police reports.
The tweet with the picture has since disappeared from Sanders' Twitter account.
Deion and Pilar Sanders are in the middle of a nasty divorce. TMZ has reported that Pilar is suing Sanders for $200 million. The celebrity gossip website has also reported that Pilar had claimed in court documents that Sanders had cut her off financially.
Sanders currently works as an analyst for the NFL Network. It is unclear how this sudden situation changes the network's plans for him concerning Thursday's NFL draft.
In 14 NFL seasons, Sanders made eight Pro Bowls, setting new standards for the cornerback position along the way. He was enshrined in the Pro Football Hall of Fame in 2011.