Deion Sanders Pressing Charges After Alleged Altercation with Pilar Sanders
April 23, 2012

Elsa/Getty Images
Hall of Fame cornerback Deion Sanders went on Twitter to claim he was "jumped" by a family member in his home.
UPDATE: Tuesday, April 24 at 11:30 p.m. ET
According to the Associated Press, police decided to charge Deion Sanders with misdemeanor simple assault for his role in Monday's altercation with Pilar Sanders.
Unlike his estranged wife, Sanders was not arrested. Pilar was arrested on Monday and charged with misdemeanor domestic violence. She was released on Tuesday.
According to NFL.com, the charge against the eight-time Pro Bowler "covers any act considered aggressive and could be as simple as touching or defensively jerking away from someone's grip." The charge carries a fine of up to $500, but it does not warrant an arrest.
UPDATE: Tuesday, April 24 at 5:00 p.m. EST
The Deion Sanders-Pilar Sanders feud continues to heat up.
After being released on bond Tuesday, a judge issued an emergency protective order against Pilar before she even left the jail. She will not be allowed to enter Deion's Texas mansion for the next 60 days according to TMZ.
She briefly spoke with reporters, and tried to sell her side of the story:
I am innocent. I understand that I have a very little chance at beating a Hall of Fame, two-sport man that everyone seems to love and adore. I am a full-time mom 100 percent for my children and I have just not gotten a fair shake.
Expect Deion to issue some sort of rebuttal in the near future. This one is getting rather ugly in a hurry. 
UPDATE: Tuesday, April 24 at 8:00 a.m. EST
After all the insanity that happened with Deion Sanders last night, Pilar found herself arrested and charged with a Class C Misdemeanor after assaulting her husband. 
According to the Collin County website, Pilar was arrested with her bond set at $264.00. There is also a mugshot photo available.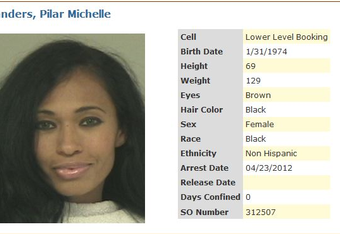 Life was never dull for Prime Time in the NFL, and things only seem to be getting crazier for him in the offseason. 
Sanders told the story in a series of tweets, starting with this one:
"Pray for me and my kids now! They just witnessed their mother and a friend jump me in my room. She's going to jail n I'm pressing charges!"

— DeionSanders (@DeionSanders) April 23, 2012
Sanders then tweeted that he had notified the police:
"I'm sad my boys witnessed this mess but I warned the police department here that she was gone try n harm me and my boys. This is on my mama!"

— DeionSanders (@DeionSanders) April 23, 2012
Lastly, Sanders tweeted a picture of himself and his two sons filling out police reports:
"yfrog.com/o0547uj filling out police reports now! Thank God for this platform to issue the Truth."

— DeionSanders (@DeionSanders) April 23, 2012
Sanders has been married twice, first to Carolyn Chambers, and then to Pilar Biggers. He had children with both of them.
It stands to reason that Sanders is referring to Pilar in this series of tweets. He revealed in December that the two of them were getting divorced, and their divorce has been anything but harmonious. TMZ reported in January that Pilar claimed in court documents that Sanders had cheated on her, and TMZ eventually reported in February that she had accused Sanders of holding her as a "financial hostage."
Most importantly, TMZ has reported that Pilar is suing Sanders for $200 million. 
BlackSportsOnline.com claims it was indeed Pilar and a female friend who attacked Sanders in his home, and the website also claims to have a picture of Pilar's accomplice. 
It's unclear who took the picture of Sanders and his kids filling out police reports.
Sanders was an eight-time Pro Bowler in 14 NFL seasons, and he also enjoyed some success in Major League Baseball. He was enshrined in the Pro Football Hall of Fame in 2011.