San Francisco 49ers Mock Draft: Last-Minute 7-Round Predictions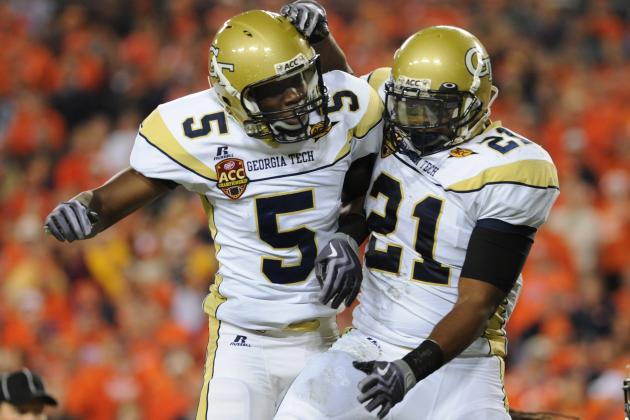 Al Messerschmidt/Getty Images

Welcome to my third and final San Francisco 49ers 2012 NFL Mock Draft.
Contrary to my previous mock, there will be no quirks found here.
Surely Trent Baalke and Co. will be looking to manipulate trade offers in order to maximize value and attack prospects they feel strongly about.
But until a draft-day trade is made, the 49ers have seven total selections and will be preparing to draft according to where they are currently slotted.
Here's how I think this weekend's draft will unfold for the Niners if they're somehow unsuccessful in finding any trade partners.
Pre-Mock Notes
Many 49er fans and experts think the guard position should be addressed as early as the 30th pick. I'll have to disagree. The free-agent signings of Randy Moss and Brandon Jacobs are quick fixes, not long-term solutions. There is still a serious need for offensive skill players to represent the future. This mock draft reflects exactly that. If a guard is the best available, that's a different story. But David DeCastro and Cordy Glenn will be long gone, and no other guard prospects would meet value in the first round.
The cornerback position was not addressed. It was assessed and considered, but the availability of promising talent on the offensive side of the ball in the early rounds came at the cost of acquiring ample depth across the board.
Many of these selections are players with whom the 49ers have had individual contact throughout the pre-draft process. Though these meetings do not guarantee the front office will end up feeling strongly about every prospect with whom they're in touch, many of them will play a substantial part in the 49ers' draft strategy. They did, in fact, take an interest for a reason.
The 49ers' front office is quite fond of high-character prospects. They'll be looking for players who will buy into the program from day one, and my mock generally reflects that as well.
Begin Slideshow

»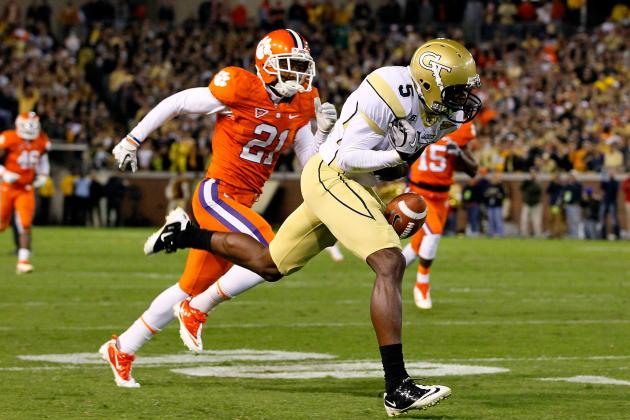 Kevin C. Cox/Getty Images

Why He Fits
After meeting with first-round-rated prospects like Stephen Hill (Georgia Tech), Kendall Wright (Baylor) and Rueben Randle (LSU), it's clear the 49ers are interested in a legitimate No. 1 receiver for the future. Moss is a one-year rental (at best) and both Manningham and Crabtree have limited ceilings. At 6'4", 215 pounds, Hill possesses a rare blend of size and elite speed the 49ers so desperately need.
Tight end Coby Fleener (Stanford) is an excellent option and seemingly a fan-favorite throughout the 49er Nation, but I don't believe he'll make it as far as San Francisco would need him to fall.
Why He's Available
The Houston Texans have strongly considered Hill at No. 26 to line up opposite superstar Andre Johnson, but the loss of Joel Dreessen in free agency creates a need at tight end. Fleener is a solid fit in Houston and makes Hill the easy decision for the 49ers.
Brief Scouting Report
Hill went largely unnoticed leading up to the 2012 NFL Scouting Combine due to a lack of production inside Georgia Tech's run-heavy offense. However, scouts quickly caught on as Hill ripped off a 4.36 time in the 40-yard dash and displayed an impressive ability to haul in the deep ball. There will be a learning curve involved with such a raw prospect, but with the right guidance, he can be a star in the making.
Click here to see the NFL.com scouting report on Hill.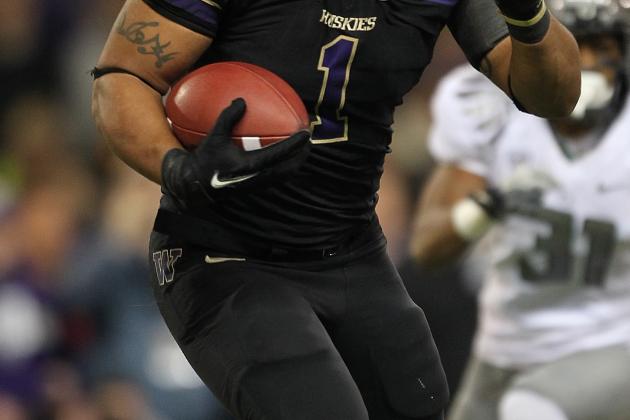 Otto Greule Jr/Getty Images

Why He Fits
We all love Frank Gore, but the 49ers' all-time leading rusher is aging fast and running out of body parts that haven't been injured. Neither Jacobs nor Anthony Dixon are locks to survive training camp, which leaves Hunter as the only reliable option in a long-term view. Polk's running style is extremely comparable to Gore's, and the Niners would do well to make him the eventual replacement.
Why He's Available
Due to the league's increasing focus on the passing game, running backs are severely undervalued in this draft. Polk has been rated as a potential early-second-round pick, but some draft experts have as many as six different running backs rated higher than him, and we may see only Trent Richardson go in the first round.
I'm confident Polk will be available at No. 61.
Brief Scouting Report
At 5'11", 215 pounds, Polk can do it all. He's got soft hands out of the backfield and is a technically-sound blocker in the passing game. Durability is a concern, but he's shown the ability to overcome injury. He's a determined player with top-tier intangibles. Vision, patience, power and balance are all assets that this well-rounded back possesses.
Check out ESPN's scouting report on Polk for a detailed look.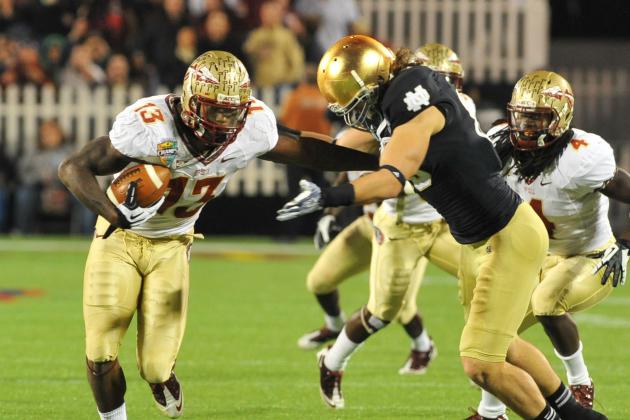 Al Messerschmidt/Getty Images

Why He Fits
Bradham is an athletic outside linebacker that shows promise in pass coverage. The 49ers found their true edge rusher a year ago in Aldon Smith, but they could use a linebacker on the outside that excels in other areas. Bradham displays an excellent work ethic and is a weight room freak. He can make an immediate impact on special teams while developing as a potential future OLB in the 3-4 opposite Smith.
Why He's Available
Bradham is generally rated as a third-or-fourth-round prospect. Despite all the positives, he needs to work on his tackling technique and shedding blockers in run defense. Many teams will pass, but the Niners know they can coach him up and they may decide to take him off the board.
Brief Scouting Report
At 6'1", 248 pounds, Bradham has top-end speed for the position in addition to possessing long arms and massive hands. With the right coaching, he can develop into an every-down linebacker in the NFL. He stood out at the NFL Combine with a 4.64 40-yard dash and a 37" vertical jump.
Click here to see Bradham's NFL draft profile at NFL.com.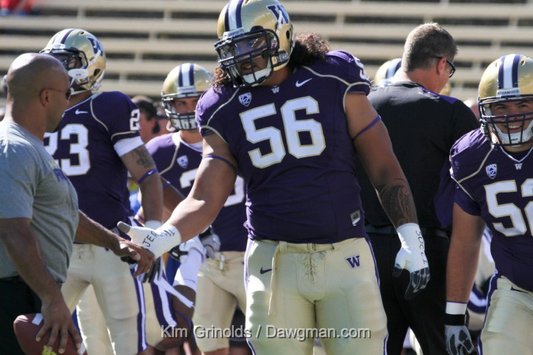 Why He Fits
The fourth round is a bit late to find a guard, but Kelemete is worth the wait. At 6'4", 307 pounds, he's an athletic interior lineman with a mean streak that the 49ers would love to have up front. He may not be ready from day one, but Kelemete would provide solid competition for the guard spot along with Alex Boone and Daniel Kilgore.
Why He's Available
Many teams will struggle to decide where Kelemete fits at the next level, but he's a good fit for what the 49ers need in a guard. San Francisco will be happy to pluck him off the board if and when he falls to them here.
Brief Scouting Report
Kelemete is reliable out in space when attacking the second level. His pass-blocking technique could use some work, but this issue can be minimized at guard and can improve with ample coaching. Kelemete holds his blocks well in the run game and he is an aggressive blocker looking to punish his victims.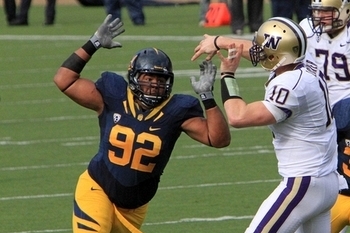 Why He Fits
The 49ers will likely add some depth on the defensive front at some point. Guyton is a perfect fit as a 3-4 defensive end and could overtake one of the current reserves on the depth chart.
Why He's Available
Some expect Guyton to go earlier than Round 5, but his pass-rushing requires development, and I believe he'll slip. He fits well with what the Niners do and they'll gladly pick him up. Guyton was a visitor at the Niners' local pro day, and if they like him enough, they may even opt to take him in the fourth.
Brief Scouting Report
At 6'3", 285 pounds, Guyton is a high-motor defensive end who's reliable in run defense. If he develops his pass rush, he has the potential to become an every-down option in the future.
Click here for an in-depth scouting report provided by NFL.com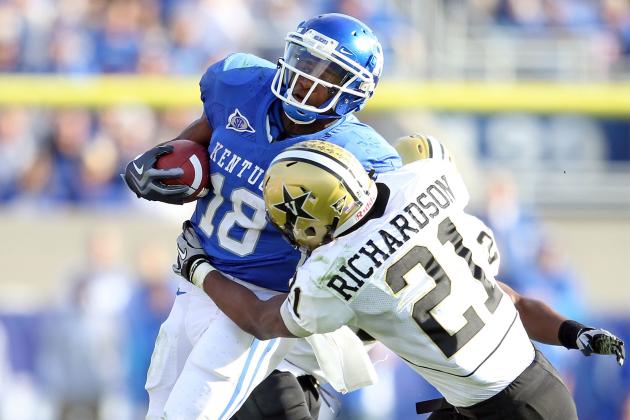 Andy Lyons/Getty Images

Why He Fits
The selection of Sean Richardson provides needed depth at safety after the loss of Madieu Williams, and he has the potential to make an immediate impact on special teams. The 49ers have an excellent defensive backs coach in Ed Donatell, who may be able to help this prospect get the most of his assets.
Why He's Available
Richardson has excellent size (6'3", 216 pounds) and speed (4.52 40-yard dash) for a safety, but displays little-to-no ball skills and needs a ton of work to become a reliable option in the secondary. That said, the Niners will gladly take him for his special teams value.
Brief Scouting Report
As previously stated, Richardson has an excellent blend of size and speed. He's more instinctive in run defense than in the passing game, and would be a liability in that area. He's a hard worker with a passion for the game, but he has a limited ceiling at the NFL level.
Why He Fits
Slowey showed promise despite a lower level of competition in college, and he is worth a shot at the next level. He displays the qualities the 49ers love and likely won't be intimidated in the NFL. Goodwin's play is on the decline, and though Slowey is no sure-fire replacement, other needs were addressed in the earlier rounds. Slowey played tackle in college and could also be valued for his versatility.
Why He's Available
Slowey may very well be an option as an undrafted free agent, but the Niners won't take the risk. He comes off the board as draft weekend comes to a close.
Brief Scouting Report
Slowey measures up at 6'3", 303 pounds and ran a 5.08 40-yard dash at his pro day. He's a hard-nosed player who always finishes his blocks and shows good mobility as well.
Thank you for reading, enjoy the upcoming NFL draft!
Add me on Twitter: @B_Burnett49