St. Louis Rams: How Robert Griffin III Trade Will Reshape Rams Franchise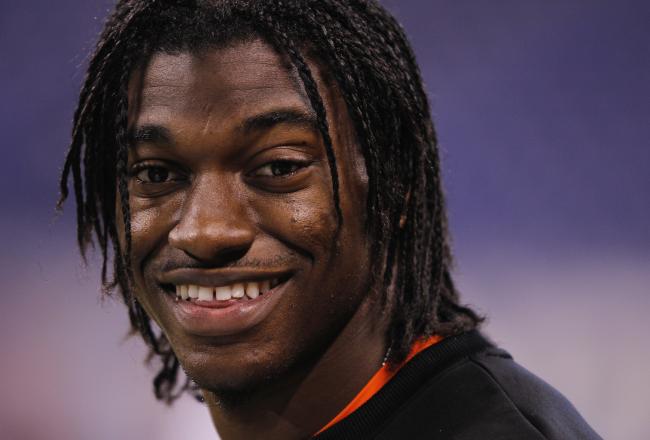 Joe Robbins/Getty Images
The St. Louis Rams made out like bandits in their trade with the Washington Redskins.
The league's second-worst team in 2011 could have used this year's No. 2 overall pick to better their squad, but acquiring three first-round picks and a second-round pick in exchange for a player the Rams have no use for was easily the best option.
The Rams are very fortunate that RGIII's star blew up the way it did during the draft process, because they certainly wouldn't have gotten that type of bounty for a player like Ryan Tannehill of Texas A&M or even Matt Barkley of USC, had he declared.
Rams owner Stan Kroenke and new coach Jeff Fisher
Dilip Vishwanat/Getty Images
With the 2011 Heisman Trophy winner now heading to Washington, the Rams have two first-round picks as ammunition in each of the next two years and can significantly reshape their franchise.
Coach Jeff Fisher and his staff not only have work cut out for them on the field, but they have to make the most of this golden opportunity placed before them in the offseason.
Here's a look at how the Rams can turn things around—courtesy of Robert Griffin III.
2012 First-Round Pick (No. 6 Overall)
The Rams have eight picks overall in the 2012 NFL draft and three in the first 39 picks. Their biggest need is at wide receiver, but a two-win team obviously has a number of holes to fill.
The speculation on this pick has largely come down to wide receiver and defensive tackle. Wide receiver should be the easy choice, but people are having trouble coming to grips with Justin Blackmon being selected in the top six.
As good as he is, he's not that elite receiver prospect like Calvin Johnson, A.J. Green or even Julio Jones, the No. 6 overall picks last year. Mississippi State defensive tackle Fletcher Cox has become the other popular selection.
Regardless of who the pick is, the Rams won't make the kind of noise that RGIII will make at No. 2, but that is okay with them. There is even a chance they trade back again and pick up one of their needs a bit later in the first round.
Fisher knows one draft pick is not going to change this team's fortunes.
2012 Second-Round Pick (No. 39 Overall)
What Two Needs MUST the Rams Address in Rounds 1 and 2?
St. Louis has the first pick (No. 33 overall) and the sixth pick (No. 39 overall) in the second round. If they want to make some noise and land a particular player, these picks would be the ammo needed to make it happen.
Or they sit tight and add value as it comes to them.
Depending on what they do in the first round, the Rams will have a very good shot at feeling some needs immediately. As discussed earlier, wide receiver and defensive tackle are at the top of that list, but they also have needs at outside linebacker, running back, offensive tackle and in the defensive secondary.
Expect Fisher to focus on making this team competitive sooner than later—or at least giving Sam Bradford a better chance to succeed.
2013 First-Round Pick (TBD) and 2014 First-Round Pick (TBD)
Here is where things get really interesting.
it is impossible to predict what the Rams' biggest needs will be before this year's draft even happens, but we do know that they'll have more firepower than anyone else to make things happen. Armed with four first-round picks over two years, St. Louis has the potential to land a franchise-changing prospect in one of the two years.
One such player who stands out at a position of need (right now) is USC wide receiver Robert Woods. So do Ohio State defensive tackle Johnathon Hankins (both the Rams' starting d-tackles from 2011 are gone), South Carolina running back Marcus Lattimore and LSU cornerback Tyrann Mathieu—all four underclassmen will be draft-eligible in 2013.
While there is plenty we do not know about the Rams' future, we do know that they have all the ammunition possible to make dramatic changes. Accompanied with their own draft picks, St. Louis could potentially add five first-round talents in the next three years—mostly because of one player and one team.
The Redskins will go the opposite route, potentially adding only one first-round pick to their roster in the next three years.
The risk of trading multiple picks for a shot at one player has a major impact for both teams involved, and whether or not the Rams come out better for it rests solely with them.
This article is
What is the duplicate article?
Why is this article offensive?
Where is this article plagiarized from?
Why is this article poorly edited?

St Louis Rams: Like this team?