Indianapolis Colts: Why Massive Rebuilding Is Exactly What the Franchise Needed
April 23, 2012

Joey Foley/Getty Images
Just two years ago the Indianapolis Colts were 14-0, making a run at a perfect season and on their way to Super Bowl XLIV. 
Now, days away from the 2012 NFL draft, they are rebuilding.
The question many Colts fans are still pondering: Was such a massive rebuilding process really necessary? The answer—Yes. 
Even though I was one of those fans who wanted to bring the band back together for one more title run, that just wasn't realistic.  The following reasons explain why, and they all coincided to create the "perfect storm" as many people have put it. 
Salary Cap Hell

It's a phrase Colts fans became all to familiar with towards the end of the 2011 season and during the offseason.
While "Salary Cap Hell" might be a little overstated, they were definitely not in an enviable cap position. Before releasing Peyton Manning, the Colts were about $8 million under the salary cap. That's just enough to sign their draft picks—and not much else. 
Forget about resigning Robert Mathis and Reggie Wayne.  Pierre Garcon, Jeff Saturday and Jacob Tamme were also free agents. So, like a lot of teams, they had to make moves to get in better cap position. 
This Team Was Not a Contender

The Colts were 2-14 last year—it was the worst record in the league.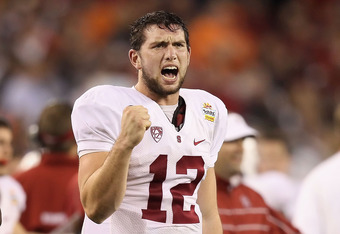 Christian Petersen/Getty Images
Sure, Manning probably would've gotten them six or seven more victories and maybe even a playoff spot, but this team wasn't going to win a Super Bowl. And the team wouldn't have done it this season with those key vets back again in 2012. 
What exactly would Gary Brackett, Melvin Bullit, Joseph Addai and Dallas Clark add to this team in 2012? Brackett and Bullit basically missed the entire season, and when Addai and Clark played, they produced little. Is it any wonder that none of these guys are getting looks from other teams? 
They're all well past their prime, injury prone or both.
Even without those guys, the offense would've improved drastically with Manning taking the snaps—but that's obvious. The defense, on the other hand, was also awful last year. 
They ranked 28th in the league in points allowed. Peyton Manning and an aging offense wouldn't have been able to overcome that every game. Fans need to realize the team was going downhill with or without No. 18. It just happened much faster without him.
No. 1 Pick in the Draft: Andrew Luck

Like I said, it was the perfect storm. After a dismal season, the Colts were awarded the first pick in the draft, which holds, according to experts, the best quarterback prospect in 20 years.
They can't pass up on this opportunity, and Jim Irsay knows it. That's why they've decided on Luck, and there's no doubt about it.
But what about Manning?
You know the quarterback who never misses in practice isn't going to give up snaps to the rookie.
I know Manning and Luck talked about coexisting when asked by media, but after Manning was released, we got the truth from both of them.
These two never wanted to coexist.  Maybe if Luck would've entered the draft last year, the Colts wouldn't be in this position. Who knows?
Polians and Caldwell Given Pink Slips
Head coach Jim Caldwell had to go; it was what fans wanted. Really, there was no way to justify bringing him back?
What was surprising, though, was the firing of Bill and Chris Polian. Maybe they wore out their welcome. Maybe they disagreed with the direction Irsay wanted to take the team.
Probably both. 
The front office and sideline shake up might not be as big a factor as the others, but when you bring in a new GM and new head coach, they going to want their own guys, their own offense and their own defense. 
So there you have it.
Knowing all of that, what other logical choice did they have?  They had to start over.
With Andrew Luck, a good draft class, solid free-agent signings and over $30 million coming off the books after this season, it won't be long before this team is contending again.
Follow Brian on Twitter @coldy4goldy.