2012 NFL Draft: The Best Fit for the New York Giants at Every Position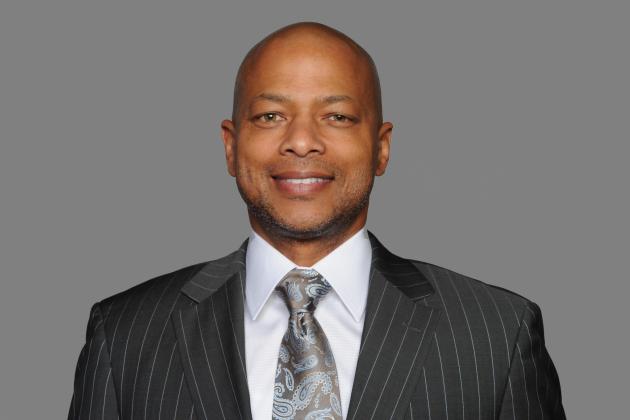 Handout/Getty Images

The New York Giants head into draft week having dealt with some of their issues via free agency and trades.
Signing Martellus Bennett, Antwaun Molden and trading for Keith Rivers went a long way in addressing some of the issues the Giants had with their roster.
Bennett gives the Giants a solid blocking option with a lot of upside in the passing game. The 6'7'' former basketball player will be a nice target for Eli Manning in the red zone.
Antwaun Molden replaces the depth from the loss of Aaron Ross, and Keith Rivers was a former top-10 pick who was acquired with basically a sixth-round pick. The upside clearly outweighs the minuscule risk there.
But who are the best fits for the Giants at each position? Jerry Reese has shown some tendencies with his drafts, mainly that he loves to draft players early who will help in the passing game on both sides of the ball, and later he will try to find offensive lineman or possible special teams contributors.
With that in mind, take a look at who is the best college prospect for the Giants at each position, realistically of course. Andrew Luck will not be listed as the best fit for the quarterback position.
Feel free to comment below.
DISCLAIMER:
Since the Giants typically do not draft punters, kickers or fullbacks under Tom Coughlin, I decided to leave them out. These players are usually found via free agency, both after the draft and the normal free-agency period.
Begin Slideshow

»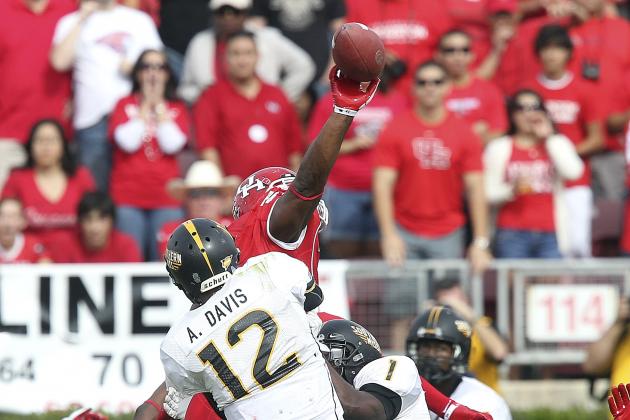 Bob Levey/Getty Images

The Giants are obviously set at the quarterback spot, but they could be looking to find someone they can develop for the future soon. That could come as early as this season.
I wouldn't expect it, but it wouldn't shock me if it happened either. Each team is allowed 30 prospect visits, and one of those was Southern Miss quarterback Austin Davis.
Davis is definitely a developmental project who could be had in the later rounds. He broke ever major record held by Brett Favre, but still needs work to be considered a viable option in the NFL.
He has above average mobility, is a natural leader and carries himself with a great deal of confidence. A hard worker who started his career as a walk-on, Davis finished his last two seasons with over 3,000 yards each, 50 touchdowns and just 17 interceptions.
Davis does not have the best arm strength and is inaccurate down the field. There will definitely be some growing pains with a guy like Davis, but the rewards could be great down the road.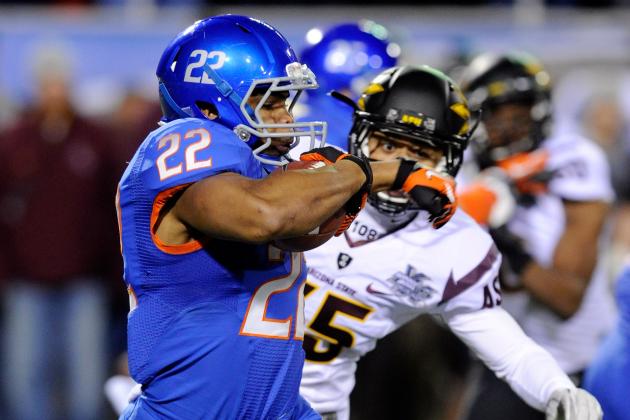 Ethan Miller/Getty Images

The Giants have a clear need at running back, and if they like one of the few prospects after Trent Richardson enough, they could take one as early as Round 1.
Doug Martin is a late first to mid second-round prospect who is as complete a running back as they come. He is not an elite prospect, but does everything at a high level and does not appear to have a weakness.
He is one of the more powerful backs in the draft, which definitely should draw interest for the Giants, as they struggled in the short yardage department in 2011.
There are plenty of other running back prospects who would fit, but Martin is the best.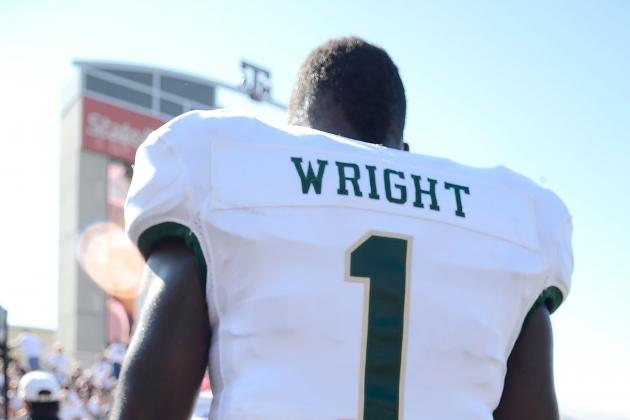 Sarah Glenn/Getty Images

The Giants could be on the lookout for someone to replace Mario Manningham in this year's draft. Domenik Hixon, Ramses Barden and Jerrel Jernigan all expect to compete for the job, but the Giants never hesitate to add competition for spots.
It may be a stretch thinking Kendall Wright will fall all the way to No. 32. Stranger things have happened, but the Giants had Wright in for a visit so perhaps the Giants would consider a trade if he fell deep enough in the first round.
Wright was one of the most explosive wide receivers in college football in 2011, catching 108 passes for 1,663 yards and 14 touchdowns. He opened eyes with a slow 4.6 40-time at the combine, but improved that with a 4.41 time at his pro day.
He would be a mismatch nightmare with the Giants playing in the slot. Teams would either have to play a linebacker on Wright, which is a "W" for the Giants every time, or stay in nickel packages, opening up the run game.
As far fetched as the idea of Wright falling that far, he could still end up with the Giants.
Ezra Shaw/Getty Images

It's not very often a prospect comes along like Stanford tight end Coby Fleener. He actually out-shined Andrew Luck at their pro day and greatly increased the chances of him being a first-round pick.
I really believe that if the Giants have the opportunity at No. 32, they will think long and hard about selecting him. He is not an all-around stud like Jeremy Shockey was coming out of college—Fleener could stand to improve his blocking—but, as a receiver he's about as good as it gets.
Martellus Bennett only signed a one-year deal and has a number of questions surrounding him. Fleener is a franchise player at the position and would give Eli Manning yet another dominant weapon in the passing game.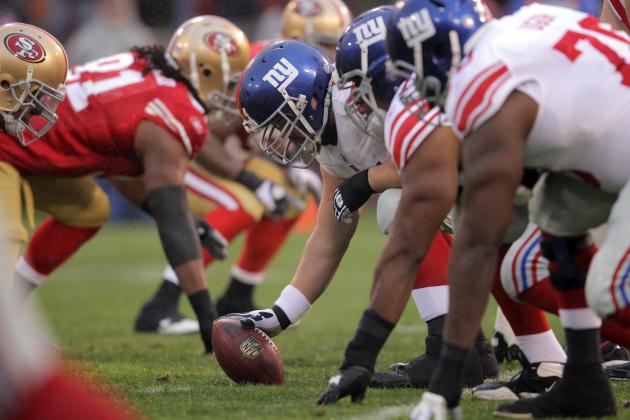 Doug Pensinger/Getty Images

Though I would feel like the Giants overreached if they took him in the first round, Bobby Massie is someone who could positively effect the entire offensive line unit with his ferociousness alone.
Massie would be a perfect fit for the Giants at right tackle; he plays with a mean streak and drives opponents back in the run game. He has very long arms and is not susceptible to strong pass-rushers, but could use some work against speed-rushers.
Pat Flaherty could develop Massie into a monster weapon for the Giants up front.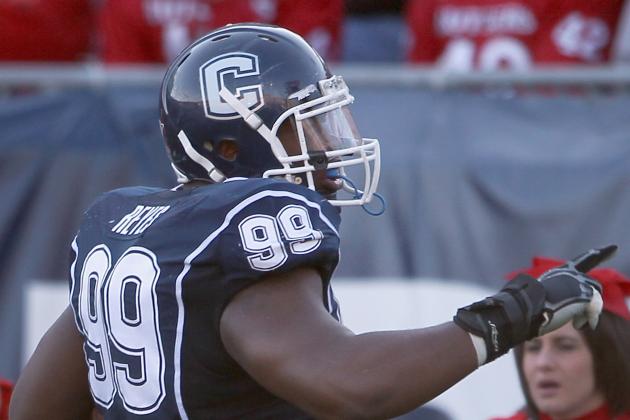 Elsa/Getty Images

I feel like Kendall Reyes is one of those players that Jerry Reese would have a hard time passing on. Reyes had risen to first-round lock after the combine, but others have been rising and it has pushed his stock down a bit.
At right around 300 pounds, Reyes is an athletic specimen who ran a 4.79 40 and benched 36 reps. The Giants love to have as many pass-rushers as possible, and Reyes can be that type of player in the middle of the line.
He reminds me of Chris Canty, and not just because they wear the same number. Reyes is athletically gifted like a defensive end, but is still strong enough to hold his own against the run. He could give the Giants some versatility, playing both tackle and end.
Reyes looked good against the premier offensive lineman at the Senior Bowl, and could be a steal in this draft.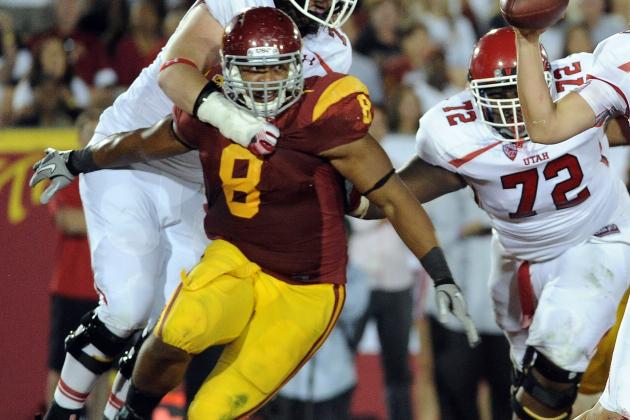 Harry How/Getty Images

With the Giants losing backup defensive end Dave Tollefson, and Osi Umenyiora putting up a stink about being a backup, there is a very good chance the Giants draft a pass-rusher early this year.
Especially if the Giants feel they can pull off a trade involving Osi.
Nick Perry is one of the best pure pass-rushers in this year's draft, and would provide an instant impact despite seemingly being buried on the depth chart.
The Giants love to rotate their pass-rushers, and Perry has the tools to be effective straight away, similar to how the San Francisco 49ers used rookie Aldon Smith in 2011.
Even if the Giants hold on to Osi, Perry can be used as a situational pass-rusher. When Osi's contract runs out after the 2012 season, Perry will slide in behind Jason Pierre-Paul and Justin Tuck.
Further down the road, he could take over for Tuck as he moves up in age.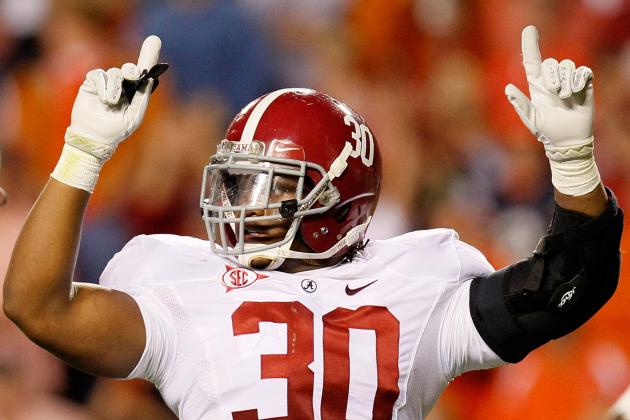 Kevin C. Cox/Getty Images

The Giants took a leap when they traded a late fifth-round pick for Cincinnati Bengals outside linebacker Keith Rivers.
Given Rivers' upside, that was a risk anyone should have been willing to take. Rivers is a former top-10 pick out of USC who has battled injuries in his career. A wrist injury kept him out of 2011, but if healthy, he is a monster.
The move raised some eyes about the middle linebacker spot, which is currently only occupied by Chase Blackburn, Mark Herzlich, and Greg Jones. It also means the Giants have three starter-worthy outside linebackers in Mathias Kiwanuka, Michael Boley and Rivers.
Some have speculated the Giants could move Boley inside, or they could move Kiwanuka back to the defensive line and start Boley and Rivers on the outside, paving the way for a guy like Dont'a Hightower.
Though he was in a 3-4 at Alabama, he could be the Giants' middle man. Hightower is a physical anomaly, standing at 6'4'', 265 pounds with 4.6 speed. He has a relentless motor, great sideline-to-sideline movement and terrific instincts.
Under Nick Saban. early-round defensive prospects have mostly panned out well in the NFL, and Hightower will be in that category as well.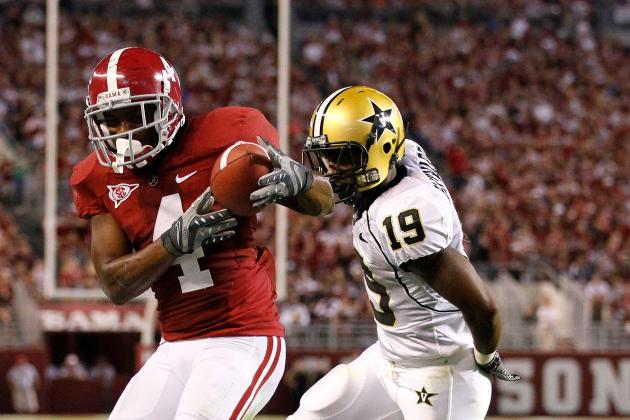 Kevin C. Cox/Getty Images

The Giants have three solid corners on their roster, followed by multiple capable backups, but would anyone really be shocked if they drafted a cornerback?
Casey Hayward is a player I've liked for a while, and had him mocked to the Giants in a previous mock draft.
The Giants run a lot of zone Cover 2, and Hayward has great ball-hawking skills while holding his own against the run. He had seven interceptions in 2011 and six in 2010.
New York led the league in turnovers forced in 2010, but regressed in 2011. Adding someone like Hayward could help them get back to 2010 form.
Although Trumaine Johnson played corner in college, he has the size and skill-level to play safety in the NFL. Many believe he'll make that transition.
In four years as a starter he collected 15 interceptions. The Giants may need a safety depending on multiple factors.
They are obviously set at the two starting positions with Antrel Rolle and Kenny Phillips, but they liked to run three safety sets a ton in 2011.
Deon Grant is still an unrestricted free agent and rookie Tyler Sash did not get much playing time last year. Chad Jones has returned to the facility to begin offseason work out plans, but still has yet to pass his physical. The Giants also must have the health issues with Phillips in the back of their mind.
Drafting a player like Johnson in the second or third round gives you a player that can man both secondary positions and also set you up for the future.