NFL Draft 2012: 10 Prospects with the Biggest Question Marks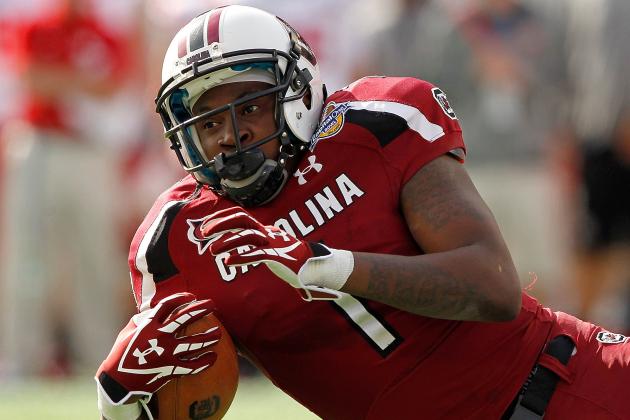 Mike Ehrmann/Getty Images

The 2012 NFL draft is here, and with it come big questions for some of the players that will get drafted. Some of the players that have questions to answer are big-name players who will be selected early in the draft.
Players enter the NFL with questions about them all the time, and some can answer the questions easily. For other players, the questions dog them their entire career.
There is always a big group of players that have things that make scouts question them. For some it could be a physical limitation, and for others it might be character concerns. This is a list of prospects with the biggest questions to answer.
Begin Slideshow

»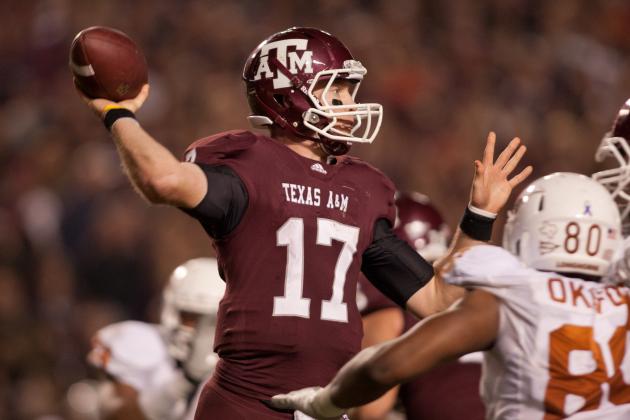 Darren Carroll/Getty Images

Ryan Tannehill is a big-armed, athletic quarterback from Texas A&M University. He has started 19 games as a quarterback and is a converted wide receiver.
He has a lot of physical gifts, chief among them his athletic ability. He can move the pocket and make throws on the move, and he will make defenses pay with his scrambling ability.
The questions about Tannehill come from his lack of experience. He simply has not played the position very long, and it seems like quite the reach to draft him as high as he is projected to go. Can he develop into a franchise signal-caller? The more appropriate question is whether he can develop into a starting-caliber quarterback.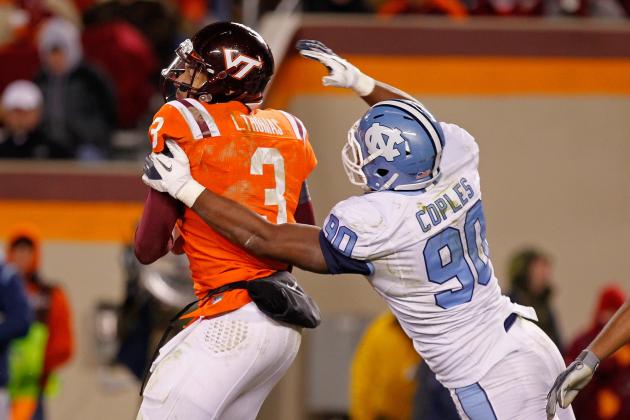 Geoff Burke/Getty Images

Quinton Coples is a very well put-together football player, and he certainly looks the part. He is big at 6'6" and 284 pounds, and he can really run, as evidenced by his 4.78-second 40-yard dash at the NFL combine. He was a very good college football player at North Carolina, and he had moments where he looked the part of a top-15 draft pick.
The big question about Coples is whether he will stay involved and give a full effort. There are big questions about his motor and his productivity, or lack thereof, during his senior season. If a team can find a way to keep him engaged and working hard, he will be a nice pick where he is projected to go.
If he continues to have effort issues, he will not be worth the price a team has to pay to get him. This is the major question about Coples, and it is surely a question he is answering.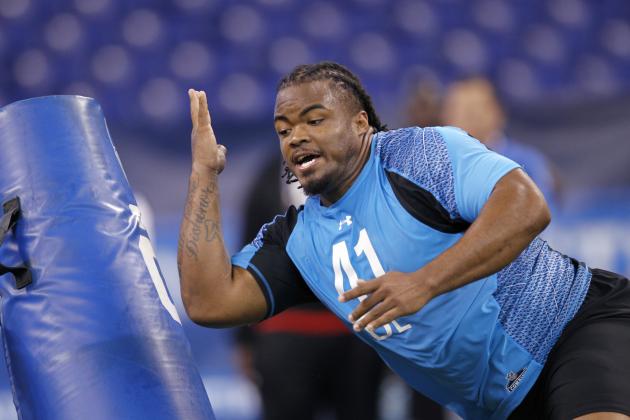 Joe Robbins/Getty Images

Dontari Poe is a massive football player at 6'4" and 346 pounds. He looked like a dancing bear at the NFL combine, where he blew away scouts with his outstanding performance.
Poe played at Memphis, a Conference USA school, and had a decent year for a defensive lineman. He registered 33 total tackles, eight tackles for loss and one sack.
The questions about Poe come from his inability to play a dominant brand of football in a conference that doesn't boast big-name schools. He is simply average on tape and doesn't stand out as the physically dominant tackle that his workout would suggest.
Any time a player puts up numbers like Poe did at the combine but doesn't back those up with how he actually plays football, it leads to questions.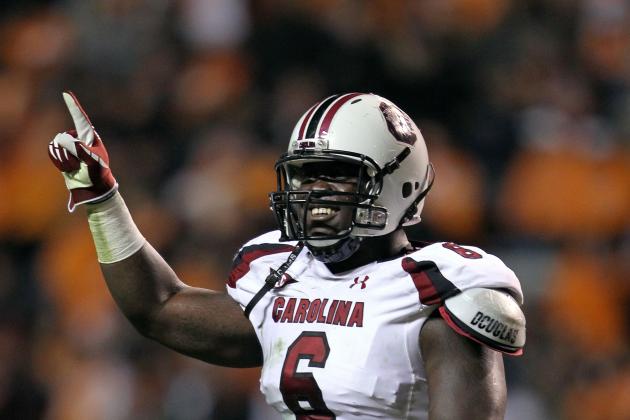 Andy Lyons/Getty Images

Melvin Ingram has a lot of physical gifts and has been a productive player as a pass-rusher coming out of the Southeastern Conference. He played against superior competition in the SEC and put up nice numbers during his time at the University of South Carolina. He had 10 sacks and 48 total tackles in his senior season while playing in 13 games.
There are two big questions about Ingram. The first is about a physical limitation, in this case the length of his arms. Ingram has short arms and struggles to get off blockers because he can't reach them.
The second question relates to what position Ingram will play. He played all over the defensive line in college, but finding an ideal place for him in the NFL will be up to the team that drafts him. Overcoming the short arms is up to Ingram.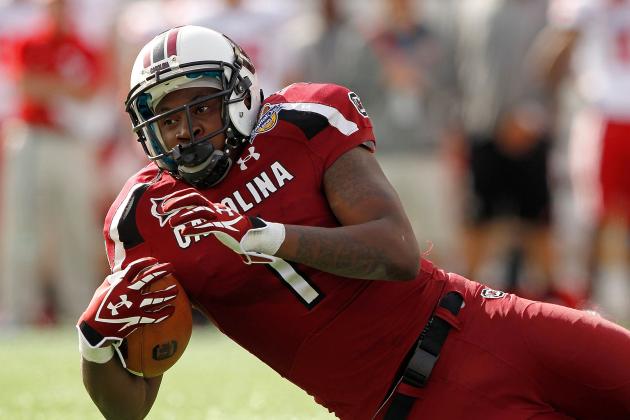 Mike Ehrmann/Getty Images

Alshon Jeffery is a polarizing figure. He might end up being the best wide receiver from the 2012 NFL draft class when all is said and done. He is a big, playmaking wide receiver from the University of South Carolina. Jeffery has been a very productive player in college.
The questions that Jeffery faces are two-fold. First is a concern about what his playing weight will be as compared to what his combine weight was.
Jeffery has always been a 230-pound wide receiver, and he weighed 216 pounds at the combine. He ran a 40-yard dash somewhere between 4.48 and 4.50 seconds at his pro day, weighing 213 pounds. Can he keep this weight off and play in the NFL at 213 pounds?
The second question comes from the drop in production last season. Jeffery caught 88 passes for 1,517 yards and nine touchdowns as a sophomore. Those numbers dropped to 49 catches for 762 yards and eight touchdowns as a junior. What caused the drop in production?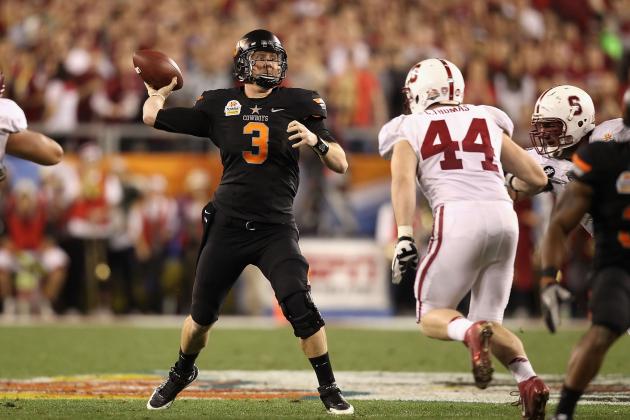 Christian Petersen/Getty Images

Brandon Weeden has a very interesting story as a professional athlete. He was drafted by the New York Yankees in the second round of the 2002 entry draft. He played his last season of professional baseball in 2006.
He applied to Oklahoma State and redshirted his 2007 season. He was named the starting quarterback in 2010 and has had a very productive two seasons for the Cowboys. He threw for 34 touchdowns as a junior and 37 as a senior.
The question surrounding Weeden is his age. He is going to be turning 29 years old during the 2012 NFL season. He is old by all rookie quarterback standards, and his shelf life is significantly less than other rookie quarterbacks coming into the NFL. Teams must answer the question of how long Weeden will be productive for them before drafting him.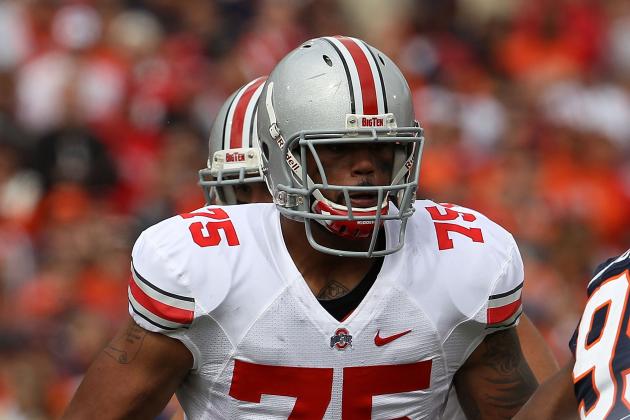 Jonathan Daniel/Getty Images

Mike Adams is a massive man playing tackle from Ohio State University. He is 6'7" and 323 pounds and has prototypical size for a franchise left tackle.
He started 13 games as a junior and seven as a senior at Ohio State. He was a productive player as he anchored its offensive line. He won the Jim Parker Award as the team's most valuable lineman in 2011.
Adams faces a series of questions stemming from his lack of maturity to his drug use. Adams was part of the group of Buckeyes that were suspended for the first five games of the 2011 season because of receiving improper benefits.
He failed a marijuana test at the NFL combine in February, and it leads to questions about his maturity and decision-making. Teams must get some answers before they feel comfortable drafting him.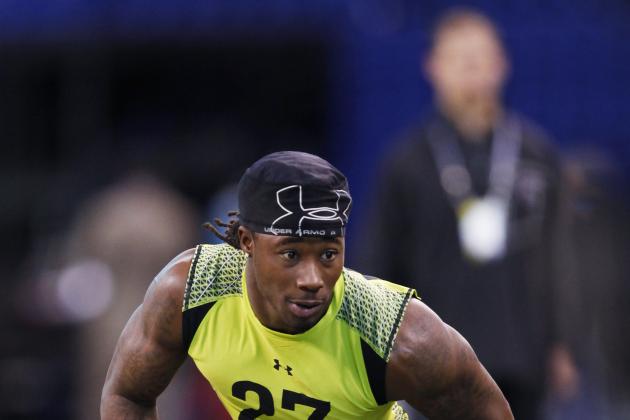 Joe Robbins/Getty Images

Janoris Jenkins is a very talented press coverage corner out of Division II North Alabama. He transferred from the University of Florida in 2011.
Jenkins is a very good football player at a position of priority. In the new NFL, offenses are slinging the ball all over the field, and defenses are desperate for players that can stay with receivers and limit their production. Jenkins has very good abilities to lock down receivers.
The questions about Jenkins are all about character. Jenkins admitted to being the father of four kids from three different women, and his drug history is well documented. Jenkins was arrested multiple times for marijuana possession, leading to his dismissal from the University of Florida football team. He transferred to North Alabama and struggled to get a fresh start there.
What is Jenkins going to do when he has the money that a NFL player has? What kind of problems should a team expect to have with him? How much should a team be willing to tolerate because of his talent? These are the kinds of questions that Jenkins is facing.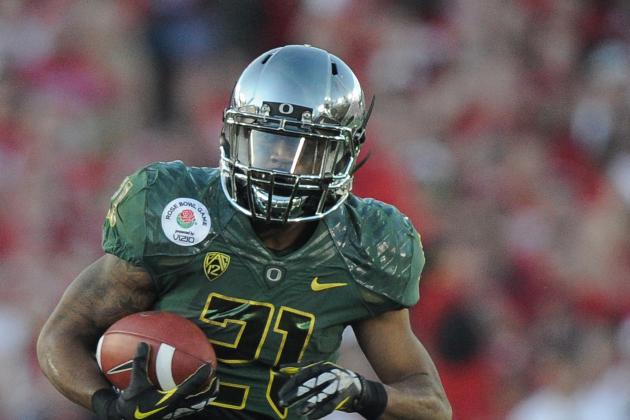 Harry How/Getty Images

LaMichael James is a dynamic athlete that plays running back. He is one of the most gifted athletes in the entire 2012 NFL draft class. He had an incredible run at Oregon and was as exciting to watch as any player in college football. James rushed for 5,082 yards at 6.6 yards per carry in college. He also scored 53 rushing touchdowns. He had a remarkable career at Oregon.
The questions about LaMichael James stem from his size, or lack of it. James added weight for his junior season but is still only 5'8" and 194 pounds. There are questions about how he will hold up against the bigger bodies in the NFL.
How much workload should James see? Is he only a third-down running back? What is his role in the NFL as a smaller player? These types of questions are the ones that James faces coming into the NFL.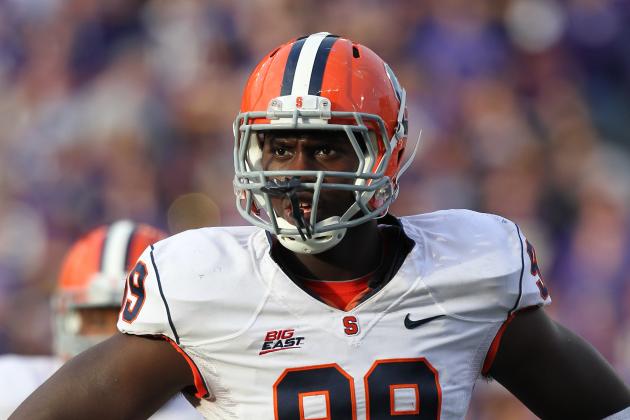 Otto Greule Jr/Getty Images

Chandler Jones is a dynamic athlete who played defensive end for Syracuse University. He has prototypical defensive end size and was a threat on the edge of the defense.
He had a nice career for Syracuse. In 2009 he finished with 52 total tackles, 10.5 tackles for loss and two sacks. In 2010 he had 57 total tackles, 9.5 tackles for loss and four sacks. In 2011 he had 38 total tackles, 7.5 tackles for loss and 4.5 sacks.
The questions about Jones are all about his lack of productivity in getting to the quarterback. He is coming into the NFL as a pass-rush specialist, and the numbers are simply not there. What did Jones do at Syracuse to make him a prospect that is now a potential first-day selection?
Can he get to the quarterback in the NFL? Can a team teach him to better get to the quarterback? What happened at Syracuse to prevent him from getting to the quarterback? These are the questions that are dogging Jones.