Lamar Miller: 6 Biggest Strengths and Weaknesses of 2012 NFL Draft Prospect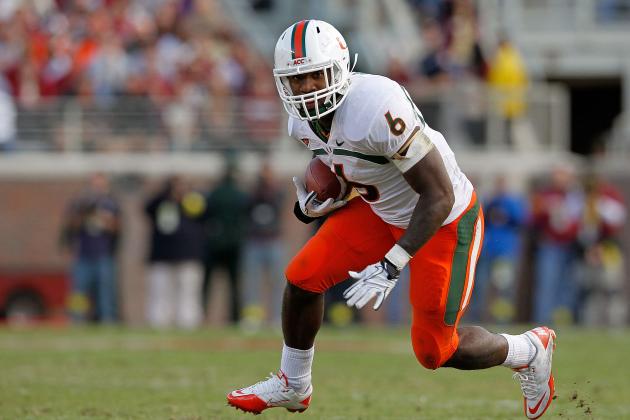 Mike Ehrmann/Getty Images

Many "experts" have Lamar Miller as the second-best running back in the 2012 NFL draft class, but I just don't see it that way. While the former Miami star is going to be a really good running back at the next level, I have Doug Martin ranked over him.
With that said, Miller does bring a lot to the table and should be a solid every-down back in the National Football League.
This position has taken somewhat of a hit in regards to value in the draft. Most franchises believe they can get a top-of-the-line back later in the draft, and it does indeed work that way at times. Just take a look at LeSean McCoy (second round), Frank Gore (third round) and Arian Foster (undrafted).
This doesn't mean teams should look in another direction when one of the most talented running backs in the draft is staring them in the face. Miller is in this "elite" group and his draft position should dictate that.
This article is going to focus on a few different strengths and weaknesses to his game.
Begin Slideshow

»
Miller has tremendous game speed and is a threat to take it to the house every time he touches the ball. The Miami product is able to hit the line with a burst, getting to his second gear well before the opposing defense is able to fully react.
This is something that you just cannot teach. Rather, it is something that is given to a player from an early part of his career, usually well before even high school ball.
Miller possesses this, which makes him a really intriguing prospect.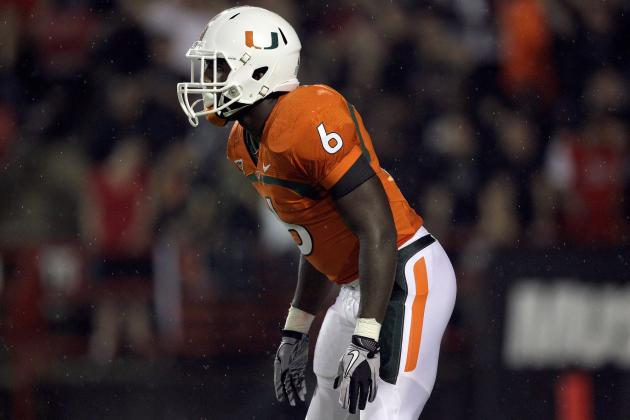 Rob Carr/Getty Images

Blocking might not be seen as a big part of a running back's game, but it is absolutely huge in the grand scheme of things. They act as the last line of defense for the quarterback when they are actually tasked with saying in the backfield and blocking.
Young running backs tend to struggle with this aspect of the game. Miller is no different. It isn't that he doesn't want to or isn't willing to block. It is more about technique, pad level and strength at this point.
With that said, these are things that can be fixed during training camp and with more seasoning. I fully expect this part of Miller's game to improve a great deal before the start of his rookie season.
Al Messerschmidt/Getty Images

You can see Miller dragging the Oregon defender for extra yardage on the embedded photo. This is something he consistently did at Miami.
The talented running back prospect plays with a low center of gravity, which enables him to disengage from tackles and break out of the grasp of would-be tacklers.
He reminds me of Arian Foster in this aspect of his game, which is a huge compliment.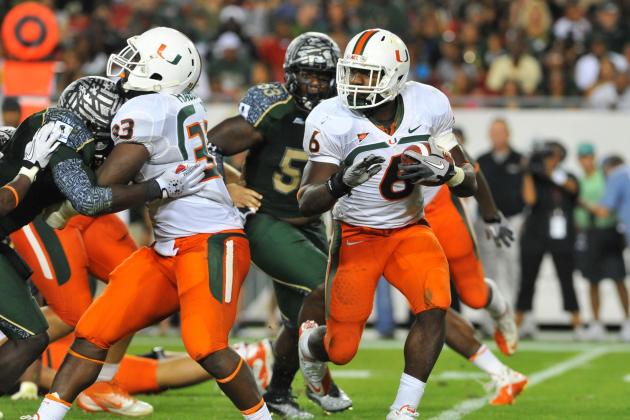 Al Messerschmidt/Getty Images

Miller only played two seasons of college football at Miami, running the ball a total of 335 times in his career. While this could be seen as an advantage because he doesn't have too much tread on those tires, it is also an issue in regards to his ability to make an instant impact.
There are things—nuances, I would say—that running backs can only learn from carrying the ball. Without that type of experience against stellar competition, the learning curve is going to be much larger for a prospect like Miller.
This is something to watch out for as teams assess where his value sits Thursday and Friday.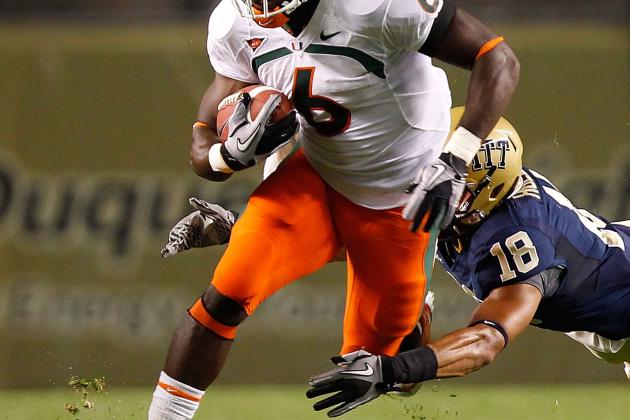 Jared Wickerham/Getty Images

Despite his limited experience, Miller does possess excellent field vision. He doesn't dance in the backfield too often or wait for holes to open up.
Instead, the Miami product hits the hole quick and pushes past the line of scrimmage in a beat of a heart. Miller understands when to draw a play out to the outside or turn it upfield between the hashes. He has excellent cutback ability and churns those legs with the best of them.
This is probably the best attribute Miller will being to the pros.
With track star speed comes the ability to break off long runs on a consistent basis. I mentioned before that speed and quickness were major part of Miller's game, so this attribute pretty much speaks for itself.
The Miami product broke off large chunks of yardage on a consistent basis in college, which opened up the Hurricanes offense a great deal.
Don't expect this to change in the National Football League despite the fact that he is going to be playing at a level that requires the speed he possesses.