NFL Draft 2012: Why Buffalo Bills Must Take Justin Blackmon in Round 1
April 22, 2012

Doug Pensinger/Getty Images
If Justin Blackmon—the top-ranked wide receiver in this year's draft, according to Walter Football, CBS Sports, Draft Tek and others—falls to the Buffalo Bills at No. 10, the choice is a no-brainer; the Bills have to pull the trigger on Blackmon.
People with concerns over Blackmon as a prospect will say that he's too short.
Standing at 6'1", critics will say he doesn't have the ideal size you look for in an NFL wide receiver. You'd be better off going with Michael Floyd who is 6'3" 220 pounds.
They'll say that Blackmon is too slow.
Despite running the 40-yard dash in 4.45 seconds, that leaves a lot to be desired when compared with Georgia Tech's Stephen Hill, who ran it in 4.36 seconds.
Critics will nit-pick and find petty reasons explaining why Blackmon shouldn't be the first wide receiver taken in this year's draft.
I think that Blackmon will prove the doubters wrong.
Despite standing at 6'1", Blackmon plays the game of football like he's 6'3" (a sentiment that Todd McShay of ESPN has echoed).
While Blackmon isn't a freak athlete like Calvin "Megatron" Johnson, Larry Fitzgerald or A.J. Green, he makes up for it by being extremely hard working.
The praise for Blackmon has come from various football minds.
Oklahoma State head football coach Mike Gundy said of Blackmon, "When he didn't have the football, he was blocking downfield and being a team player."
Gundy also said that Blackmon would come to team practices every day "like he was trying to earn a job."
Former NFL head coach and Super Bowl champion Jon Gruden said, "If you don't like Justin Blackmon, you don't like football."
Those are the kinds of sentiments you want from people who have been around the game of football all of their lives.
Unlike other wide receivers, Blackmon isn't a diva or a drama queen, he's a football player.
In fact, Blackmon has showed through his actions that he's a class act who is willing to give back to the people who look up to him not only as an athlete, but as a human being.
That's exactly the kind of stand up personality you want on your football team. A guy mature beyond his years who can lead by example.
If Blackmon doesn't get drafted at No. 6 to the St. Louis Rams and falls to No. 10, the Bills need to bolster their offense by adding him.
The Bills could certainly go with a choice like Luke Kuechly to add more defense. He could become their interior linebacker in an effort to defend against tough divisional tight ends Rob Gronkowski and Aaron Hernandez.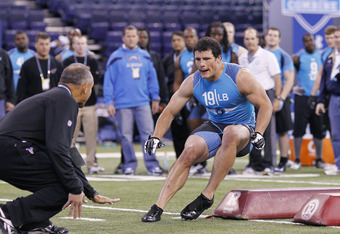 Joe Robbins/Getty Images
Many pundits have the Bills bolstering their offensive line by drafting offensive tackle Riley Reiff out of Iowa. However, recent rumors have said that Reiff's stock is falling because team's think he's better suited at offensive guard.
Nevertheless, a position that the Bills sorely need to address is wide receiver.
Ryan Fitzpatrick struggled last season after signing a big contract as the Bills franchise quarterback.
Outside of Stevie Johnson (back-to-back 1,000-yard receiving seasons) and David Nelson (61 receptions for 658 yards in 2011), the weapons Fitzpatrick has at his disposal are few and far between.
The Bills running attack is certainly poised to be one of the best in the league with Fred Jackson and C.J. Spiller. However, if one of those two guys gets hurt like what happened last season, Fitzpatrick could once again struggle to find his groove.
Adding a weapon like Blackmon opposite a solid receiver like Johnson would greatly help the Bills offense moving forward.
Despite the negative press surrounding the Bills' offensive line from a year ago, leading to the Bills drafting offensive lineman in most mock drafts, they were not a bad unit.
The injury to Eric Wood certainly hurt the offensive line's production, but they still did an amiable job protecting their quarterback.
Joe Robbins/Getty Images
Fitzpatrick was only sacked 22 times last season. A total of 27 other NFL quarterbacks were sacked more often than Fitzpatrick.
A stat that jumps out about Fitzpatrick are his turnovers. Fitz led the NFL in interceptions last season, tossing 23 of them.
If the Bills quarterback had more weapons down the field with the ability to aggressively go after passes, while also freeing up space from opposing cornerbacks, his job would be much easier.
If Blackmon falls to the Bills choice at No. 10, they would be foolish not to add a steady playmaker to their receiving core.