Nick Foles: 5 Reasons Why NFL Draft Prospect Will Succeed in the Pros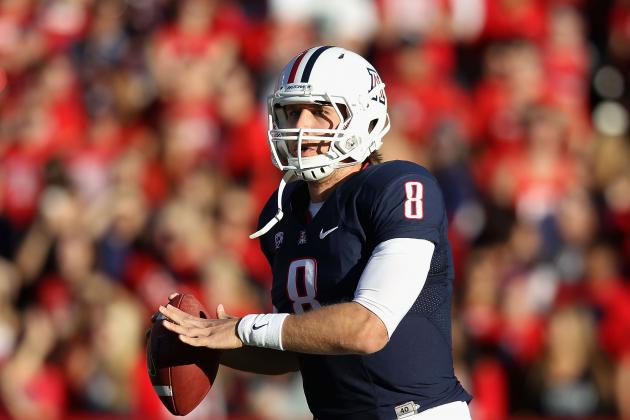 Christian Petersen/Getty Images

Nick Foles should be an intriguing prospect to watch come draft day. He could go as early as the second round, but might also drop to as late as the fifth round.
Trying to get a gauge of the Arizona product's value is extremely difficult at this point.
What I can do is give you an evaluation of what Foles does well on the football field. This article is going to focus on five aspects of his game that translates well to the National Football League.
Begin Slideshow

»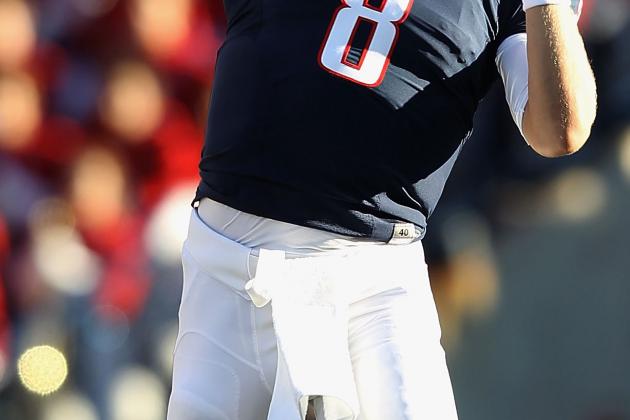 Christian Petersen/Getty Images

Okay, let's do a comparison here. Player A stands at 6'5" and 240 pounds; player B stands at 6'5" and 245 pounds.
Can you connect the dots? Obviously one is Nick Foles, but who is player A? Well, people, he is Ben Roethlisberger.
You got that right. Foles is a bigger quarterback than "Big Ben" himself. That is saying something. The Arizona product will not struggle to look over the top of the defensive line and find passing lanes between the hashes.
He has the ability to see the entire football field simply because of his massive frame. Foles is only a couple inches shorter and weighs the same as LeBron James. Think about that for a second.
Nick Foles might not be the most accurate quarterback in the draft, but he can sure zip the ball in there. This is a quarterback that can makes every single throw on the football field with consistent velocity.
He will be able to open up an offense because of this aspect of his game alone. Take into account teams with quarterbacks that are unable to do the same thing. Colt McCoy with the Cleveland Browns and Blaine Gabbert with the Jacksonville Jaguars come to mind.
This is the type of quarterback that teams salivate over because he has the ability to make every throw on the field. With the exception of Andrew Luck and Robert Griffin III, Foles has the strongest arm in the draft.
That is saying something.
As you well know, not every pass in the National Football League is going to be hurled 50 yards down field. The most important attribute for a pro-style quarterback is the ability to be on target when it comes to the intermediate routes.
Nick Foles is exceptional in regards to this.
He will do a great job putting the ball on a receiver where he is able to make a play after the catch. This fits well on an offense that runs some form of the West Coast offense.
It is also one of the reasons that I personally believe Foles is a huge sleeper in the draft.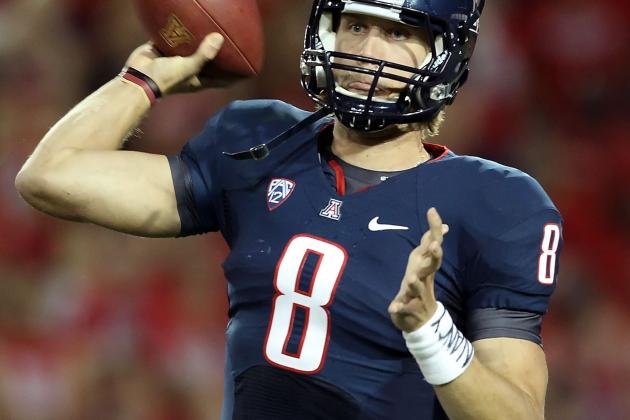 Christian Petersen/Getty Images

One of the primary things that I look for in scouting a quarterback prospect is field awareness. This is something that has held back some of the most talented at this position a great deal.
Just take a look at Akili Smith before and even Josh Freeman right now. If you don't have excellent field awareness and understanding of the defensive scheme, you are going to struggle a great deal in the National Football League.
This leads to interceptions, poor decisions and throwing into coverage or tighter windows.
Nick Foles doesn't have this issue. He reads the defense extremely well, is comfortable stepping up in the pocket and looks flawless in terms of recognizing what is going on during the play.
This is something that is hard to teach, so Foles comes in with the proverbial upper hand here.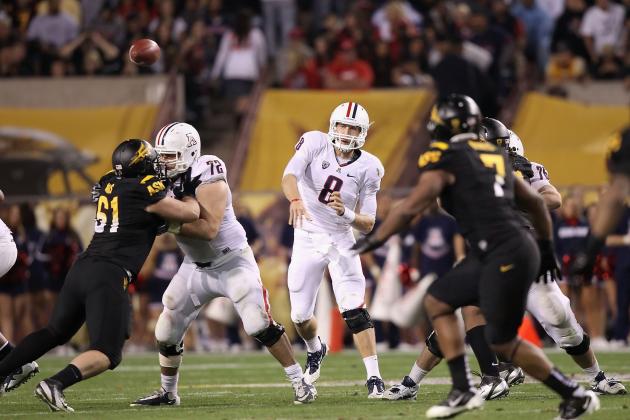 Christian Petersen/Getty Images

This goes into what I was talking about before as it relates to reading the field. However, there is much more to success in the National Football League than that.
A quarterback needs to make good decisions after initially reading what is going on during the play. This is what separates starter-caliber quarterbacks from those who struggle to play good on a consistent basis.
In my humble opinion, Foles is capable of being a damn good starting quarterback at the next level. One of the last things that goes into the scouting process is decision-making. I never found myself saying "go there" or "not there" when watching tape of Foles.
That is a considerable point to make considering I do this on a consistent basis watching the likes of Tony Romo and even Mark Sanchez play on Sundays.