Denver Broncos: Top 5 Quarterback Prospects to Back Up Peyton Manning in 2012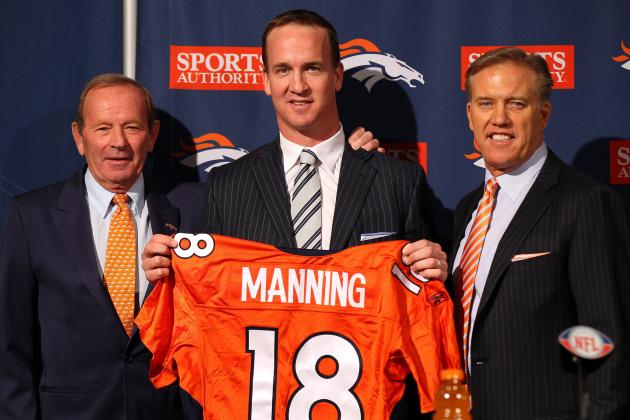 Justin Edmonds/Getty Images

The Denver Broncos added two new quarterbacks to their roster for 2012, with the blockbuster signing of future first-ballot Hall of Famer Peyton Manning and former CSU product Caleb Hanie. But it appears the Broncos are not done adding talent at QB in 2012.
The Broncos organization, largely guided by Hall of Fame Broncos legend John Elway, knows that quarterback is the number one position on the football field. You can never have enough talented guys to come in if the unthinkable happens and your quarterback is knocked out for the season, or even his career.
Elway, the Broncos VP of Football Operations, told The Denver Post this past week, regarding quarterbacks, that "it's an important position in putting your team together, and we want to be as strong as possible on the roster in as many spots as possible. We know what we have in Peyton and we're excited, but we're always going to look at the quarterbacks."
Elway has brought in several QBs to work out with the intention of adding one in the upcoming 2012 NFL draft that begins this Thursday, April 26, 2012.
Let's take a look at the top-five candidates the Broncos are considering, as interviewed by former NFL coach and current ESPN analyst Jon Gruden, at his annual Quarterback Camp.
Begin Slideshow

»
" };

I'll admit that I didn't think Brock Osweiler was a good fit in Denver at first. However, after seeing more of what he has done and how high his ceiling is, he's made me a believer. I think Osweiler should be the Broncos' top prospect to draft if given the chance in 2012.

Osweiler has a huge arm and operates a similar style of play to the Broncos' VP, John Elway. He is a pocket passer who has shown surprising mobility for a 6'7" QB. It takes lots of guys to bring him down, similar to Ben Roethlisberger. His height gives him great vision to see the field. He has the arm strength to make all the throws.

However, he is a raw talent. He only started a single season as the top QB at ASU. He has some room for improvement, but it looks like his ceiling is way high.

If Osweiler gets a few seasons to watch and learn under Manning, he could become the starting QB of the future for the Broncos.
" };

Brandon Weeden's stock is slightly lower than Brock Osweiler's, because he is poised to become a 28-year-old rookie quarterback in the NFL.

By the time he is fully versed in the NFL game, it is likely that his skills could be already on the decline. His strengths include a strong, accurate arm and good pocket-passing skills. He has a quick release. He's very intelligent and mature. He is smart with the football. He is passionate about the game, he has tons of character and he is a proven leader and winner in college.

Still, a guy who turns 29 years old in his rookie campaign seems like someone more suited for a team that could use a quarterback to take over in 2012 if needed, rather than a guy who could be potentially waiting around three years or more before given a chance to start.

One of the knocks on Weeden has been his lack of mobility. He needs to continue to develop his vision downfield. He could also work more on his footwork to improve.

However, Weeden is definitely a winner. In his senior season at OSU, Weeden beat Andrew Luck, Robert Griffin III, Ryan Tannehill, Landry Jones and Nick Foles.

Realistically, Weeden in Denver doesn't seem like a great fit.
" };

Kirk Cousins out of Michigan State looks like he has more developing to do, compared to Osweiler or Weeden.

He had an impressive NFL combine performance as he worked through drills, elevating his draft stock. Some predict him to move all the way up to the second round of the 2012 draft, but more likely he will be available when Denver drafts in the third round.

Cousins has been labeled a "game-managing" quarterback. He has the skills to be a fill-in QB for a team like the Broncos if their prized possession, Peyton Manning, is injured in the next year or two. He is a tough, gritty competitor, who has been highly efficient in his time as a Spartan.

As a three-year captain at MSU, he is a proven leader who is looked up to by his teammates. He also has experience in a pro-style offense that the Spartans operate, which makes him more NFL-ready than most.

His weaknesses include struggling under duress and an inaccuracy outside of the pocket or on the move—his arm is just average and his footwork is questionable.

Cousins looks more like a Manning backup as opposed to the next Broncos quarterback after the Manning era.
Nick Foles is more of a project than some of the others ahead of him on this list, who are more NFL-ready coming into the 2012 draft.
He's a big quarterback (though not as big as Osweiler) at 6'5" and 243 pounds. He is tough both physically and mentally. With his size, he is able to easily survey the field to make throws. He also has very good arm strength and is a hard worker.
Foles is accurate in short-yardage passing situations and seems more fitted to a West Coast style of offense. He could make for a decent backup game-manager, as well.
Unlike Osweiler, Foles isn't nearly as mobile and is very slow. He needs to adapt to the speed of the NFL game, which could take some time. He also takes a lot of sacks. Turnovers are another concern. Scouts say he lacks touch on his deep passes.
Foles wouldn't be a great fit in Denver, and I think the Broncos would be wise to pass on him.
Ryan Lindley is another project prospect with some good tools—ultimately, though, he needs a lot of work.
Lindley's arm strength is his greatest attribute. He can really zip the ball. He can make every throw on the field, but it's his accuracy that has been the greatest concern throughout his collegiate career. He was a four-year starter at San Diego State and was very durable over his time there. He only missed one game due to injury during all four years.
He has excelled in the pocket with time and has the ability to look off safeties. He has vision down the field to find open receivers as well.
The knocks on Lindley include his lack of athleticism and mobility, his accuracy issues, his lack of field awareness and not being able to feel the breakdown of the pocket.
Lindley has some upside with a potential to mature into an NFL quarterback if he can work on his accuracy, but looks more like a long-term project than the QB to relieve Manning after retiring.