Green Bay Packers Final Mock Draft 2012: 7-Round Predictions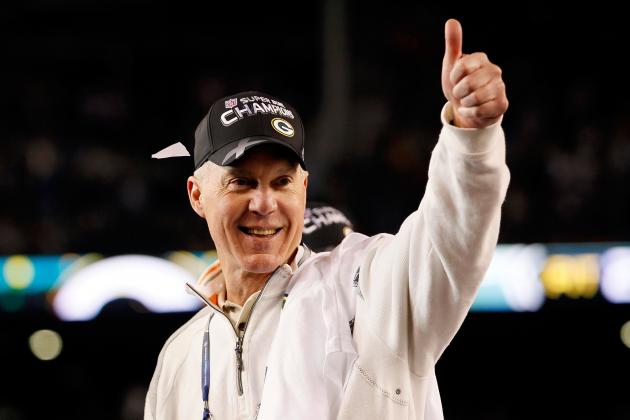 Kevin C. Cox/Getty Images

We are now officially less than one week away now from the 2012 NFL Draft. The draft is always a key component for Ted Thompson, as it is the biggest building block he uses to field his roster.
Thompson has also shocked some folks this offseason by actually adding some free agent help for the Packers prior to the draft as well.
The first signing was C Jeff Saturday—a very important signing after the loss of C Scott Wells, who also used free agency to sign with the St. Louis Rams.
Thompson also signed former Packer DL Daniel Muir and DL Anthony Hargrove.
I expect Thompson to be aggressive in the draft this year. In his first three drafts with the Packers (2005-2007), he never traded up to grab a player he wanted. However, Thompson has traded up in three straight years (2008-2010), with the biggest trade-up being the move that allowed the Packers to select Clay Matthews in 2009.
The selection of Matthews set up the Packers as championship contenders, and they indeed won it all in 2010, defeating Pittsburgh in Super Bowl XLV. Last year, the Packers were 15-1—the best record in the history of the storied franchise—but they lost in the playoffs to the eventual Super Bowl XLVI winners, the New York Giants.
The Packers have 12 draft picks at their disposal in the upcoming draft. I expect Thompson to trade up at least once to secure a player he has his sights on. This final mock draft of mine will have Thompson trading up twice to get players who can certainly help the Packers in 2012 and beyond.
Begin Slideshow

»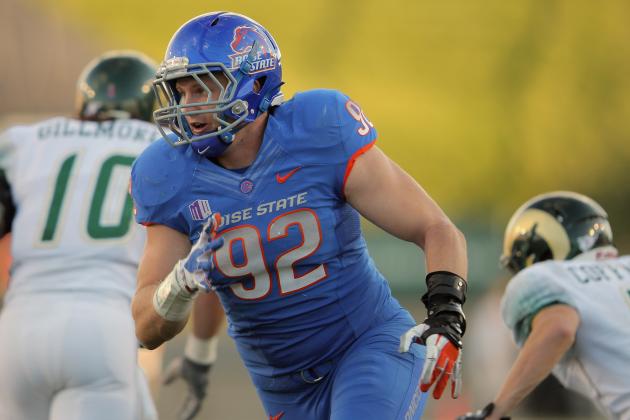 Doug Pensinger/Getty Images

Height: 6'3"
Weight: 260
Combine 40 Time: 4.63
I've talked with Chris Landy of FOX Sports Radio a couple of times (including yesterday) about Shea McClellin on The Steve Duemig Show on WDAE in Tampa. Landry agreed with me that McClellin is quickly moving up draft boards and has established himself as at least an early second-round pick, or even a late first-round pick, depending on the draft board.
McClellin is now the chic pick for the Packers in the first round by many draft experts. But McClellin might not be there at the 28th pick for the Packers. Why? There are a number of teams which deploy the 3-4 defense standing in front of the Packers in the draft.
Most worrisome are the New England Patriots, who have the 27th selection of the draft. McClellin is a Bill Belichick-type of player. In fact, he has been compared to Mike Vrabel. Because of that possibility, I see the Packers trading up ever so slightly to get ahead of the Patriots in the first round.
The Packers would trade their fourth-round pick to the Houston Texans to secure the 26th pick of the draft. The Packers would still have two fourth-round compensatory picks after the trade. I believe McClellin would be well worth the minor cost of this trade.
I see McClellin as an excellent complement to Clay Matthews at ROLB.
McClellin played in the Senior Bowl and performed well. He was also a first-team All-Mountain West selection for Boise State.
McClellin mostly played DE for Boise State but also saw time at both OLB and ILB. He will probably be better suited as an OLB in the NFL.
He had 46 tackles with six sacks, 12.5 tackles for a loss and a blocked kick in 2011. He also had 9.5 sacks in 2010.
McClellin has a relentless motor as a player and always brings high energy with his play. He is also very versatile, which is an important asset with the defensive coaching staff of the Packers.
McClellin plays the run well and is improving as a pass-rusher because of his speed, quickness and intensity.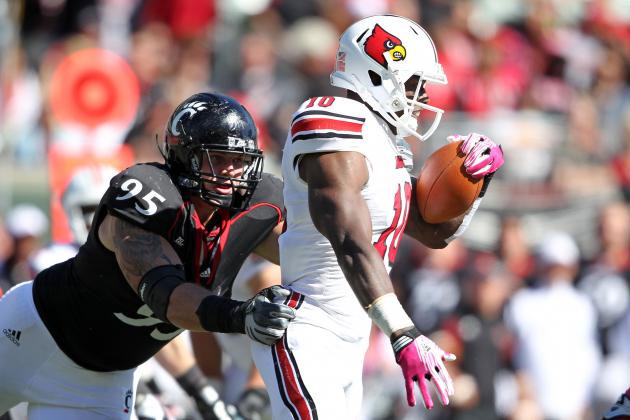 Andy Lyons/Getty Images

Height: 6'5"
Weight: 295
Combine 40 Time: 5.01
Wolfe had a great season in 2011, as he had 64 total tackles, 19.5 tackles for losses, two forced fumbles and 9.5 sacks. He was also named to 2011 All-Big East Conference first team.
Wolfe also had a steady performance at the Senior Bowl and performed well at the Combine.
The Packers need to generate a pass rush from their defensive line. B.J. Raji and Jarius Wynn led the D-line with only three sacks apiece. The Packers did add Anthony Hargrove and Daniel Muir in free agency, but more help is needed on the defensive line.
DE Mike Neal, who has been hampered by injuries his first two years with the Packers, will miss the first four games of the 2012 season because he violated the NFL's policy on performance-enhancing substances.
Besides rushing the passer well, Wolfe plays the run very tough too, and he has a motor that never stops.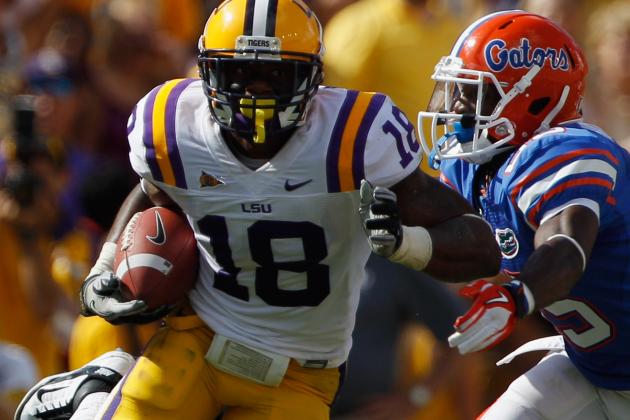 Chris Graythen/Getty Images

Height: 5'11"

Weight: 209
Combine 40 Time: 4.58
Brandon Taylor was sort of the Rodney Dangerfield of the LSU defensive backfield, as he had some very talented teammates playing with him in the Tiger secondary. Taylor had 71 tackles overall, 7.5 tackles for loss, broke up five passes, had a sack and had two interceptions.
Taylor is a physical SS who plays the run well. He showed his tenacity at the Senior Bowl. He has also shown natural instincts vs. the pass.
He played very well in big games.
Taylor will add quality depth to the safety position, as the status of All-Pro Nick Collins (neck) has not yet been determined on whether he will be able to resume his NFL career. Morgan Burnett and Charlie Peprah had eight interceptions between them at the safety position after Collins injured his neck in Week 2, but Peprah is a liability in coverage at times.
Burnett has had a pretty solid second year in the NFL (second on the team in tackles), after missing most of his rookie year with a knee injury.
The Packers also like the potential of M.D. Jennings, who was an undrafted rookie in 2011.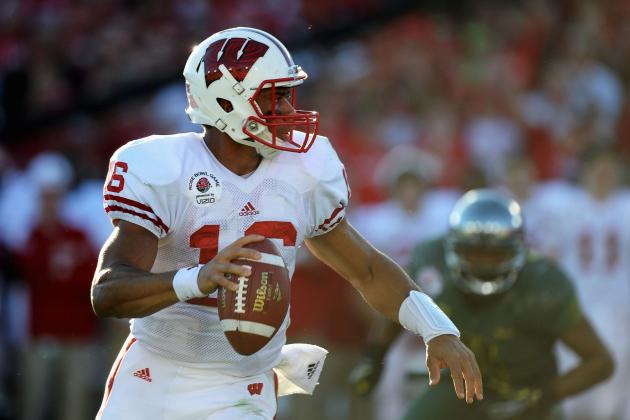 Harry How/Getty Images

Height: 5'11"
Weight: 204
Combine 40 Time: 4.55
The Packers will be looking to draft a QB in the 2012 draft, as Matt Flynn left the team via free agency to join the Seattle Seahawks. That means the Packers only have Graham Harrell to back up Aaron Rodgers, although the Packers did sign AFL QB Nick Hill in late January.
Russell Wilson's stock is not as high as it should be due to concerns about his height. However, Wilson's production at Wisconsin was fabulous. Wilson threw 33 TD passes vs. just four picks for 3,175 yards in 2011, as the Badgers won the Big Ten championship and went on to the Rose Bowl.
The transfer from North Carolina State also ran for 464 yards and six TDs for the Badgers. Mobility at QB is an important asset in the offense that the Packers run. Wilson was also first-team All-Big Ten at QB.
Maturity and leadership are two great qualities that Wilson possesses.
Wilson also had a nice week at the Senior Bowl. He looked very athletic at the NFL Scouting Combine and he was able to make all the throws necessary to succeed in the NFL.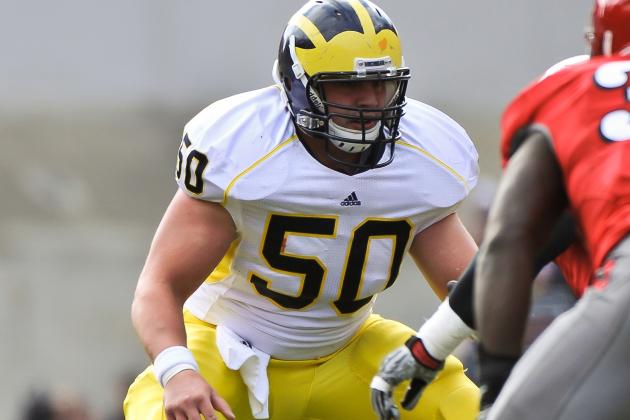 Jamie Sabau/Getty Images

Height: 6'1"
Weight: 298

40 Time: 5.04

David Molk was first team All-Big Ten and also won the Rimington Trophy as the best center in the nation.
Molk had an excellent career at Michigan. A four-year starter, he is quick, agile and moves to the second level with ease. He is a bit undersized, but so was Scott Wells when he was drafted in 2004.
Molk is a perfect center for the zone-blocking scheme. He has the ability to pull in the run game.
He is very strong, as he bench pressed 225 lbs. 41 times at the Combine. Molk would be a great player to groom under the tutelage of Jeff Saturday at C.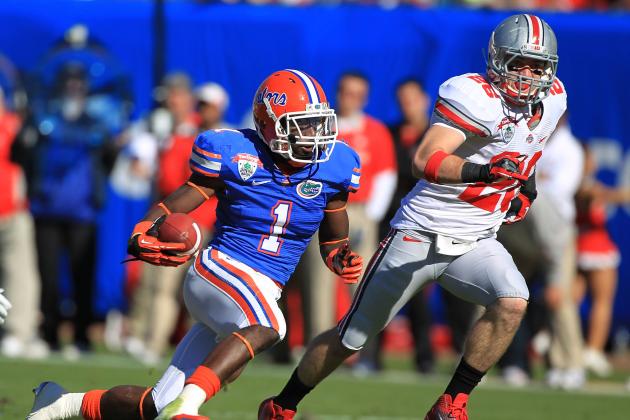 Scott Halleran/Getty Images

Height: 5'8"
Weight: 180
Pro Day 40 Time: 4.35
The Packers will trade one of their seventh-round draft picks acquired from the New York Jets to move up in the fifth-round to select a multi-dimensional weapon in Chris Rainey.
Rainey opened some eyes at the Senior Bowl with his speed and athleticism. He is a very versatile athlete who has played RB, WR, KR and PR at Florida. Rainey was named to the All-SEC first team in 2011 by the coaches.
In 2011, Rainey rushed for 861 yards and had three TDs. He also caught 31 passes for 381 yards and two more TDs. In addition to that, Rainey also excels on special teams. He had three returns for TDs, plus blocked six punts in his career as a Gator, including one for a TD vs. Ohio State in this year's Gator Bowl.
Rainey has explosive speed and can outrun just about anyone on the football field. He would add another dimension to the Packers' offense with his versatility and speed.
However, the Packers will need to carefully examine the off-the-field issues that Rainey has had, which includes aggravated-stalking charges from 2010, when he sent a threatening text message to a former girlfriend.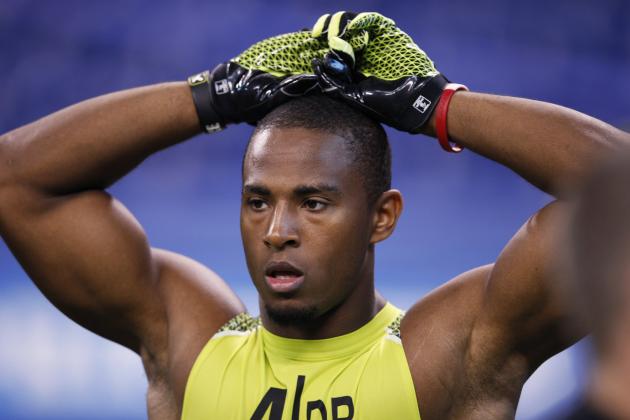 Joe Robbins/Getty Images

Height: 5'11"
Weight: 200
Combine 40 Time: 4.58
Justin Bethel is a very intriguing player. He was a three-year starter at Presbyterian and had a fabulous senior year with 88 tackles, six passes broken up, four interceptions and one forced fumble. He can play both CB and S.
Bethel also looked good at the East-West Shrine game. He would contribute right away on special teams. Bethel blocked a whopping nine kicks and had 199 solo tackles in his career at Presbyterian, which are both Big South records.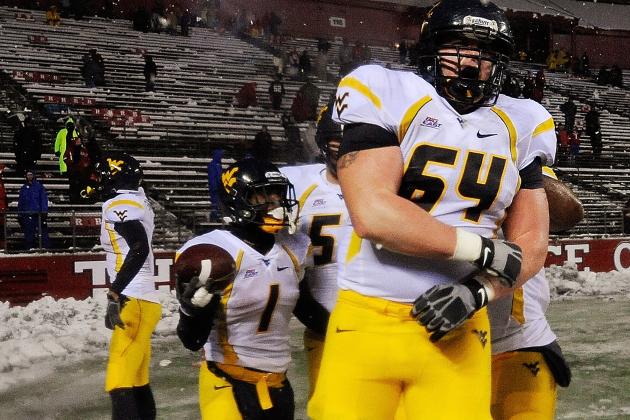 Patrick McDermott/Getty Images

Height: 6'4"
Weight: 305
Pro Day 40 Time: 5.03
Don Barclay was on the All-Big East first team at RT. Barclay had a very good senior season and held his own against the likes of Vinny Curry of Marshall and teams like LSU.
Barclay played LT at West Virginia, but he can also play RT. He also could move inside and play G.
The OT position for the Packers is in a bit of flux. LT Chad Clifton missed most of the 2011 season due to a severe hamstring injury and recently had back surgery. Clifton's status will be closely watched in training camp.
Marshall Newhouse filled in for Clifton in his absence and played okay, but also allowed 12.5 sacks in 2011. That is NOT okay. Green Bay's first-round pick in 2011, Derek Sherrod, suffered a broken leg in two places late in the 2011 season. Sherrod is currently rehabbing to try and be ready for training camp.
RT Bryan Bulaga also missed some time in 2011 because of two separate knee injuries.
Doug Pensinger/Getty Images

Height: 5'11"
Weight: 206
Pro Day 40 Time: 4.61
Tashaun Gipson was named to the All-Mountain West second team in 2011. Gipson had 95 tackles with 2.5 tackles for a loss, five passes broken up, one forced fumble and three interceptions as a senior.
He was an honorable mention at All-Mountain West in 2010, when he had three interceptions with nine passes broken up, 3.5 tackles for a loss and 40 tackles.
Gipson also had three interceptions as a sophomore in 2009.
Gipson has good size, and he definitely has some upside, based on his production in college. He can also play S.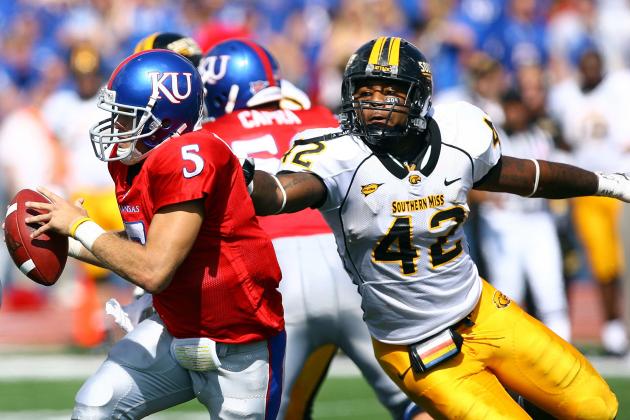 Jamie Squire/Getty Images

Height: 6'1"
Weight: 243
40 Time: 4.72
Korey Williams was on his way to having a monster senior year before a torn ACL shelved him for the year in the fourth week of the season. Up until that point, Williams had 35 tackles with 3.5 tackles for a loss, three interceptions and two pass breakups.
In the two previous years, Williams had over 200 tackles, including 22 for a loss and 10.5 sacks.
Williams would be a hidden gem selection in the seventh round for Ted Thompson.