Miami Marlins: What Is Wrong with Ozzie Guillen and His Squad of Stars?
April 21, 2012

Greg Fiume/Getty Images
On April 20th, I went to the Nationals-Marlins ballgame as part of a birthday gift for my floor mate, who just turned 19.
We went to the park expecting a showdown of two impressively remodeled clubs, but instead we got a one man show, as Rick Ankiel basically put the game in the bag with a home run...in the third inning. The Nationals won against their South Beach adversaries, 2-0.
May I remind you who the Nationals were playing? 
The Miami Marlins came into this season with so much promise, a revamped infield, a quality rotation, a new moniker, new identity set, and a new ballpark. What have they done with all the gifts they have received? 
Well, so far, they haven't really unwrapped them.
The team is in last place. They have no offense. Prized free agent addition and 2011 NL Batting champion Jose Reyes is in a slump. Giancarlo Stanton, despite his name change, is not hitting either. 
Even the rotation isn't playing at the level it used to.
Josh Johnson is pitching blue, Mark Buehrle doesn't have the South side wind to help him in his starts, so he's fallen flat, and while it's refreshing to know that Carlos Zambrano hasn't thrown a tantrum in a long time, his mellowness has not gotten him any victories. 
Couple those issues with the ever-so controversial Ozzie Guillen, who has already cursed out Red Sox manager Bobby Valentine and offended most of the Cuban population of Miami with his "mistranslated" comments on former leader Fidel Castro, and you have a ballclub that resembles the New York Jets football team in terms of dysfunction.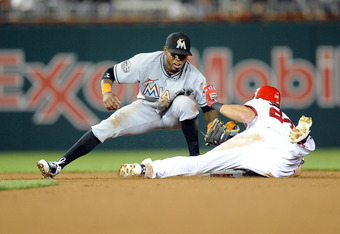 Greg Fiume/Getty Images
The only thing keeping the Marlins afloat is the relative novelty of the Marlins.
Owner Jeffrey Loria's Art Deco logo, fashionable orange and black hats and jerseys and his big splurge in the offseason has managed to placate not only the fair weather fans, but also cater to the fashion crowd and original fans as well.
That good will won't last forever.
This team cannot possibly be more disorganized. Jose Reyes is still his goofy, dread-locked self from his days in New York (I know this for a fact because when I made light conversation with him, [and I can attest to that,] and mentioned that I still supported him as a Mets fan, he smiled, winked, and drew a finger to his lips, like a little kid.)
Logan Morrison probably still finds twitter to be more important than baseball, and Hanley, though he will not admit it, hates playing second fiddle to Reyes.
This is embarrassing, especially for a team that was practically pegged to take down the Phillies as NL East champs.
While this is still April, it certainly should give the Marlins some pause, realizing that they are no longer the Florida Marlins of old, holding fire sales after winning their championships and making mediocrity look good.
Gone are the days of Joe Girardi and Reggie Abercrombie, the days where the main competition was the Miami Dolphins, not the NL East. That was six years ago, when even after the 2003 World Series, which the Marlins only made it to based on (non)divine intervention, they were still viewed as a AAAA squad.
It's 2012 and the Marlins look all grown up. They'd better act that way in order to prove they've matured.  
If Ozzie Guillen and his Fighting Fish want to prove anything other than the fact that they are playing like losers, then they must start getting serious, or else their popularity will be gone faster than a strawberry Shake Shack Shake, a Ben's Chili Bowl Half Smoke and a Dasani purchased by me at Nationals Park.