Matthew Stockman/Getty Images
April 20, 2012
The Pittsburgh Steelers traveled to Paul Brown Stadium for their first-ever playoff game against the rival Cincinnati Bengals on January 8, 2006. The game is certainly not a forgotten classic, thus not quite meeting the qualifications necessary to be features in this series.
However, the events that unfolded during that contest reshaped the landscape of a rekindled rivalry, both between two division opponents and two peer quarterbacks that the public and mass media couldn't resist comparing.
Many factors allowed the wild-card playoff classic to have such meaning on both sides.
Carson Palmer was the big-armed quarterback alumnus of the prestigious University of Southern California, and his arrival in the NFL saw a certain early aplomb quite possibly only rivaled by his peer passer in the AFC North.  With the down-for-the-count Bengals revived from putridity to mediocrity to contention, the hyped Palmer was largely considered one of the finest quarterbacks in professional football.
In fact, many considered the Cincinnati kid to be the superior field general to Pittsburgh's Ben Roethlisberger, despite Big Ben's record-breaking winning streak during his rookie season. 
"Eh, he's just a game manager, winning on the heels of the team around him," people would emphatically respond, as if forgetting the Steelers' 6-10 record in 2003 and 30-13 blowout loss in Baltimore just prior to his arrival—the last defeat the Men of Steel would suffer in 2004.
Many in the media anointed Palmer the better quarterback, and the title seemed to fit whenever the Bengals handed Pittsburgh a third straight defeat in the middle of the 2005 season. Carson Palmer and the Cincy offense put up 38 points in victory, and the humiliating loss sent the spiraling Steelers to 7-5, two full games behind the division-leading Bengals.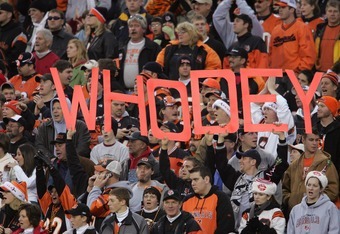 Andy Lyons/Getty Images
Like an aspiring champion, the Black and Yellow rebounded like pesky insects of the same color, getting into the grill of opponents, swarming them on defense and stinging them on offense like killer bees. Four straight wins secured a playoff berth, and the Steelers would travel to Cincinnati.
Thus, the stage was set.  At the onset, a raucous crowd came unhinged when their acclaimed passer showed off his studly arm with a perfectly placed deep bomb down the right sideline to receiver Chris Henry. Just like that, the Bengals were in business in the do-or-die NFL playoffs.
However, if their opening pass represented one side of that playoff coin, Carson Palmer's knee demonstrated how quickly the other side can rear its ugly head.
Defensive end Kimo von Oelhoffen rushed Palmer and rolled into his left leg from on the ground. The damage was severe—a tear of the anterior cruciate ligament and medial collateral ligament, a torn  tendon and a dislocated kneecap.
Von Oelhoffen had become public enemy No. 1 in the stands and on the Cincinnati sideline, who boisterously claimed the damage was intentional. It made no difference. The Bengals rode their adrenaline to an early lead, but Pittsburgh's 24 unanswered points in the second half spelled the end of the season in western Ohio.
Like one more twisted knee or salt in the worst of wounds, fans who chanted "Who Dey?!" in the stands hours earlier watched highlights of Bill Cowher leading his locker room in a mock of their signature war cry.
Then, they watched as "The Chin" raised the Lombardi Trophy weeks later.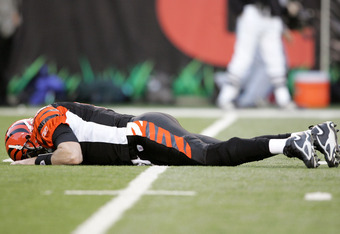 Andy Lyons/Getty Images
At home, his knee wrapped and rehabilitation not yet able to begin, Carson Palmer stewed on his ire, committed to getting even with the team that had taken "his Super Bowl," a sentiment shared by Ohioans and Bengals athletes alike during the 2006 offseason.
Palmer didn't make his emotions ambiguous, speaking to former Cincy quarterback Boomer Esiason during an interview highlighted in a Sports Illustrated article titled "The Rehabilitation of Carson Palmer:"
"We all hate Pittsburgh."
As tumultuous as Palmer's final game of 2005-06 had been, Big Ben Roethlisberger, the newest NFL championship quarterback, was about to redefine the word.
A motorcycle accident nearly took his life. Then, days before the opener of the regular season, Ben was forced to undergo an emergency appendectomy. The Steel City was on pins and needles, and the defending champions were not headed into their title defense as stoutly as they'd prefer.
Charlie Batch took the helm, leading the Steelers to victory on opening night, a 28-17 victory over the head coach Nick Saban and the Miami Dolphins that was capped by a Joey Porter interception return for a touchdown.
A failed attempt at an early comeback saw the Steelers, with Big Ben at the helm, fall in shutout fashion to the Jaguars on Monday Night Football, 9-0.
A healthy Carson Palmer, heroically returned to action from his horrific injury months earlier, was ready to strike. Cincinnati was determined to put the champs in their place, proving their claims of having been "robbed of a Super Bowl."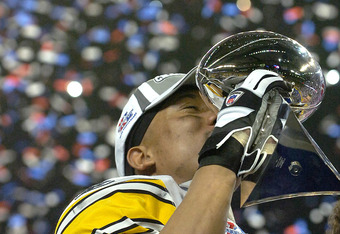 A. Messerschmidt/Getty Images
They did it, but not without some help. After two Carson Palmer touchdown passes to Chris Henry gave the Bengals a halftime lead, the Steelers responded to go ahead 17-14 headed into the fourth quarter.  The reeling Bengals were forced to punt, and Pittsburgh's suddenly hot offense was going to get the opportunity to put the game away.
Then, inexperienced returner Ricardo Colclough fumbled the punt return, and the Bengals took a lead they would not surrender moments later on a nine-yard touchdown strike from Palmer to T.J. Houshmandzadeh.
After Verron Haynes' fumble was recovered, Palmer's fourth touchdown pass, 30 yards to Houshmandzadeh again, secured Cincinnati's win.
The Bengals had, in their estimation, "proven" their claims, chanting "Who Dey?" for a second straight season at Heinz Field.
The reeling Steelers, fresh off a loss in a game they easily should have won, never recovered their swagger. Meanwhile, the Bengals continued their winning ways, peaking with an 8-5 record before losing two key contests heading into the season's final week.
Sadly, Pittsburgh was already knocked out of the playoff picture by Week 17. Headed into Cincinnati, they faced an 8-7 Bengals squad that could still make the postseason if one of two conditions were met.
Either Cincinnati would need to win along with a Jets loss, or they would need to hope for the long shot of a Kansas City win coupled with a Denver defeat.
Amazingly, circumstances worked out for the latter scenario, though the Broncos' loss would not be final until later in the evening. With the Steelers and Bengals set to do battle at 1:00 ET, Cincy had no clue just how devastating a loss to the 'Burgh would be in the regular-season finale.
For a couple of key Steelers icons, New Year's Eve of 2006 marked their final moments along the Steelers sideline. Linebacker Joey Porter and head coach Bill Cowher were about to compete in their last game for Pittsburgh.
If the hopes for the postseason were not enough for the Bengals after two straight losses, thoughts of sweeping the Steelers were surely further motivation. 
That goal seemed uninspiring to the men in tiger stripes early on—at least offensively. Carson Palmer and the offense were anemic, bordering on embarrassing, for the majority of three quarters of the game.  Yet, who could blame them for struggling?
The Steelers defense was still a loaded championship crew, featuring talent galore such as Troy Polamalu, James Farrior, Aaron Smith, Joey Porter, Casey Hampton and Ike Taylor.
While Palmer sported a gallery of receiving threats, T.J. Houshmandzadeh, Chad (soon to be Ocho Cinco) Johnson and Chris Henry, his offense was flat at the start.
The start of the opening quarter saw both offenses exchange punts after gaining first downs.
Then, midway through the first quarter, a deep pass from Ben Roethlisberger intended for Santonio Holmes was intercepted by Torrey James. The corner returned the football 28 yards to midfield, and a frustrated Holmes went to the sideline.
His fortunes will change by game's end.
Unfortunately for the Bengals, tasked with a must-win scenario, their stagnation on offense continued, and a golden opportunity to take over from midfield resulted in another punt.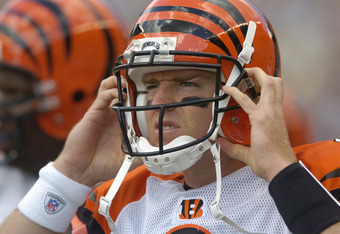 Greg Fiume/Getty Images
This time, Pittsburgh's offense would not yield to the Cincinnati defense, beginning a drive that would consume over eight minutes.
Willie Parker rushed nine times for 44 yards on the march, establishing ground control that would be a key to Pittsburgh's success on the afternoon. Fast Willie finished the game with 37 critical carries for 134 tough yards.
The first of his pair of one-yard touchdowns capped the scoring drive, which saw a blend of running and intermediate passing. 
Trailing 7-0, Palmer needed to revitalize Cincinnati, but a muffed snap on second down was followed up with an incomplete pass, continuing a first half of ineptitude for an offense that didn't showcase the desire that would be seemingly prerequisite for a contest of such magnitude. The boo-birds quickly overcame the impatient crowd, who had seen enough bad December football for their liking.
Kevin Kaesviharn sacked Big Ben on the Steelers' next drive, forcing Pittsburgh to punt from deep in their own territory. Chris Gardocki's lackluster 36-yard punt set up Cincinnati with ideal field position once more, starting from their own 41-yard line.
For the first time in the critical game, Paul Brown Stadium would have reason to cheer. After two pedestrian plays netted only four yards, inciting more impatience from the fans, Palmer hit the pesky receiver T.J. Houshmandzadeh, who was always more damaging to the Steelers defense than the self-glorifying Chad Johnson, for a critical nine yards.
The next play saw a strike to Chad Johnson, followed by the anticipated, overly loud and flamboyant response. Another first down had Cincy into Pittsburgh territory, but the threat of stalling seemed imminent when 3rd-and-10 arose.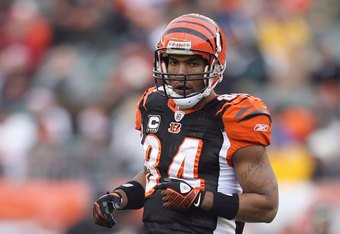 Andy Lyons/Getty Images
Kenny Watson's diving 11-yard grab against James Farrior kept the drive alive. On 2nd-and-10, Palmer attacked Farrior again, hitting "Who's Your Mama?" for seven more yards before converting a manageable third down.
The disorganized Bengals offense suddenly had an opportunity to tie the game before halftime, huddling for a 1st-and-goal from the 4-yard line.
A two-yard loss by Rudi Johnson preceded two consecutive false-start penalties. Suddenly, the "bumbling Bungles" that Myron Cope so affectionately nicknamed, had pulled their own version of the "yoi and double yoi!" The double procedure calls backed them up to the 16-yard line. 
They couldn't recover, and Shayne Graham's field call sent them into halftime trailing 7-3.
The start of the second half saw Willie Parker's consistent running attack, gaining five yards per clip in the first half, suddenly stuffed. Unable to get positive yardage on first and second downs, Ben Roethlisberger threw incomplete passes on consecutive long-yardage third downs.
While Pittsburgh's offense twice failed to gain a first down after halftime, the Bengal's first three possessions were no better—and possibly worse.
In fact, Palmer completed only one single pass of eight attempts during the trio of "drives," inviting the all too familiar choral showering of jeers to reemerge.
Just like the first quarter, Pittsburgh began a lengthy, concerted and effective drive at the end of the third act, again taking nearly eight minutes off the game clock and forcing the game into its final frame.
Andy Lyons/Getty Images
Parker's first four carries of the drive netted 34 yards, and Najeh Davenport even got into the act with a pair of carries for 27 explosive yards. 
After a five-yard loss by Parker on 2nd-and-5, the reliable No. 7 showed off his mobility, gaining 11 yards for a first down at the 9-yard line.
With a chance to take a commanding 14-3 lead, considering the Bengals' complete and utter lack of offensive capability to that point in the affair, Parker darted through the line on first down and seemed to be headed on a laser line straight into the end zone...
...before Landon Johnson extended his arm and forced a fumble at the 1-yard line. Dexter Jackson recovered the pigskin, and Cincinnati remained within one miraculous play of taking the lead.
With no signs of life on offense, it seemed clear that the Bengals were unable to matriculate a long drive through the stout Black and Gold defense. They needed a big play to wake themselves up from a two-week slumber.
It came on a connection between a quarterback and receiver who had hooked up on the fateful first pass of the two teams' playoff match nearly a year earlier.
Palmer, who was a mere 2-for-9 passing in the second half to that point, found Chris Henry for a stunning 66-yard touchdown pass. Instead of having a 14-3 lead, which ought as well had been a million considering the course of the contest, Pittsburgh suddenly trailed 10-7.
Henry would finish the contest with four receptions for 124 yards and a touchdown.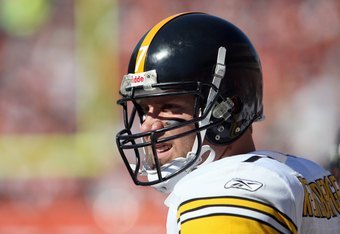 Andy Lyons/Getty Images
A Steelers receiver would ultimately (and eerily) match his production. It would soon cost the Bengals their season.
The productive wideout was Santonio Holmes, who got the Steelers offense out of its shock with a 17-yard reception early in their response drive. Big Ben would connect next with Hines Ward for 17 more yards, setting up a goal-to-go situation.
This time, Willie Parker redeemed himself, getting four yards in two plays to recapture Pittsburgh's four point lead, 14-10.
Unfortunately, the Steelers had taken their foot off the throats of the bleeding Bengals, and the bandage band of receivers continued to make plays against the Pittsburgh secondary.
A defensive stalemate was suddenly exploding into an offensive showcase full of fourth-quarter fireworks. Palmer continued to hit his wideouts, and Deshea Townsend's 21-yard pass interference penalty against Chris Henry brought the ball deep into Steelers territory.
The Bengals scored on a 5-yard pass to quiet tight end Tony Stewart, and a game seemingly in the bags in the 'Burgh was suddenly in question.
With rumors of Bill Cowher's final season making headlines in the Steel City, the once 2-6 Steelers had rallied admirably to bring their record back to 7-8. Would Pittsburgh manage to finish .500, or would Cowher's last game—potentially—result in only his fourth losing season in 15 seasons?
Deshea Townsend's unsportsmanlike penalty for fighting with Bengals players after the extra point cost precious field position.
Starting from their own 17-yard line with less than three minutes left, Big Ben brought the Steelers to their own 38 before firing a critical pass to Santonio Holmes. The rookie and former Buckeye was blossoming before the eyes of Steeler Nation, and his key 34-yard catch brought the ball to the Cincy 28-yard line.
The drive stalled, but Jeff Reed's field goal knotted the score.
With the scoreboard showing the Chiefs beating the Jaguars, the Bengals knew half the equation had come true for a possible playoff berth. Now, they had to find a way to win with 1:03 remaining.
Palmer continued his fourth-quarter heroics. With less than a minute to go, he practically poked the air out of the proverbial hot air balloon for Pittsburgh. 
From the 33-yard line, Palmer hit Chris Henry, who tortured Steelers defensive backs in the fourth quarter, for a gut-wrenching gain of 47 yards. Set up from the Pittsburgh 20-yard line, the Bengals were in range for an easy Shayne Graham field goal.
Palmer knelt twice, setting up the 39-yard attempt. 
Myron Cope, as mentioned, always called them the "Bungles."  Mostly, they lived up to the nickname.
And, this was no exception.
As Graham's attempt sailed wide, that hot air balloon that was deflating switched sides. Suddenly, Bengals fans had that glazed over look on their face. The game was headed to overtime...
...and, to add to their troubles, the Steelers won the coin toss.
Mercifully, Pittsburgh would quickly put the hard-luck, snake-bitten fans out of their misery.
On their third play of overtime, a first down from their own 33-yard line, Big Ben hit Santonio with a crisp quick slant.
Holmes split linebacker Brian Simmons and defensive back Torrey James and sprinted into the end zone. His 67-yard touchdown served as the final play of the illustrious coaching career of Bill Cowher—a fitting ending over a team he had dominated during his tenure. Holmes, like Henry, finished with four catches.... for 124 yards!
Cowher finished his career 21-9 against the Bengals—the last win ending any shot for Cincinnati to make the postseason.
Fittingly, the Broncos lost in an upset to the 49ers later than evening. Indeed, the Bengals would have qualified, against all odds. But, against those same types of odds, they lost...and the Steelers won to end their season.
After the game, players approached coach Cowher to ask if he was staying or leaving. Ironically, one of those players was Joey Porter, who himself had unknowingly played his final game for the Black and Gold.
"Today was the first time anybody put him on the spot," Porter said. "I asked him. He said he doesn't know. We love the guy regardless."
Cowher's response, just as with his own players, was intentionally vague.
"I know where I'm leaning. I want to make sure I'm thinking clearly about it. I'm not burned out. When I make a decision, it's a well-thought-out one. I'm not a hindsight kind of guy."
Weeks later, Bill Cowher officially retired from coaching. His final win was one of the most exhilarating of his illustrious coaching career.
For every team that wins, another loses. Or, for every happy person, another is unhappy in the sink or swim sports world.
While Cowher went out with a smile, the loss had to be particularly biting for Carson Palmer—the quarterback who made it his vow to defeat the Steelers, return to the playoffs and complete the mission that prematurely ended in 2005.
Palmer has still never won an NFL playoff game, and the Bengals are continuing to seek their first postseason win in well over two decades.
****************************************************************************
The Pittsburgh Steelers have blessed their fans with an abundance of exhilarating games. The "Catalog of the Classics" runs deeper for the Black and Gold than most other NFL teams, especially in the modern era. For that reason, many of the team's greatest games are easily lost within its rich history, a lengthy volume that spans six Lombardi Trophies and an absurdity of spoils!
Every week of the team's 2012 offseason, we will look back at one of the great Steelers games that many fans may not remember. In this way, the epic bouts will no longer be...
The Forgotten Classics! 
Please enjoy these previous installments:
Vol. 1: The Immaculate Interception; 1997, @ New England Patriots

 Vol. 2: Streak Busters; 1982, @ Dallas Cowboys
Vol. 3: Rookie Quarterbacks Collide; 2004, @ New York Giants
Vol. 4: The Jinx Survives Sudden Death; 1978 & 1979, vs. Cleveland Browns
Vol. 5: A Rivalry Remembered; 2000, vs. Oakland Raiders
Vol. 6: Wild Win in the Windy City; 1995, @ Chicago Bears
Vol. 7: Eighteen Wins, One Loss; 1984, @ San Francisco 49ers
Vol. 8: Falling Giants; 1964, vs. New York Giants & @ Cleveland Browns
Vol. 9: Elvis (Grbac) Has Left the Building; 2002, vs. Baltimore Ravens
Vol. 10: Glanville and the Emperor; 1988 & 1989, @ Houston Oilers
Like the new article format? Send us feedback!