Detroit Lions: Why Cliff Avril Holdout Could Be Draft-Day Trade Bait
April 20, 2012

If you would have suggested to me one month ago that the Detroit Lions should trade Cliff Avril, I would have told you to go take a long walk off a short pier. That's just crazy talk.
After all, defensive ends that start all 16 games and record 11 sacks and six forced fumbles in one season do not grow on trees. An argument can be made that Avril was the MVP of the defense last year.
It is true. He had a very good 2011 season, and he is an important part of Detroit's defense—on the field and in the locker room.
Is that enough to accept Avril's recent refusal to sign a deal? I do not think so. In fact, after reading this article from NFL.com, I will definitively say no.
In the article, Lions' president Tom Lewand admits that they have offered the defensive end "significant multiyear offers," yet they cannot reach agreement. If they can't get it done, they at least hope Avril will sign the one-year franchise tag.
Apparently, Avril isn't having it and already said he won't sign the one-year tender.
Both parties have until the July 15th deadline to get it all figured out, but the chances of that happening look bleaker by the day.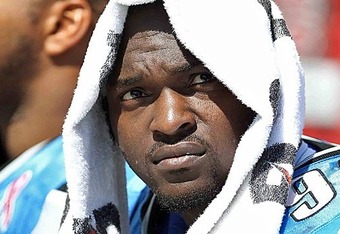 When is enough, enough? When does Avril's holdout go from good business to selfish distraction? I think it is already there.
While I believe he is a very good player, I am not sold that he is an elite-level defensive end. His numbers don't compare to the likes of Jared Allen, DeMarcus Ware or Jason Pierre-Paul.
So why should he be paid like them?
Perhaps it is time for the Lions to cut their losses and get what they can for Avril. Dragging out these negotiations is a distraction that the team does not need, especially with all the positivity in Motown these days.
Avril's holdout is the proverbial dark cloud intent on raining on everyone's parade.
Besides, losing Avril may not be the tremendous defensive setback that everyone envisions. Obviously the Lions other two backups don't have the numbers Avril does, but they're adequate replacements.
In fact, is there any Lions fan out there that isn't screaming for Willie Young to get more playing time?
With Avril gone, coach Jim Schwartz would have no choice but to unleash Young on the NFL full-time. 
Unloading Avril on someone would also be a wise salary cap move, as well. Detroit will have more free agents to sign next year, and Calvin Johnson's base salary will significantly increase in 2013.
But the biggest advantage of cutting bait with Avril now is that he can be packaged in a draft-day deal to acquire additional high draft picks.
Martin Mayhew has pulled off draft-day moves every year he's been general manager, so this is not a far-fetched idea.
There are many NFL teams in dire need of a 26-year-old pass-rusher coming off the best year of his career, so it should not be hard to find a landing spot for him.
Of course, the Lions will not give Avril away for free. One first-round pick plus an additional late-round pick would be the asking price.
With two picks in the first round, Detroit could effectively address their most pressing needs—upgrading the offensive line and getting a top-tier cornerback to replace Eric Wright. The additional late-rounder would just be icing on the cake.
Avril was drafted by the Lions in 2008 and since then has been a fan favorite. Obviously everyone would love to keep him around—but without mortgaging the team's future. If he won't budge, then Detroit has no choice: Get the best deal they can for him and move on. 
The Lions will stockpile young talent in his place and hopefully be better off for it.