2012 San Francisco 49ers Mock Draft: Grading Mel Kiper's 'Grade A' Draft
April 19, 2012

Well, San Francisco 49ers faithful, the draft guru with the hair is at it again.
Mel Kiper, Jr. of ESPN recently posted his ideal scenarios for the first three rounds of the NFL draft as they pertain to each team. In this exercise, he plays the role of hypothetical general manager and makes the best selections according to team needs. In his words, he makes the "best pick for that team in that spot."
Kiper lists the Niners' top three needs as right guard, wide receiver and safety (cornerback, running back and outside linebacker complete the top six).
Actual GM Trent Baalke and the 49ers select at No. 30, 61 and 92 in Rounds 1, 2 and 3. Kiper omitted any possible draft-day trades and selected at those exact positions in his mock draft.
This is not a prediction of how things will actually transpire on April 26-27. Rather, it is a mock predicated on each general manager's understanding of his team needs and how Kiper would draft if he were indeed the GM.
In this case, Mel Kiper is Trent Baalke of the San Francisco 49ers.
Let's find out if Baalke would take offense or applaud his character portrayal and draft picks.
Round 1 (No. 30): Kevin Zeitler, OG, Wisconsin
Many pundits and fans alike argue that the right guard position is the 49ers greatest need. Others, like Matt Maiocco of CSNBayArea.com, postulate that this is not a need-based draft and that Baalke will select the best player available and for depth.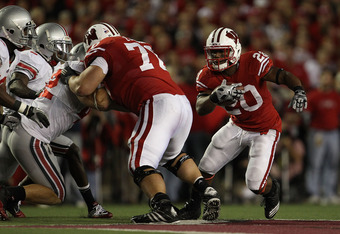 Jonathan Daniel/Getty Images
I am of the BPA persuasion.
In Kiper's draft, Kevin Zeitler at pick No. 30 does not qualify as the best player available nor does he bring maximum value to the Niners squad.
He is a fine guard that will become an NFL starter in due time, but deserves an early second-round grade.
At this point in Kiper's mock, Nick Perry, Stephen Hill, Coby Fleener and Kendall Wright are all still available. There's not a chance in hell that Baalke passes up on the draft's preeminent pass-rusher (next Aldon Smith?), tight end and first-round worthy wide receivers. Each of these players scream BPA at 30th overall.
Kiper indicated that he was tempted by Hill, but opted for a WR in the second (more on this later).
Unlike David DeCastro and Cordy Glenn, Zeitler isn't worthy of a first-round selection. He could conceivably win a starting position along the 49ers O-line, but doesn't offer the best value—especially when compared to the players previously mentioned.
Baalke and the 49ers are comfortable with Daniel Kilgore and Alex Boone competing at RG. They'll draft for depth at this position in subsequent rounds.
Grade: D
Round 2 (No. 61): Rueben Randle, WR, LSU
Kiper improves on his Baalke impersonation with this solid value pick.
Multiple draft experts project Randle as a top-50 player and fifth overall at his position. Those at CBS all have him selected at No. 33 or above.
At 6'3'', 210 pounds and with a 40 time of 4.43, Randle possesses the undeniable measurables that so many scouts covet in receivers. He has big, reliable hands and the size, speed and leaping ability to catch the football at its highest point.
It was readily apparent after surveying Kiper's mock that Randle was indeed one of the best players available. Receivers Alshon Jeffery and Brian Quick, DEs Vinny Curry and Jared Crick, guards Amini Silatolu and Keleche Osemele and CB Trumaine Johnson, among others, were already taken.
On the other hand, I'm an outspoken member of the Randle naysayer camp. I believe he lacks the intangibles and isn't a viable fit in Harbaugh's West Coast offense, as he ran a limited route tree in college. While he has tremendous upside (wow, we throw that word around too much), he's much more of a developmental prospect in my humble opinion.
But by placing this selection in the vacuum of Kiper's mock draft, it's a respectable move, especially with knowledge of his third-round pick.
Grade: B+
Round 3 (No. 92): Mike Martin, DT Michigan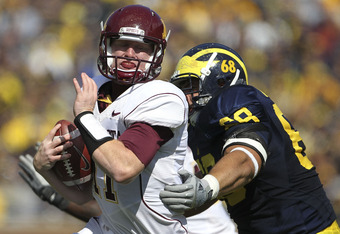 Leon Halip/Getty Images
The 49ers organization and Niner faithful would be ecstatic if Mike Martin fell to them at the bottom of the third round.
Leading NFL draft analysts consistently rank him as a second-round and highly underrated prospect.
The former wrestling standout operates with a ceaseless motor and passion that earns him the respect of coaches, fans and teammates alike. He is slightly undersized (6'1'', 304 pounds) as a 3-4 nose tackle, but would serve as a great rotational player on the 49ers defensive front, learning from the game's best in Justin Smith. The two are somewhat of kindred spirits.
Furthermore, he maintains good balance and utilizes quick hand movement when engaging with defenders. Martin has plenty of limitations, but his toughness, nose for the ball and endless pursuit on the backside should endear himself to Jim Harbaugh and Vic Fangio in San Francisco.
Defenses thrive with multiple fresh bodies on the front line. Baalke would certainly applaud Kiper's exceptional value selection.
Grade: A
Overall Grade for Mel Kiper's "Grade A" Draft: B