2012 NFL Draft: Michael Brockers vs. Fletcher Cox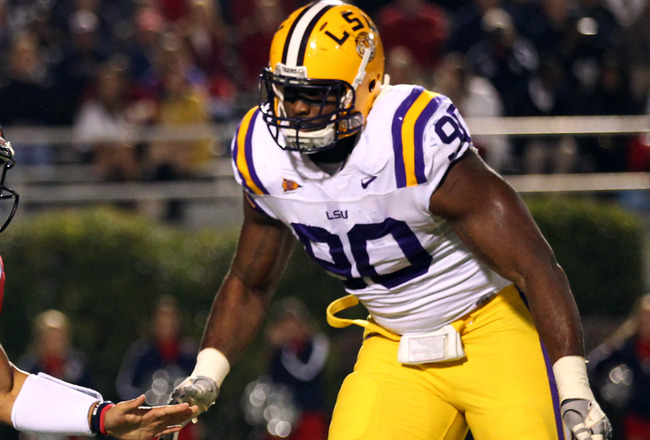 Joe Murphy/Getty Images
There has been a lot of debate in the football world recently concerning Michael Brockers and Fletcher Cox. The debate brings up more questions than it can answer, but here are two of the biggest questions: Which player is the better professional prospect, and which player should be drafted higher?
Right away upon comparison, the difference in size is obvious and worth noting. Michael Brockers is 6'6" and 325 pounds. Fletcher Cox is 6'4" and 295 pounds. Both are big men, but Brockers has a significant advantage here.
Brockers is a massive man with the frame to grow a little, but he is still very athletic. He is a huge football player that will dominate the run and wreak havoc on the interior of an offensive line. That is what he can do today. Brockers is what he is, and that's a dominant force at the point of attack.
Cox, on the other hand, is shorter, and at 6'4" there isn't a lot of room for him to get bigger. If he does add weight, can he hold onto his athleticism? If he can't add weight, then Cox is a "tweener," a player who is too big for one position (defensive end in this case) and too small for another position (defensive tackle in this case). If he stays inside against NFL size he may get swallowed up, and if he lines up as a defensive end he won't be quick enough.
I went to the highlight tapes to compare each player for myself, looking for a few things in particular:
I wanted to see where they lined up, how productive they were, how many double-teams they faced and how productive they were when they faced double-teams.
We are going to get a real look at each player (based on a tape of them against a common opponent) and we will determine how much production we see while they are double-teamed.
Fletcher Cox vs. Alabama, 2011
There were 42 total plays involving Fletcher Cox, and here are my observations:
Lined up at right defensive end three times.
Lined up at left defensive end twice.
Lined up at right defensive tackle 18 times.
Lined up at left defensive tackle 19 times.
Was double-teamed eight times (this is subjective; you watch and see what you think), or 19 percent of the time.
Had four assisted tackles in the game.
Made no tackles when he was double-teamed.
Pressured the ball-carrier and re-routed him. He was able to shoot one gap effectively and get pressure on the quarterback twice.
Michael Brockers vs. Alabama in the National Championship Game
There were 42 total plays including Michael Brockers, and here are my observations:
Lined up at left defensive end one time.
Lined up at nose tackle or as a 1-technique eight times.
Lined up at defensive tackle on the right side three times.
Lined up at defensive tackle on the left side 30 times.
Was double-teamed 30 times (again, this is subjective), or 71 percent of the time.
Registered three solo tackles and four assisted tackles in this game.
Registered either an assist or a tackle six times while double-teamed.
Blocked a field goal in this game.
Summary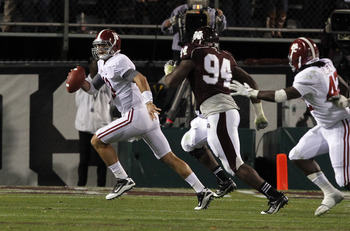 Butch Dill/Getty Images
Having watched both videos, it is very difficult to compare these players. They are simply different guys who do different things. Cox is a pass-rush specialist and there are questions as to how that translates to the NFL.
Cox is best suited to play defensive tackle in a 3-4 base defense, and he seems to be stuck to that position. He is a very good football player but he could be limited to play in a 3-4.
Michael Brockers is a player who can line up in a 4-3 or a 3-4 and eat up space inside. This is on display throughout the entire video. He will stop the run, and we all know what happens when defenses make offenses one-dimensional.
A defense becomes dominant when it limits an offense's ability to either throw or run the ball. Brockers will help a defense make the offense throw the ball, and the players around him will benefit greatly.
The videos show that Brockers is more versatile, commands more double-teams and can be more productive as a pro because of his ability to make plays right now, even while double-teamed.
Keep Reading