Why the Cleveland Browns Should Start Colt McCoy at Quarterback in 2012
April 17, 2012

Jared Wickerham/Getty Images
It appears at this point in the offseason that the Cleveland Browns will most likely start Colt McCoy at quarterback when the campaign begins in September.
The sound of gnashing teeth is coming from Cleveland, where a large majority of the fanbase seems more than ready to turn the page on McCoy, a third-round pick out of Texas in 2010.
Those who want to dump McCoy complain he doesn't have the arm strength to excel in a pass-happy NFL. There are also whispers that he's been so beaten up playing behind a struggling offensive line that he's become skittish in the pocket. That argument only gained strength when he was knocked out a game against the Steelers on a vicious helmet-to-helmet hit by James Harrison in December. McCoy suffered a concussion that sidelined him for the final three games of the season.
If there are two traits that can doom a quarterback, it's a weak arm and happy feet.
The Browns front office appeared set to move on from McCoy early in the offseason and stated publicly they attempted to work out a deal with St. Louis to move up to the No. 2 pick in the upcoming draft to take Baylor's Robert Griffin III.
Alas, the Browns were foiled and Washington instead worked out a trade to take RGIII. There have also been rumors the Browns might consider taking Ryan Tannehill out of Texas A&M with the No. 4 pick.
But here is an argument to stick with McCoy. First off, sticking with McCoy and not drafting a QB with the picks at Nos. 4 or 22 of the first round means the Browns can fill holes at receiver, running back or on defense.
And then there is history. History shows us the Browns have enjoyed some of their more exciting seasons post-Jim Brown when led by an undersized quarterback thought to have a weak arm.
A little more than 30 years ago, the Browns became one of the most compelling franchises in the league when they turned to Brian Sipe to start behind center. Sipe became a beloved quarterback for a generation of Browns fans at the end of the Carter Administration and the early portion of the Reagan years. He led the Browns to the playoffs in 1980 while winning the league's MVP.
And like McCoy, the start of Sipe's career could be described as rocky at best.
After being drafted in the 13th round out of San Diego State in 1972, Sipe patiently waited his turn behind Mike Phipps, who the Browns acquired in a trade for future Hall of Fame receiver Paul Warfield. Phipps was absolutely horrible. In a three-year stretch, from 1973 to 1975, he threw 22 touchdowns and was picked off 56 times.
Sipe, who, stood 6'1" and weighed 195 pounds, took over as the starter in 1976. In 14 starts that year, he completed 178-of-312 passes (57.1 percent) for 2,113 yards with 17 touchdowns and 14 picks.
McCoy's first-year stats as a starter are similar to Sipe's first year. McCoy, who is 6'2" and 205 pounds, threw for 2,733 yards, completing 265-of-463 passes (57.2 percent) with 14 touchdowns and 11 picks.
In a dismal year in which the Browns offense rarely found the end zone, McCoy did show a flair for the dramatic leading a game-winning drive against Miami when he took the Browns 80 yards in the game's final minutes before hitting Mohamed Massaquoi for the game-tying score with just 43 seconds left in what turned out to be a 17-16 win. Sipe led the Browns to 23 game-winning drives in his 10-year career and 11 in the two-year period of 1979-80 when he was at his zenith.
Is it that much of stretch to say that McCoy could become Sipe-like?
And Sipe isn't the only undersized QB that McCoy resembles.
In the modern NFL, McCoy probably most mirrors Drew Brees, the Saints superstar. Brees is 6'0" tall and 209 pounds. In his first year as a starter in San Diego, he completed 60.8 percent of his passes, threw 17 touchdowns and 16 picks, while the Chargers went 8-8. Brees has gone on to be named to six Pro Bowls and win a Super Bowl.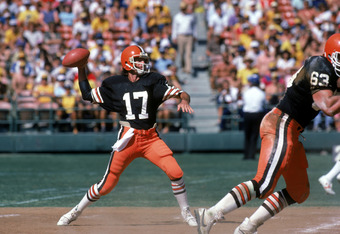 George Rose/Getty Images
So one can argue that history shows that the Browns should seriously consider sticking with McCoy. I know one could also argue that McCoy is horrible and his record is 6-15 in two seasons of starting, but work with me here.
The Browns should get better on offense via the upcoming draft, where one would think they would pick up a running back and a receiver to give McCoy some weapons which he sorely missed last year. Plus, the Browns have a developing receiver in Greg Little who appears on the cusp of developing that elusive chemistry with McCoy.
You also have to remember that McCoy will start this year with a full season of learning the West Coast offense and working with head coach Pat Shurmur. And if McCoy struggles and the Browns are terrible, there is always Matt Barkley from USC sitting out there as the likely No. 1 quarterback in the 2013 NFL Draft.
History whispers the Browns should stick with McCoy. As the late U.S. Supreme Court Justice Oliver Wendell Holmes Jr. once said, "A page of history is a volume of logic."
It can also explain to a fanbase in Cleveland so hungry for a winner why the franchise should stick with McCoy as its quarterback.