The Audacity of Hype: Why the Cleveland Browns Can't Afford the Fourth Pick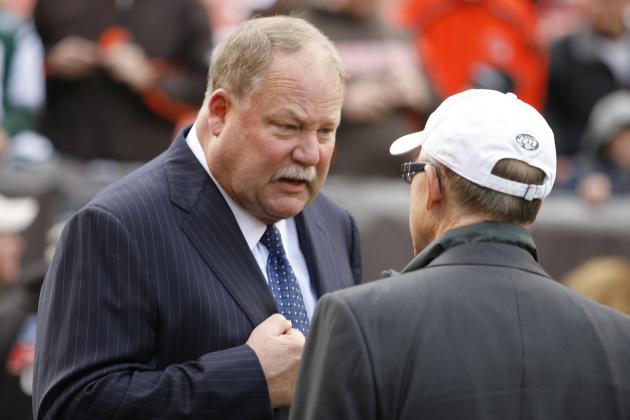 Matt Sullivan/Getty Images

"Living at risk is jumping off the cliff and building your wings on the way down."—Ray Bradbury

When the Atlanta Falcons traded with the Cleveland Browns to acquire Julio Jones at 6th overall in the 2011 NFL Draft, the move consisted of a playoff team aggressively pursuing their man.

The 2007 Cleveland Browns finished 4-12 the year before. When Brady Quinn dropped to 22nd overall, Cleveland saw an opportunity to feed red meat to its fan base by giving them the Ohio native many wanted at third overall, while simultaneously following draft fundamentals and getting a great left tackle in Joe Thomas.

You can't have it both ways.

When the Browns managed to miss the playoffs at 10-6 in 2007, they entered the offseason badly in need of the necessary defensive pieces to get over the hump and though the offense thrived around a young passing nucleus, Jamal Lewis needed a protege.

Then the bottom fell out in 2008 as the Browns didn't draft until the 4th round and Romeo Crennel went from 10-win hero to 12-loss zero in a matter of months. Without new blood on defense or any upgrades to the running game, the Browns disintegrated as Pro Bowlers Derek Anderson, Kellen Winslow and Braylon Edwards simultaneously flamed out.

Notably, Jamal Lewis remained a consummate professional and reached 1,000 yards for the seventh and final time in his decorated career.

Cleveland won't need to trade up to No. 22 overall this year as a result of trading out of that top 10 pick in 2011. But with two selections in the first round to start, the Browns should trade out of the top 10 until they win enough games to draft later.

The Browns simply cannot lose with more first round picks, which is why they're blatantly shopping their fourth overall selection.

In that 2007-2008 stretch the Browns learned many lessons, some of which seems paradoxical:
First, the case of Jamal Lewis strongly supports the case for Trent Richardson: the Ravens drafted Lewis at fifth overall in 2000 and 9 months later lifted the Lombardi Trophy. Lewis also won a national championship with an SEC powerhouse and the Browns would have been lucky to have him earlier in his career.
Drafting around the ball (Joe Thomas, Alex Mack, Phil Taylor) may disappoint casual fans, but wins games in the long term.
The higher you draft a bust (think Braylon Edwards), the more dollars, reps and years you lose to that investment.
Unlike the Crennel/Savage group, the Holmgren/Heckert/Shurmur regime know they have beyond this season to save their jobs. 2014 will be their last chance to win the requisite 7 games to avoid getting canned, but this leadership group won't be fired after this season unless the team regresses substantially.
For that reason, it would behoove them to load up as many first round selections as possible for the next two years. Better two or three first rounders in the middle-to-end than perennially selecting in the top five.
While Trent Richardson and Morris Claiborne could both live up to their "once-in-a-generation," billing, after a 12 loss season and with time to rebuild, the Cleveland Browns clearly want to maximize the value of their fourth overall slot.

History indicates that means trading down.

You can follow me on Twitter: @StepanekButton
Begin Slideshow

»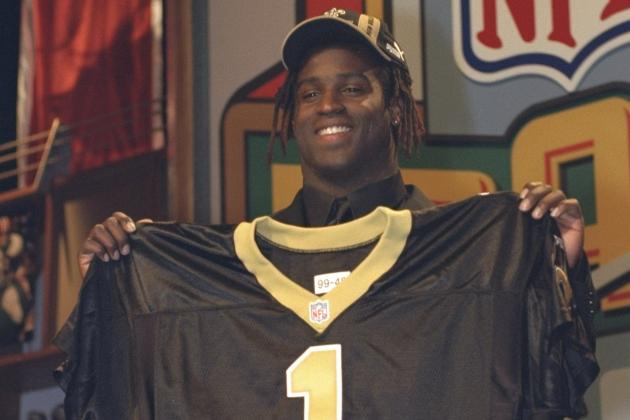 Ezra Shaw/Getty Images
Scary Part: Ricky Williams is only a borderline bust.
A Dallas Cowboys blog called BloggingtheBoys.com published a fascinating study in 2010 reviewing NFL first round draft picks by position, calculating the likelihood of a bust at various spots on the field.

Those results cut off in 2007, so I updated them to 2009—it's not really fair or accurate to pass judgement on players drafted in the last two years.

Though a Pro Bowl appearances take an admittedly a rudimentary measurement of draft quality (cough, Braylon Edwards, cough...), they can absolve an organization from the "bust" label, and though not all good players go to the Pro Bowl, most do.


2000-2009 NFL Draft: Pro Bowlers By Position
1st Round
Pro Bowl
%
QB
23
9
39%
RB
30
13
43%
WR
43
12
28%
TE
14
7
50%
OT
34
11
32%
OG
7
5
71%
C
5
3
60%
DT
32
11
34%
DE
36
11
31%
LB
31
20
65%
DB
49
18
38%
K
1
1
100%

You might ask, though, isn't the chance of hitting on a blue chip prospect better at a higher spot in the draft?
Butch Dill/Getty Images

Historically, the chances of finding a player who will start for 3+ years at any position are just as good if not better in the middle of the first round than compared to picks 3-6.
Percentage of Servicable Players By Pick: 2000-2009
%
Position 1
Position 2
Position 3
1
80%
QB—5/7
DE—1/2
OT—1/1
2
50%
T—2/4
RB—0/2
WR—1/2
3
60%
WR—2/3
QB—1/3
T—2/2
4
40%
RB—1/2
DE—1/2
OT—1/2
5
80%
RB—2/3
S—3/3
QB—0/1
6
50%
DT—1/3
TE—1/2
DE—1/2
7
70%
WR—0/3
RB—2/2
8
50%
WR—1/3
CB—1/2
OT—1/2
9
50%
DT—3/3
LB—1/3
WR—1/3
10
20%
LB—2/2
WR—0/3
OT—0/2
11
70%
LB—2/3
QB—2/2
DE—1/2
12
60%
DT—2/4
RB—1/2
LB—2/2
13
80%
DE—3/4
WR—1/2
14
60%
TE—2/2
DT—1/2
OT—1/2
15
60%
LB—3/3
CB—1/2
16
40%
DB—2/3
DT—0/2
17
60%
LB—2/3
OL—2/2
K—1/1
18
60%
DE—2/4
QB—2/2
19
80%
OT—3/3
WR—1/2
DB—2/2
20
70%
OT—0/2
DE—2/3
DB—2/3
21
60%
WR—0/2
CB—2/2
C—2/2
22
50%
QB—0/3
WR—2/2
DE—1/2
23
70%
RB—3/3
CB—1/2
24
80%
DB—3/5
RB—2/2
25
70%
CB—2/3
WR—1/2
26
50%
OT—1/2
DE—1/2
CB—1/2
27
70%
RB—3/4
CB—1/2
WR—2/2
28
50%
CB—1/2
TE—1/2
DE—1/2
29
70%
WR—2/3
DT—1/2
OL—2/2
30
60%
TE—2/2
WR—2/3
RB—2/2
31
50%
CB—1/3
RB—1/2
32
30%
DE—0/3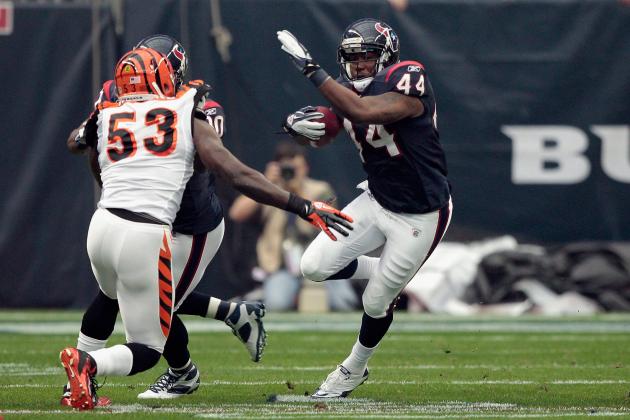 Bob Levey/Getty Images

Many Browns fans correctly assert that improving the running game on offense would not only improve the offense itself, but also give the defense precious extra minutes to re-load on the sidelines.

However, there is more than one way to skin that proverbial cat.

The best way would be to focus on the right tackle position, with the knowledge that only two individual running backs averaged 20+ carries a game in 2011.

The running back position has evolved, perhaps as a result of the position's infamously short shelf-life.

That's why only Maurice Jones-Drew and Arian Foster averaged over 20 carries a game in 2011.

If the Browns opt to trade down rather than select Trent Richardson at fourth overall, an extra draft pick of lesser value could suffice to secure a player like Houston's Ben Tate or any number of alternatives.
Joe Robbins/Getty Images

Now that the Browns' hand is on the table, teams can wait until the last minute knowing Cleveland will answer their call on draft night.

The window for a pre-draft trade may be all but closed now that every team in the league has had a chance to catch wind that the fourth pick is for sale.

Still, had the Browns raved too much about one player or another, they risked repelling interest by projecting the impression they were settled on one candidate.

So, the Browns have played the tricky game of claiming interest in a number of players, perhaps even launching Ryan Tannehill into the first round in the process.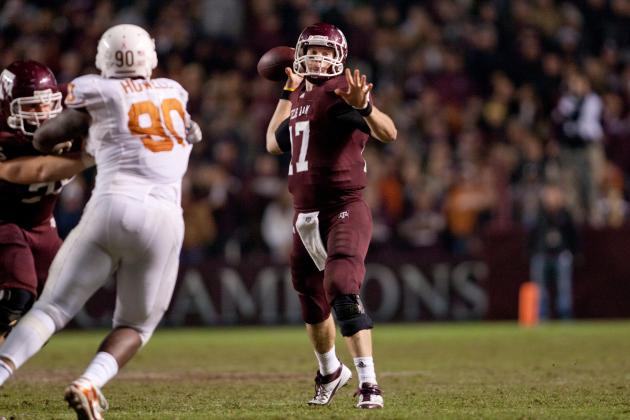 Darren Carroll/Getty Images

After losing 12 games last season and with an uncannily difficult 2012 slate, the Browns need plug-and-play starters with their two first round draft picks.

Drafting Ryan Tannehill in the first round not only guarantees that won't happen, it almost guarantees a bust.

Let's look at who some of the third quarterbacks taken have been over the last three years, shall we?


| | | | |
| --- | --- | --- | --- |
| Year | Name | Team | Outcome |
| 2009 | Josh Freeman | TB | AVG |
| 2008 | Brian Brohm | GB | POOR |
| 2007 | Kevin Kolb | PHI | AVG |
| 2006 | Jay Cutler | DEN | AVG |
| 2005 | Jason Campbell | WAS | AVG |
| 2004 | Ben Roethlisberger | PIT | GOOD |
| 2003 | Kyle Boller | BAL | POOR |
| 2002 | Patrick Ramsey | WAS | POOR |
| 2001 | Quincy Carter | DAL | POOR |
| 2000 | Chris Redman | BAL | POOR |

Not exactly a desirable list, as only Ben Roethlisberger became and remained a regular starter for his squad. Cutler ended up in Chicago, where the jury's still out. The same could be said of Kolb in Arizona and Campbell in Oakland, and only Roethlisberger unquestionably panned out.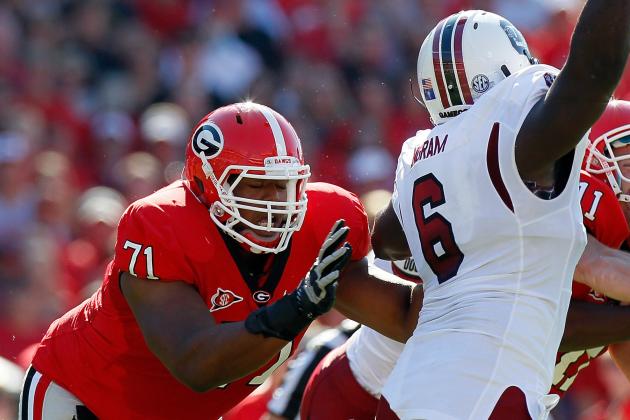 Kevin C. Cox/Getty Images

Bleacher Report's Mike Hoag Jr. reported that Tom Heckert hinted that the Browns may not be as interested in Trent Richardson as their fans in an interview with ESPN Cleveland.

The discussion tended more toward the quarterback, wide receiver, right tackle and cornerback positions.

The fact of the matter is, Heckert knows his pick could prove hard to trade so he still has to sell the available players.

The Browns have been shopping their pick about as subtly as Kim Kardashian gets a divorce. That is to say, if you're familiar with the Browns—fan, foe or casual observer—you know they want to trade down.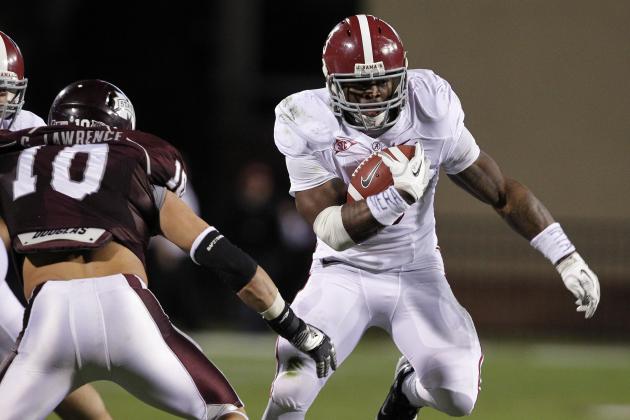 Butch Dill/Getty Images

In the last 10 years, seven running backs have been drafted in the top five.

Jamal Lewis, LaDainian Tomlinson, Cadillac Williams, Cedric Benson, Ronnie Brown, Reggie Bush and Darren McFadden all earned top 5 selecitons, but only Lewis and Tomlinson established themselves as long-term feature backs.

Throw in Adrian Peterson and Thomas Jones at 7th overall, and you have a 4 hits at running back on 9 tries in the top 7 since 2000.

Trent Richardson may yet become a Hall of Fame running back, but can the Browns afford to bet the unseen benefits of trading down on the four-out-of-nine chance that Richardson becomes a quality starting running back?

Time will tell.