Breaking Down Injury Impact of Brian Wilson, Jacoby Ellsbury and More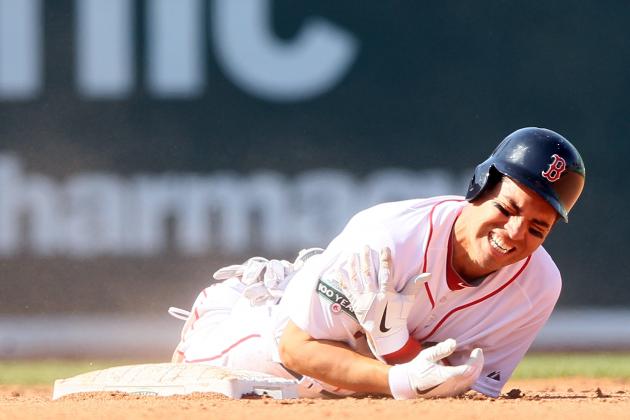 Elsa/Getty Images

Like it or not, injuries are as much a part of baseball as cracker jacks and the seventh inning stretch.
But some teams seem to be especially snake-bitten, watching their most irreplaceable players go down with major injuries year after year.
Other squads seem to avoid the jinx, suffering what amounts to paper cuts when compared to the torn tendons and ligaments of their competition.
So far in 2012, we've seen some players not start the season with their teams as they try and work their way back from injuries suffered in 2011 and others start the season only to become the earliest casualties of the 162-game season...that is nine games old.
Let's take a look at where some of the more notable injured players stand and the impact that their absence (or return) could have on their respective teams.
Begin Slideshow

»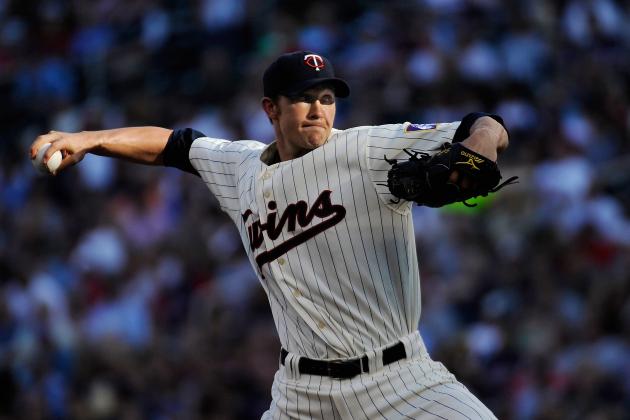 Hannah Foslien/Getty Images

While the Twins can be relieved that Scott Baker's aching elbow doesn't require Tommy John surgery, the 30-year-old righty is out for the season, leaving an already thin Twins rotation in an even more precarious position.
Baker has been the team's best starting pitcher over the past four seasons, going 12-7 with a 3.92 ERA and 1.22 WHIP over 169 innings pitched per season.
He was replaced in the rotation by Liam Hendriks, who pitched very well yesterday, allowing one run and seven hits over six innings of work while striking out four in a game against the Texas Rangers.
Veteran starter Jason Marquis is expected to rejoin the team for his first start of the season on Wednesday, pushing Anthony Swarzak out of the rotation and into the bullpen.
For a team that has struggled out of the gate with a 2-7 record with virtually no contributions from their top three starters—Carl Pavano, Francisco Liriano and Nick Blackburn—losing Baker for the season leaves a void that they are ill-equipped to fill.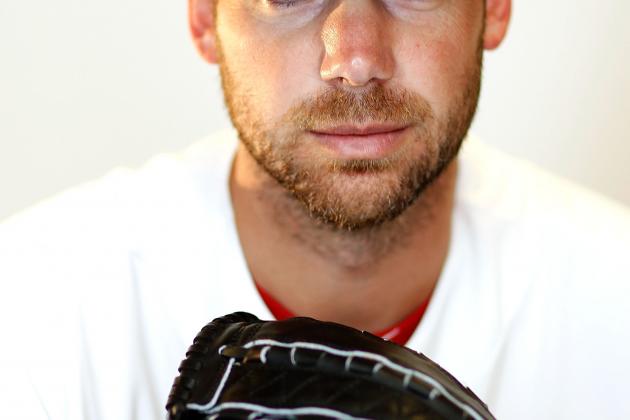 Mike Ehrmann/Getty Images

Cardinals ace Chris Carpenter says that he is still no closer to returning from a nerve disorder in his throwing shoulder than he was when he was first diagnosed with the injury, according to Joe Strauss of the St. Louis Post-Dispatch: "I've said all along they're not going to force me into a situation where they rush me and not let me get strong enough. I'm just not there yet."
Carpenter has not thrown off a mound in over a month, and with no return in sight, Strauss says that Cardinals GM John Mozeliak is considering moving Carpenter to the 60-day disabled list in order to free up a spot on the 40-man roster.
Lance Lynn has performed spectacularly in place of Carpenter, sitting with a 2-0 record, 1.50 ERA, 0.75 WHIP and 13 strikeouts over 12 innings pitched.
So far, the Cardinals have been able to withstand the loss of the 2005 NL Cy Young award winner, but whether they will continue to be able to weather the storm remains to be seen.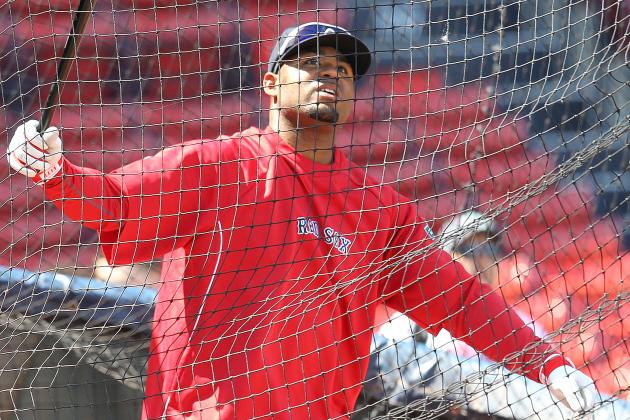 Jim Rogash/Getty Images

Still rehabbing from offseason surgery on his left wrist, Red Sox outfielder Carl Crawford seemed to suffer a setback last week when his left elbow began to bother him.
Red Sox medical staff examined the elbow, determining that there were no structural issues and that the injury was not serious.
With his injuries under control, Crawford is set to begin playing in some extended spring training games, perhaps as early as tomorrow according to a staff report published on Sportingnews.com.
If all goes well, Crawford could re-join Boston in the first two weeks of May, giving a lineup depleted by the loss of Jacoby Ellsbury a needed boost.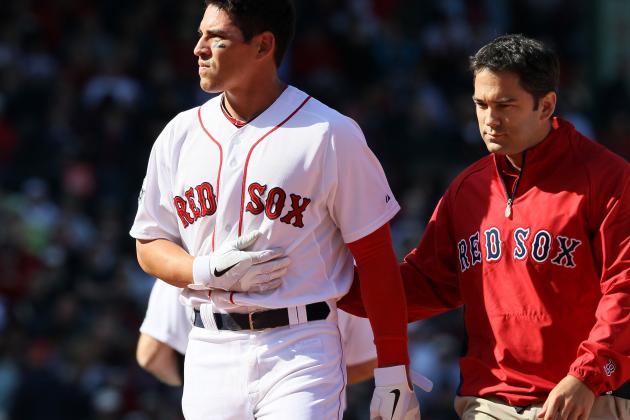 Elsa/Getty Images

As it stands now, Jacoby Ellsbury has a partially dislocated shoulder.
But that diagnosis could change, as Peter Abraham of the Boston Globe reports. With the swelling in his injured shoulder expected to be significantly lower today than it was immediately following the injury, Ellsbury will be re-evaluated to determine the extent of the damage.
Should the diagnosis remain the same, the table-setter in the Red Sox lineup is likely to miss six-to-eight weeks of action. Should the damage be more extensive than originally thought, the timetable for Ellsbury's return could be considerably longer.
Prospect Che Hsuan Lin can handle himself with the glove, but like über-shortstop prospect Jose Iglesias, his bat is not ready for prime time.
The team has called up Jason Repko in the meantime, and they could end up sliding Cody Ross to center while playing Darnell McDonald more in right.
When he eventually returns from rehabbing his injured wrist, Crawford could pick up the slack. But even that is no sure thing, as the left fielder is coming off of the worst season of his career.
Another option, though one the cash-conscious Sox may not prefer, is to acquire a replacement via trade. Marlon Byrd of the Chicago Cubs, Coco Crisp of the Oakland A's and Scott Podsednik, currently in Triple-A for the Philadelphia Phillies could all be targets.
Regardless of who they plug into Ellsbury's spot, the team cannot expect to adequately replace the production at the top of the lineup that Ellsbury provides.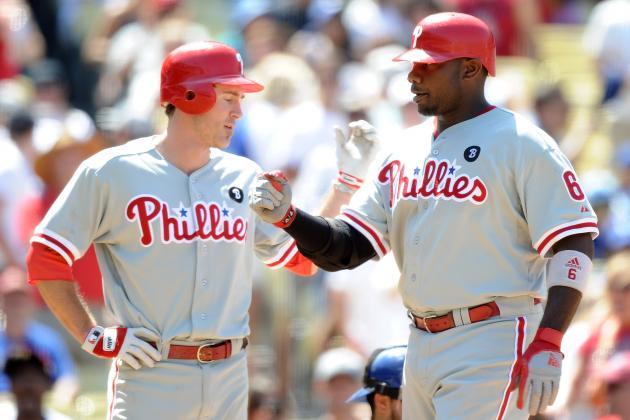 Harry How/Getty Images

Phillies GM Ruben Amaro Jr. says that there is no timetable for the return of 1B Ryan Howard or 2B Chase Utley:
"Our goal is try to get both of these guys to the point where they're on rehab [assignments] and playing, so we can assess what we're going to get out of them. But until that happens, we won't know what kind of players they'll be until they're out here playing."
While Amaro is keeping things close to the vest, a little common sense leads us to the conclusion that one is much closer to beginning a rehab assignment than the other.
Talking to Todd Zolecki of MLB.com, Amaro said that Howard's achillies tendon is "doing great" and that the only remaining hurdle was healing the wounds that developed in the sutures post surgery: "It's not all the way healed. That's the priority right now: Get the wound healed. Once that gets healed up, we'll be pretty aggressive with him."
Utley, on the other hand, is working out with a trainer in Arizona to build strength in his troublesome knees, something that he was unable to do during spring training. Amaro intimated that the team would know more about Utley's prospects for returning to action next week after they embark on a west coast trip.
So while Freddy Galvis and Ty Wiggington have done admirable jobs filling in for the two All-Stars, there is no question that the Phillies have suffered without both of them in the middle of their lineup.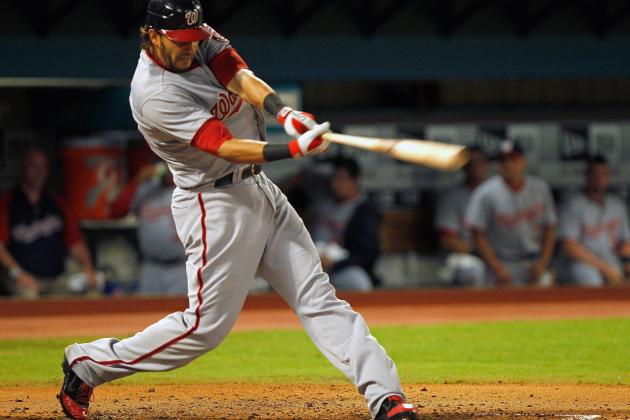 Mike Ehrmann/Getty Images

Last Monday when Michael Morse pulled himself from a rehab game for Single-A Hagerstown, the Nationals were rightfully concerned.
Morse, who is recovering from a strained right lat muscle, found himself unable to throw the ball from left to shortstop and had to leave the game after seven innings.
Thursday, we learned that Morse will be completely shut down for the next six weeks, according to Mark Zuckerman of CSNWashington.com.
In Morse's place, Adam LaRoche has filled in quite capably at first base, hitting .341 with two home runs and 12 RBI.
Left field is a different story altogether, where the duo of Mark DeRosa and Xavier Nady has combined to hit .152 with one home run and three RBI.
Getting Morse back in the lineup is a priority for the Nationals, but they'll be cautious in their approach while hoping that LaRoche can continue to hit with authority for the foreseeable future and patiently waiting for June so they can promote Bryce Harper to the big leagues and not lose a year of control.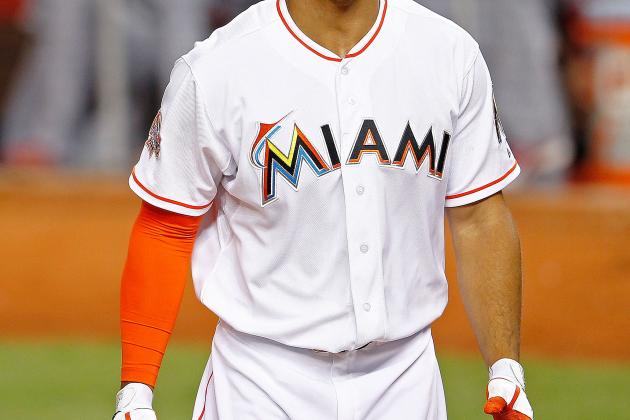 Mike Ehrmann/Getty Images

Hampered by a balky left knee that has bothered him since spring training, Marlins slugger Giancarlo Stanton has seen his superhuman power fly right out the window.
The knee is impacting his play and Stanton has been pressing at the plate, hitting .229 with only one walk, eight strikeouts, and three doubles.
"There is no specific injury to it. It's something that's obviously not going to get much better playing every day. It's something we've got to deal with and gauge the pain," Stanton told Craig Davis of the Sun-Sentinel last week.
As it's not a structural issue, the chances of Stanton making the injury worse than it already is by playing every day appear to be slim. Ultimately his threshold for pain will dictate how much he plays in a given week.
None of the Marlins options to replace Stanton—Chris Coghlan, Greg Dobbs or Austin Kearns—can even come close to replicating the production that a healthy Stanton provides.
Should Stanton continue to struggle at the plate, opposing pitchers are likely to begin pitching around Ramirez to attack Stanton's inability to plant his lead leg and drive the ball with the force that we've come to expect.
Ultimately, the Marlins will want to consider sliding Logan Morrison—who is dealing with a knee issue of his own—and Gaby Sanchez each up a spot in the lineup to try and give Hanley Ramirez some protection while sliding Stanton down to the sixth spot.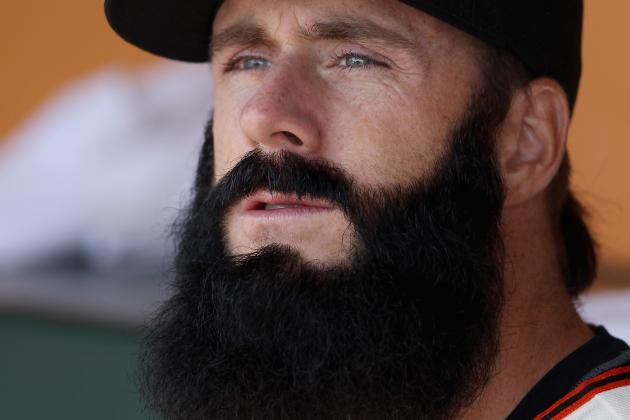 Ezra Shaw/Getty Images

In Brian Wilson's own words, during an interview with Andrew Baggarly of CSNBayArea.com, he confirmed what many have been reporting—that the man with the fearsome beard is done for 2012:
"The likelihood is, yeah the season's over with. I'll be getting a couple more opinions but we all know what structural damage is. The likelihood of me throwing again this year is minimal.
With that being the case, the Giants are expected to take a closer-by-committee approach—a committee that includes Santiago Casilla, Javier Lopez and Sergio Romo.
Moving Lopez and Romo out of their late-inning roles weakens the bullpen even further, so the hope here is that Casilla is able to close out games on a regular basis.
Newly acquired George Kontos could work his way into the picture as well, and should their internal options fail, it wouldn't be surprising to see Giants GM Brian Sabean make a move to acquire a veteran closer with an expiring contract. The Padres' Huston Street comes to mind as a possibility.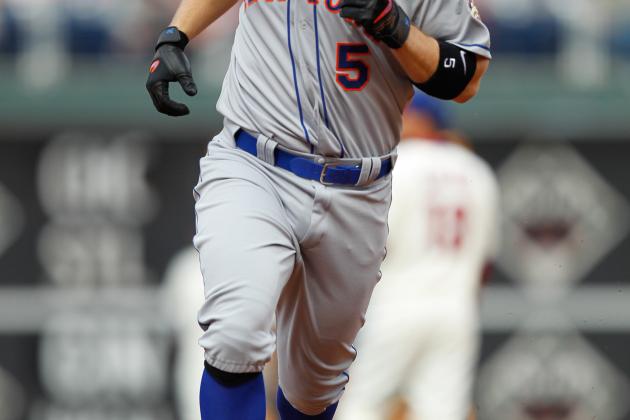 Brian Garfinkel/Getty Images

After missing three games with a fractured pinky finger, Mets 3B David Wright returned to the lineup on Saturday no worse for the wear.
With the fractured finger being on his right hand—the top hand when he grips the bat—it's natural to assume that his swing would suffer. But so far, so good. Since returning on Saturday, Wright has gone 5-for-9 with a home run, RBI and three runs scored.
Wright is the glue that holds the Mets lineup together, so any playing time that he misses is a major issue for the upstart Mets who have gotten out to a surprising 6-3 start and need Wright in the middle of their lineup to have any chance of continuing their early success deeper into the season.
The team has literally no options to replace him should he miss significant playing time, having used both Ronny Cedeno and Justin Turner in his place over the three games that he sat out.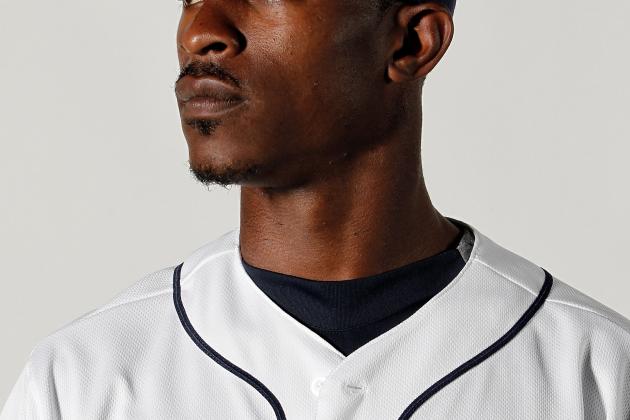 Jonathan Ferrey/Getty Images

B.J. Upton was promoted from Single-A Charlotte to Double-A Montgomery over the weekend, and he'll play his final three rehab games starting on Tuesday.
Unless he suffers a setback, Upton will be ready to play for the Rays this weekend.
It's possible that Upton reclaims his spot in center field with Desmond Jennings struggling at the plate, though I think that's unlikely.
A better option would be to put Upton in right field, moving Ben Zobrist to second base and Jeff Keppinger to shortstop where he would replace the struggling Sean Rodriguez.
Figuring out where to slot B.J. Upton in the lineup is a problem that Rays skipper Joe Maddon will be happy to have.