San Francisco 49ers Mock Draft: Full 7-Round Predictions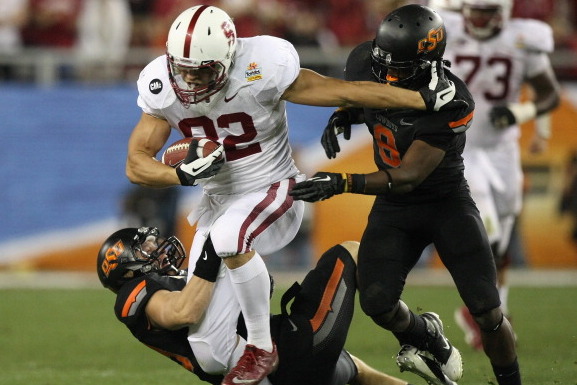 Donald Miralle/Getty Images

Quietly, ever so quietly, the San Francisco 49ers have set themselves up in a rather easy position when it comes to the 2012 NFL Draft.
They have re-signed every free agent off the defense, so that means every starter is on the roster. Some backups have departed, as per the norm in the NFL, but that doesn't mean anything except that a great defense looks like it has another year to get that much better.
On offense, the team has addressed its needs at receiver (Randy Moss, Mario Manningham) and added a power runner (Brandon Jacobs). The glaring need appears to be right guard, but it remains to be seen if the draft is the best place to fulfill that need.
But if you step back, this can be called a luxury draft. Compared to a year ago, when there was so much talk about getting a quarterback, what about a cornerback or a pass-rusher and what can we do about the secondary in general, it all worked out pretty well.
That's why this mock draft of the 49ers shows them picking and choosing out of desire, rather than need.
Begin Slideshow

»
Thearon W. Henderson/Getty Images

Don Banks said it best.
It's not about what they want as much as what Coby Fleener brings. The 6'6" tight end out of Stanford brings a two-for-one dynamic to the 49ers. He's too fast for linebackers, too tall for the secondary. He's fast, sure-handed and he knows head coach Jim Harbaugh.
The thing is, I feel there's no way Fleener lasts until pick No. 30. If he's around after 25, I can see general manager Trent Baalke making a deal to get Fleener. He's that special.
Think of recent Baalke draft choices. Bruce Miller was a defensive end in college and he's playing fullback. Colin Jones was a safety at TCU and now he's backing up the receiver slot.
Fleener is a wide receiver and tight end hybrid. He's two-for-one. The best receivers in the draft are Justin Blackmon and Michael Floyd. But if Fleener is close, the Niners want him and will make arrangements to get him. That's the luxury of this draft. They can burn draft picks to get the player they want.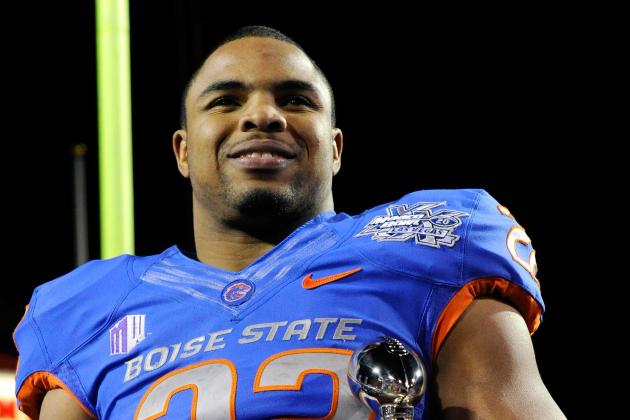 Ethan Miller/Getty Images

Right guard. Right guard. That's the talk. But I'm not worried about this slot as much. Daniel Kilgore is in camp, and there are other options.
Matt Maiocco of CSNBayArea.com has a nice list. Any one of these guys would fit in the second or third round—Amini Silatolu, Midwestern State; Peter Konz, Wisconsin; Kelechi Osemele, Iowa State; Kevin Zeitler, Wisconsin. Any one would be great.
That's the point. There's enough right guards who will do. Here's where Baalke goes for the kill, the deep thrust for something special.
Baalke looks over the best runner available in this draft, a runner that is part power and lots of speed, and goes for a game-breaker: Doug Martin, Boise State.
He's 5'9", 223, so he's a little stronger than Frank Gore. He's also younger but experienced in that he's played four years in Chris Peterson's innovative offense.
This is where Baalke attempts to make a splash.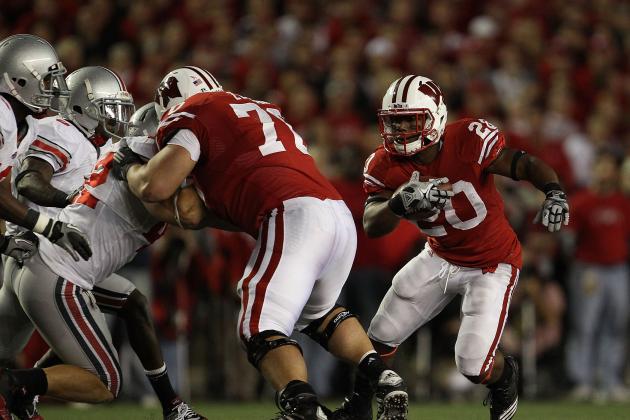 Jonathan Daniel/Getty Images

Take your pick from the list in the previous slide. One will be available in the third round. Here's my pick:
Kevin Zeitler, Wisconsin.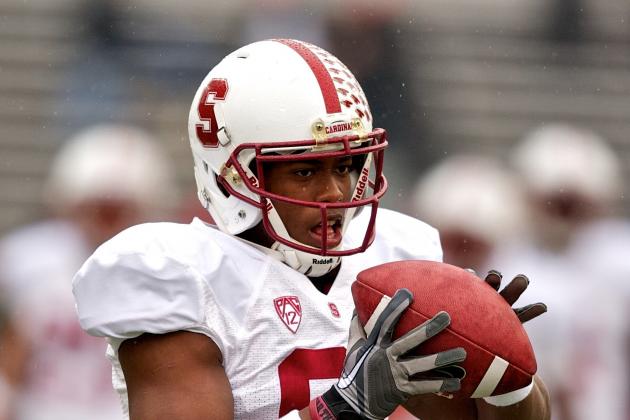 Craig Mitchelldyer/Getty Images

Al Davis loved speed. But a fast player has to be more. Like possess good hands. Like being able to break a tackle and get more after the catch.
Chris Owusu of Stanford is rated No. 34 among this year's receivers. That doesn't matter. What does stand out is his sub-4.4 speed. He also has the capability to be more than a fast guy. He can catch. The issue is whether he can stay healthy.
He's fought injuries, particularly concussions. He's also fast. This is a luxury draft, remember. A potential game-break a la Mike Marshall of the Steelers in the fourth round—why not?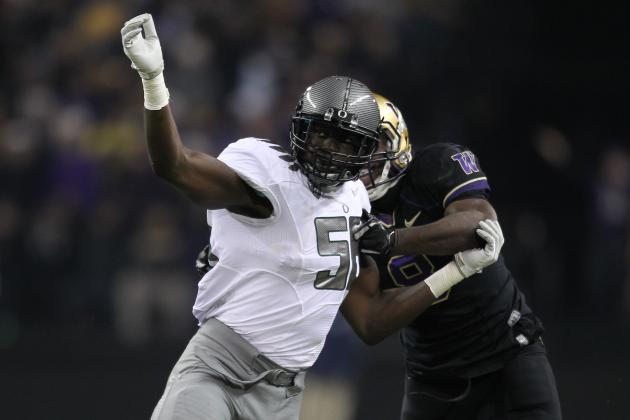 Otto Greule Jr/Getty Images

Josh Kaddu is the type of player that I believe the 49ers have been tracking for a while. He's a little young and a little undersized as an inside linebacker. But at 6'3" and 240, he's known for one thing: Speed.
Kaddu is a perfect outside linebacker, a weak-side hunt-and-destroy man who can run down receivers, backs and quarterbacks with ease. Kaddu, with the right circumstances, could become another NaVorro Bowman, which is to say an absolute steal in the fifth round.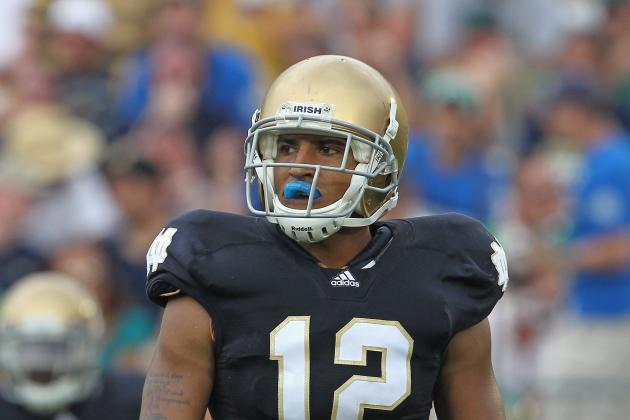 Jonathan Daniel/Getty Images

Robert Blanton, the 6'1" cornerback out of Notre Dame, is a good choice. The key thing is size. The Niners, with their great front seven, can provide plenty of pressure on the pocket. A good press cornerback, one who can get his hands into the receiver as he comes off the ball, tends to knock the receiver off his route and thereby disrupting the timing of the play. Bad timing increases the chances of a successful defensive play.
A rushed quarterback tends to throw inaccurately. A quarterback knowing he's going to be rushed but can't find his receiver in the usual spot because he's been knocked off the ball also ends up with the quarterback throwing inaccurately.
As a 49er fan, what's not to like about this scenario?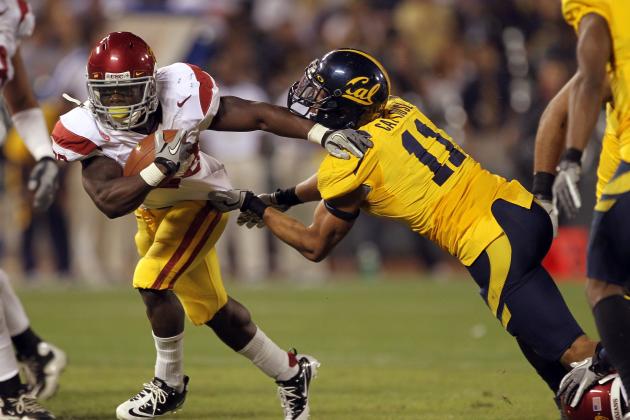 Ezra Shaw/Getty Images

A true luxury pick, but knowing Baalke, he's looking for depth on special teams. He'll go with a backup safety to help out on the safety position that has lost Reggie Smith and Madieu Williams.
Sean Cattouse of California fits the bill. He's got the size (6'2", 211) that enables him to play inside as a strong safety but also provide another needed body on special teams.