5 Offensive Line Prospects That Might Interest the Bears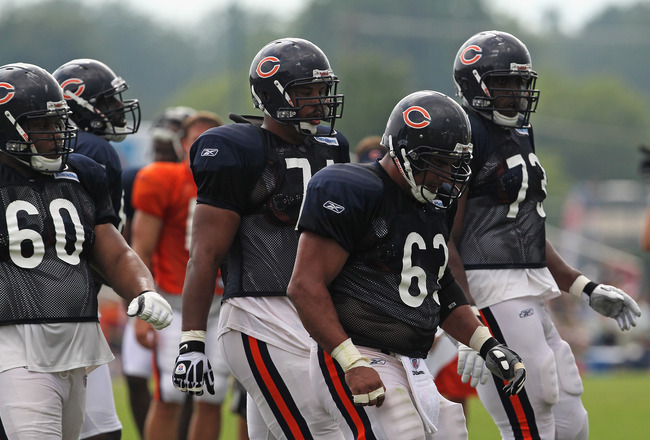 Jonathan Daniel/Getty Images
The 2012 NFL Draft is approaching and the Chicago Bears scouting staff is assuredly sitting down now and making an attempt to come up with some decisions as to what they will do with their picks in the draft.
The need for offensive linemen from this draft is clear and the Bears may decide to try to pick up one or more to help add some depth and bolster their line. But just how good is this offensive line class, and will be the Bears be able to find viable talent throughout its seven rounds?
Chicago needs help now and can find some long term help as well as some depth at all positions on the offensive line in this draft.
Let's take a look at five prospects that the Bears might be interested in, in this year's draft, and see if Chicago would be wise in picking them up or allowing them pass,.
Jonathan Martin, Stanford OT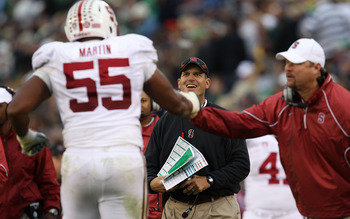 Jonathan Daniel/Getty Images
Martin is thought of by many to be a first round pick, and he just might be available when the Bears make their selection at No. 19 in that first round. Right now, the Bears have Gabe Carimi projected to play on the right side this season. But with J'Marcus Webb, their best option at left tackle, something definitely needs to be done.
Chicago seems to be pretty high on Webb and may not feel like they need to make a change there, but Webb is a project and the Bears don't need a project at the position. They need someone that can play it well, and Martin would be able to do that. He's quick, able to hold his own out there on the edge and could step in and start right away.
Would he be a good fit for the Bears? Being that he would be a better option than Webb and could give them some security at the left tackle position, perhaps the Bears should take a look at him as a first round possibility. He just might be what they need at the left tackle spot.
Bobby Massie, Mississippi OT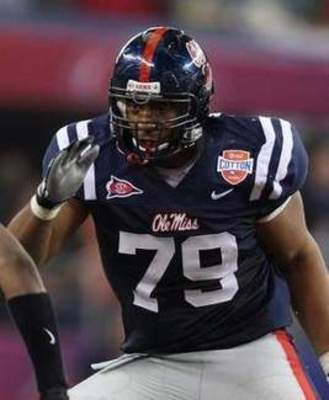 Massie, projected to go in the third round, is another solid option that the Bears could think of drafting too, at the least, add some depth for now at the tackle position. Massie has a lot of skill and ability but he still needs some work. He's got great size for the position and has the foot speed and moves to work against most defenders. He stayed very healthy over the course of his career and had impressive stats (fewest sacks allowed in the SEC).
What he lacks is refined technique, and the ability to keep defenders away from his body. He also needs to work on handling speed rushers better, as there are times that they can get the best of him.
Although there is some improvement needed in his play, Massie is worth a look as a third round pick in this draft and just might be someone that the Bears have some interest in.
Kevin Zeitle, Wisconsin OG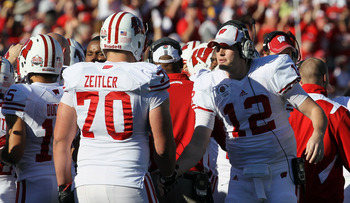 Stephen Dunn/Getty Images
Zeitler, a second round offensive guard prospect out of the University of Wisconsin, is yet another player that the Bears might want to consider taking a look at. Coming into the draft, they know that they need some depth (and possibly another starter) at the guard position, so they should be interested in some of the guard prospects.
If they wanted to go for a prospect earlier in the draft, then Zeitler might be someone that interests them. He has the size that you would want in the position and blocks the run very well—which the Bears would really like. He has a strong lower body, is fundamentally sound and has the attitude and work ethic that could turn him into a solid NFL player.
Zeitler will struggle with his foot speed, and needs to work on his pass protection ability. He doesn't bend or get low enough when protecting against the pass and there are times when he takes a lunge at defenders.
These are things that good NFL coaching can work through, and even though Zeitler may be a little bit of project right now, he's definitely someone that could work out in the future. The Bears need the depth, and Zeitler could come in and provide that depth with the hopes of eventually becoming a starter for them in the short term.
Lucas Nix, Pittsburgh OG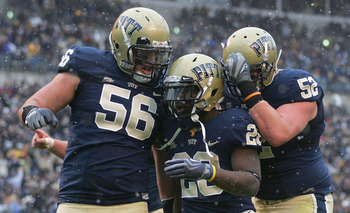 Jared Wickerham/Getty Images
The Bears could go for some much needed depth at the guard position a little bit later on in the draft, and they may show some interest in a player of Nix's caliber, who is currently rated as a fifth round prospect.
Nix is projected to be a guard in the NFL, but played both the tackle and guard position while with the Panthers, and could quite possibly play both positions in the pros—which would be a plus.
Nix plays hard on each and every snap, and like Zeitler, blocks the run very well. While he doesn't dominate on every play, he does stick with his man and keeps him away from the play for as long as possible. He has a mean streak and isn't going to be intimidated much, if at all, in the NFL.
While he has played tackle in college, he's not really projected to play that position in the pros. He has trouble keeping the appropriate pad level and doesn't get off the ball as quick as some like to see.
Depth could be addressed if the Bears were interested in Nix, but he needs some time to develop, so he wouldn't be an option for them this year.
Andrew Datko, Florida State OT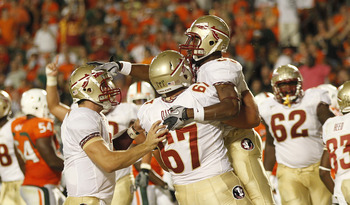 Joel Auerbach/Getty Images
Datko, an offensive tackle projected to be a fifth round pick, is yet another possiblitiy for the Bears in the draft.
Datko has pretty good size for his position and has the foot quickness that you would like to see for an offensive tackle. He's a solid athlete and plays the position with good leverage. Datko is quick off of snap and knows his blocking angles well.
What he lacks is overall strength, but he's hitting the weight room hard and has been trying to get stronger over the course of the past two seasons. He also has some injury problems that teams will take a look at, and this could hurt his draft stock.
Datko is a bit of a project for a player at his position, but you would expect that out of a fifth round pick. His injury problems might cause teams to stay away from him, especially early in the draft, but if a team needs depth and someone to develop at the tackle position, then Datko might just be the right fit.
Keep Reading

Chicago Bears: Like this team?