Tim Tebow: Former Teammate Demaryius Thomas Crosses the Line with Comments
April 12, 2012

Doug Pensinger/Getty Images
What is it about Tim Tebow that makes every other athlete sound like a complete idiot?
Plenty of players have openly mocked No. 15 for his unorthodox style of play, but now, even his former teammates are joining the party. Not just a teammate, but a guy whose biggest play of his career would not have happened without Tebow.
Denver Broncos receiver Demaryius Thomas, whom you know because of his 80-yard touchdown in the playoffs against the Pittsburgh Steelers, was recently on Atlanta radio station 790 The Zone with The 2 Live Stews, and the obligatory questions regarding his former QB popped up.
When asked whether he was sad to see Tebow leave, Thomas ripped his old teammate (via sportsradiointerviews.com):
I ain't going to say I was sad because the only thing they remember is that pass. You gotta go back and look at the rest of the games. I wasn't getting no balls and you had to make some of these plays where some players were open and he is not making the throws, but I don't want to talk bad about Tim, but hey I am happy we got Peyton.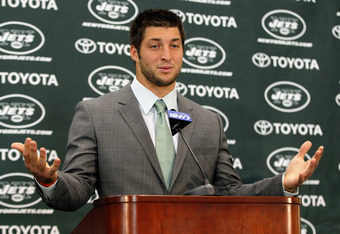 Mike Stobe/Getty Images
Really? You don't want to talk bad about Tebow? It sounds like you just did.
While Thomas may have a strong case with video evidence that Tebow threw balls at his feet…why say it at all? Why not just say you enjoyed his time here and move on?
So many athletes today are nothing more than robots when speaking with the media, unless they talk Tebow.
Thomas wasn't done with his backhanded compliments, either. Check out what he said when asked what the rest of the Broncos thought about Tebow:
There wasn't much talk about him, but you know everything on ESPN was all about Tim. That bothered some players too because they would say "Tim Tebow Time." I felt like it was a team thing. If it wasn't for the defense most of the time there wouldn't be no supposed "Tim Tebow Time."
That is brutal.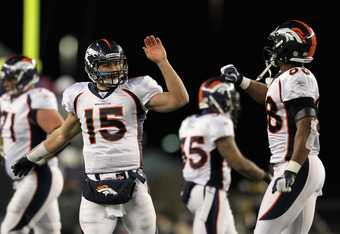 Jim Rogash/Getty Images
A player involved in the offense admitted the defense was the reason Denver won a playoff game. It's such a slap in the face that I bet Tebow keeps these quotes in his Jets locker. These are motivational words that rival Bible verses for the one they once called "The Mile High Messiah."
Getting ripped by other teams is one thing, but getting verbally abused by a guy whose career never took off until Tebow was playing? Bush-league.
Thomas was a borderline bust of a first-round pick, as he was plagued with injuries for the first 1.5 years of his career. His first game in 2011 coincided with Tebow's first start, and he ended up with 848 yards and five TDs in the last 12 games of the season.
None of that had to do with Tebow? Your biggest moment as a pro wasn't because of a pinpoint laser on a terrific throw and read from No. 15? Thomas should have thanked Tebow for his outstanding effort and leadership abilities.
Clearly, Thomas doesn't know anything about leadership. He is making the same cookie-cutter argument that so many others have made about Tebow.
If Peyton Manning hurts his neck again and new backup Caleb Hanie is thrown into the starting lineup, then maybe Thomas will realize the impact Tebow had on the team. 8-4, a playoff win and no respect whatsoever, Tebow can't seem to catch a break in a league full of players that are clearly jealous of the spotlight he currently holds.
Even former teammates who are famous because of him.