How the NFL Can Improve by Adopting World "Football" Rules, Policies, Traditions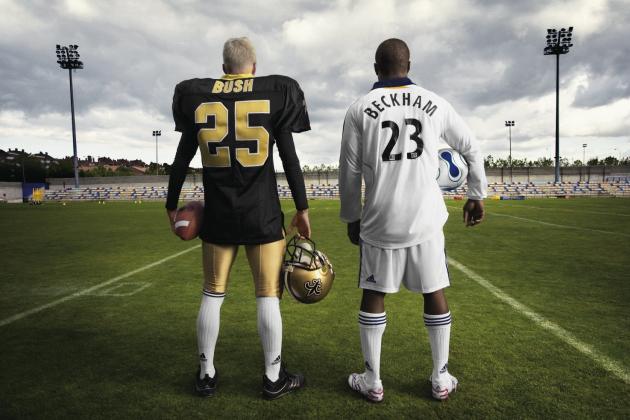 Handout/Getty Images

No matter how many old-timers and MLB enthusiasts disagree, football—not baseball—is America's true pastime. From high school to college to the pros, football is the top choice for sports fans in the States.
Throughout the decades, the game of football in America has changed. Players used to wear leather on their heads to form what they claimed to be "helmets." Now, it is barely legal to even touch quarterbacks.
When the league that has now become the National Football League was formed, there were only a handful of teams. Now there are 32, and most fans could name them all.
Professional stadiums used to hold the same amount of fans as some modern high school stadiums. Now, we are beginning to see 100,000-seat stadiums in the NFL.
Fantasy football is as wildly popular as ever, which has the most casual of players slowly becoming fans of the NFL.
Recently, the NFL adopted more rule changes for the upcoming season. Nike is on the cusp of providing uniforms that will give the NFL a literal image that we never thought we'd see. In 2014, there is a good chance the Super Bowl could be played in snow.
There is no doubt that football in America is still changing.
But, think for a minute about the potential of American football adopting rules, policies and traditions from world "football."
Crazy, right?
In most cases, yes, it is crazy. But, if you really think about it, some things from world football could benefit American football—namely the NFL.
Some adopted traditions would suck, but some would be awesome.
Look for yourself and imagine the possibilities…
Begin Slideshow

»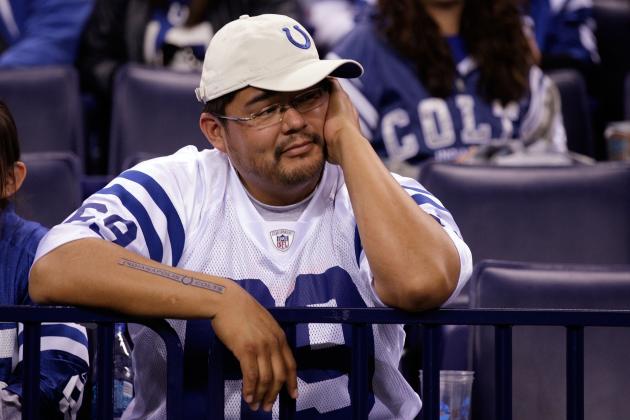 Andy Lyons/Getty Images
Relegation isn't always a bad thing for a team that had a down year.
The easiest example of this can be seen in the English football league system.
In the Premier League, England's top level of football, the three worst teams at the end of the season are sent to the Football League Championship, which England's second level of football.
In effect, three top teams from the Football League Championship are promoted to try their luck against England's top footballers.
The main reason this wouldn't work with the NFL is because there are no relevant lesser divisions of American professional football. But if there was, this could be an interesting idea.
And, if this policy was implemented first, thus creating lower football leagues and making the current ones more relevant, those lower leagues would be full of hidden talent and college studs who didn't make the NFL.
Suppose the NFL did have relegation and promotion. Look at the Indianapolis Colts, for example. The Colts would get booted from the NFL for next season. But, without Peyton Manning they would have expected it and would be fine with it.
Now, instead of Andrew Luck being thrown into the fire—fire in the form of NFL defenses—and the Colts finishing 6-10 next season, Luck could lead the Colts to the lesser-division championship and the Colts are promoted back into the NFL the following year with, perhaps, more momentum than a mediocre or poor NFL season.
And, what would Colts fans really rather see in an expected rebuilding year: 2-14 in the NFL or 14-2 and a championship in level 2 football? I'm not sure, but think about if they had that second option.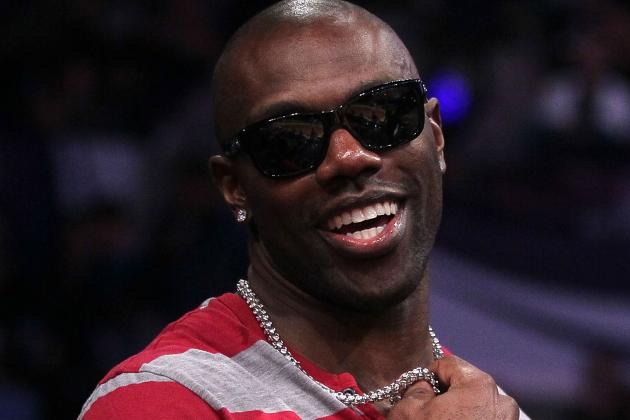 Kevork Djansezian/Getty Images
Loans would encourage teams to take a chance on a player becasue they wouldn't have to sign him to a long-term deal, or any deal at all.
In world football, players may be loaned or transferred to other clubs. Players can be loaned or transferred for a number of reasons, and the team sending the player is compensated, usually pretty well.
In world football, players are loaned and transferred across leagues, divisions and countries. However, there are not nearly as many options for American football. But, throw in the Canadian Football League, Arena Football League and all the other lesser-known leagues, and we might have something. And, of course, more could be created since they would be relevant.
Say Terrell Owens gets some positive attention playing with the Allen Wranglers of the Indoor Football League. An NFL team that is interested could pay the Wranglers to essentially buy or borrow Owens for the NFL season.
Let's look at another example of where this could have been used. Before joining the Buffalo Bills, Fred Jackson played arena football for the Sioux City Bandits of the American Professional Football League (before briefly playing in Europe).
Jackson is a stud at running back for the Bills. But, Imagine if another team could have gotten Jackson on loan from the Bandits, where he played from 2004-2005. They could've sent much-appreciated money to the Bandits, tried Jackson out, and, potentially, signed him.
Maybe Jackson would be a stud for a different team.
Or, imagine this from last season. The Cleveland Browns are having a down year. The Green Bay Packers, say, send them some money to borrow star cornerback Joe Haden for their playoff run. There is awesome potential with what could be done.
Of course there would have to be rules to prevent playoff teams from loading up—like having the money sent count against your salary cap. Either way, imagine the possibilities.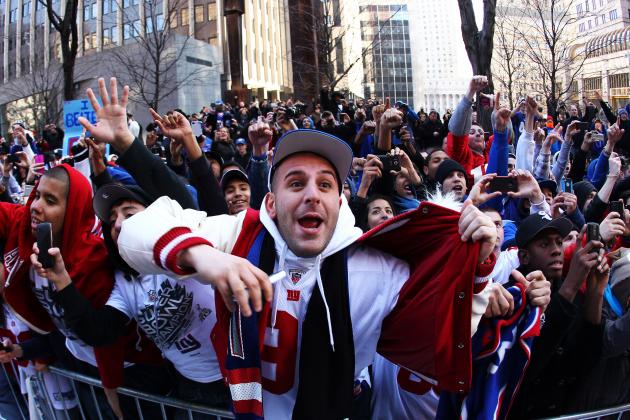 Al Bello/Getty Images
The atmosphere surrounding the Super Bowl would be more electric than ever because each team would get to play in their hometown.
Since it would be virtually impossible for all NFL teams to play each other twice during the season—as is done in many world football leagues—crowning the NFL champion based on who wins the regular season wouldn't make sense.
But, some major football competitions, namely the UEFA Champions League in its knockout stages, use a playoff format that could be used in the NFL to potentially bring the excitement of the Super Bowl to a new level.
In the Champions League knockout stages, teams play each other twice in a home-and-home series and the scores are added together to make up an aggregate score. If the score is tied after both games, whoever scored the most goals on the road advances. If it is still tied, overtime ensues.
However, the Champions League Final match is played in one game at a neutral location, like the Super Bowl.
For the NFL, it would be best to leave the playoffs as they are. But, think about the possibility of a two-game Super Bowl. Think about the Super Bowl being a home-and-home series with aggregate scoring.
Imagine if the New York Giants played the New England Patriots in Foxborough, Mass., for the first game of last year's Super Bowl and won by the same score they did, 21-17. The Giants would have been coming home to play for the Super Bowl up by four. Just imagine the city of New York leading up to that game.
And then imagine the Giants winning. Imagine them winning at home, something that has never been done in a Super Bowl.
It would be pandemonium in New York. It would be great.
Imagine the scene in Green Bay two years ago when the Packers would have taken a six-point lead home for the second leg of Super Bowl XLV.
Aggregate scoring might be able to make the Super Bowl even more exciting than it already is.
Sure, like everything, this system would be knocked. But, for fans, two weeks of Super Bowl means two weeks of parties, concerts, hype, funny commercials and exciting football.
It would also give fans of teams in the Super Bowl a legitimate chance to see their team play since they wouldn't have to travel.
And, the NFL could only win here—they'd make twice as much money.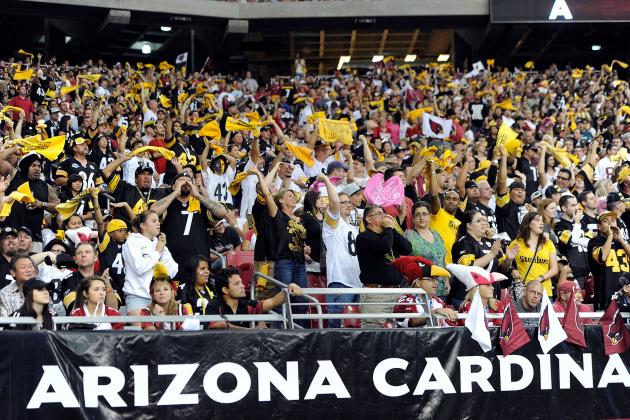 Karl Walter/Getty Images
For fans of teams that don't travel well, they could still sit amongst their own fans at visiting games.
Some other, less-noticeable world football traditions that I could see making the NFL more interesting are players exchanging jerseys after games, sections in stadiums for away fans only and team songs that fans could sing during breaks in the game.
Also, not a card system per se, but something for bad penalties would be nice. For example, two illegal hits—the equivalent to two yellow cards—should result in a one-game suspension.
And diving should become a penalty.
Quarterbacks and, more often, kicker/punters are the only ones that really flop, and it isn't frequent. But, last season two New York Giants players faked injuries against the St. Louis Rams during a Monday Night Football game. That should be an automatic penalty.
All in all, the NFL is great how it is, and not many people would welcome changes to resemble world football.
Realistically, the only two things that I would personally like to see—and there is no reason either is unreasonable—is a home-and-home series for the Super Bowl with aggregate scoring and away sections in NFL stadiums.
We probably won't see either. But imagining the possibility is exciting.
And, who knows? I, for one, still can't believe the NFL actually adopted instant replay...