2012 NFL Draft: Alshon Jeffery's Character Concerns; Debunking the Myth
April 11, 2012

Mike Ehrmann/Getty Images
Character concerns.
It's a phrase that invokes four-letter-word-like trauma in the minds of NFL draft fans, analysts and even the men making the decision on draft day. But what does it really mean?
Saying a player has "character concerns" has become a blanket statement for an off-field problem. Michael Vick has character concerns. Warren Sapp had character concerns. But Alshon Jeffery?
The South Carolina wide receiver has been unfairly tagged with the dreaded label—and I'm out to uncover why he's carrying the scarlet letter while the consensus top two wide receivers in the 2012 NFL draft class are not.
Jeffery's crime wasn't alcohol related. He hasn't fathered multiple children with different women. He allegedly played overweight—that's it.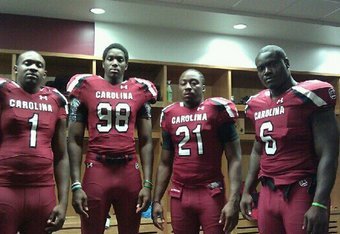 Oklahoma State's Justin Blackmon is widely considered the top wide receiver in this class. Blackmon comes in as the No. 3 wide receiver on my own big board, but what you won't hear on ESPN or other draft outlets is that Blackmon has a character concern of his own.
From ESPN, 
Blackmon was arrested at 3:45 a.m. after officers used radar to determine he was driving 92 mph in a 60 mph zone along Interstate 35 in Carrollton, Texas, police spokesman Dustin Bartram said.
If Blackmon's indiscretion is news to you, don't be alarmed, no one is talking about the fact that at 20-years-old, Blackmon drove 32 mph over the legal limit after having consumed alcohol. Apparently, that's far less of a crime than showing up overweight for a team photo before the season.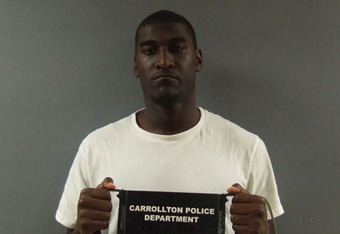 So maybe Blackmon isn't your guy, and instead you like Notre Dame's Michael Floyd. Surely this up-standing university wouldn't produce a player with a red flag for character, right? Wrong.
From ESPN, 
Notre Dame suspended star wide receiver Michael Floyd indefinitely Monday, a day after he was cited for drunken driving and authorities said his blood-alcohol level was more than twice the legal limit.

Coach Brian Kelly said the suspension will not be lifted until Floyd changes his behavior and both the legal and university discipline procedures run their course.

It was Floyd's third run-in with the law over alcohol since 2009.
Floyd is being talked about as a Top 10 pick, but rarely do you hear about his three alcohol related arrests in a two-year span.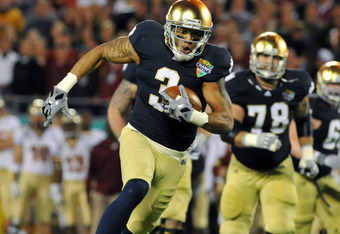 Al Messerschmidt/Getty Images
Jeffery isn't without fault. He did play heavier in 2011, by all appearances, and that is an issue he'll have to answer for. But let's make all prospects answer to their issues, not just those sitting outside the media's watchful eye.
Kids make mistakes, and that's what these prospects are, but drinking alcohol and driving can quickly become more than a mistake. It threatens your life and the life of anyone you encounter on the road. For some NFL teams, these indiscretions will mean nothing—and I'm not suggesting that they should see their draft stock tumble due to them.
The argument today is that Floyd and more so Blackmon made off-the-field mistakes, which in football speak isn't as bad as making an on-field mistake like playing overweight. Let that sink in. If true, the football complex has become so completely diluted to right and wrong that we're excusing reckless behavior but castigating something so simple as losing weight—which Jeffery did by weighing in at 216 lbs at the combine.
Before we throw around words like "character concerns," think about the first word used. Character. Playing football 15 pounds heavy doesn't mean a person has bad character. It means he was lazy, or bloated, or simply out of shape. There's no such excuse for driving while intoxicated.
To say that Jeffery has character concerns dilutes the fact that players with real off-field issues are being given a free pass.