Morning MLB Links: No Beanballs, Best Ticket Prices and Underpaid Players
April 11, 2012

Jason Miller/Getty Images
Good morning! Here are some articles we think are worth reading as you settle in to begin your day.
• Enough with the beanballs, says Wendy Thurm at Fangraphs. If you can't throw a baseball as hard as you can at someone in regular life, then it shouldn't be allowed in the ballpark, either. It also makes no sense for baseball to allow its most important assets to be put in such danger. 
• Brandon Phillips told reporters he thought he was gone at the press conference to announce his new six-year, $72.5 million contract extension with the Cincinnati Reds. As reported by MLB.com's Mark Sheldon, the big hang-up in negotiations was Phillips' desire for a sixth year in the deal. 
• The Tampa Bay Rays' extreme use of defensive shifts intrigues Baseball Nation's Rob Neyer. It's one thing for Joe Maddon to shift his infield against left-handed power hitters like David Ortiz or Mark Teixeira. But in Tuesday's game against the Detroit Tigers, the Rays had three defenders on the left side of the infield against Ryan Raburn and Jhonny Peralta. What gives?
• Washington Nationals pitcher Gio Gonzalez, a son of Cuban immigrants, was asked by the Star-Ledger's Jorge Castillo what he thought about Ozzie Guillen's Fidel Castro remarks. "I don't want to be involved in none of that," he said.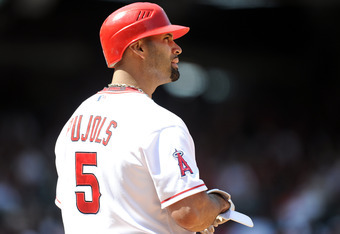 Harry How/Getty Images
• Which teams have the best ticket prices in baseball? According to Bill Plunkett of the Orange Country Register, the Chicago White Sox and Los Angeles Dodgers cut their prices the most for this season.
But maybe southern California is the place to watch baseball, as the San Diego Padres and Los Angeles Angels provide two of the best values in the sport.
• MLB.com's Todd Zolecki attempts to console Philadelphia Phillies fans worried about their team's slow start by pointing out several other All-Star-caliber players that are also struggling at the beginning of the season. I'm going to guess that won't make Phillies fans feel better. 
• With Padres owner John Moore announcing that he wants to sell the team, Tom Krasovic poses several questions and answers about the team's ownership situation. Why is $600 million an important figure? And who might be some of the prospective buyers interested in the Padres?
• Are baseball players actually underpaid? Matthew O'Brien makes that very argument in The Atlantic. Baseball's average payroll as a percentage of revenue is less than that in other sports. O'Brien also argues that a salary cap would actually raise player salaries.