2012 NFL Draft: What the Browns Could Do to Make Headlines in a Good Way
April 10, 2012

Chris Trotman/Getty Images
To all Cleveland Browns fans out there, there seems to be a plethora of articles talking about the Browns and what they should do, what they should have done and didn't, their mistakes, their revolving door, how they destroy quarterbacks' careers.  And to top it all off, many supposed agents are telling media members that they do not want their clients to go to Cleveland.
What is the common theme? Negativity.
Most articles written involving the Browns are very negative, talking about how they are a bottom feeder and that they will never win. Cleveland is the only team that can be related to the factory of sadness.
Even this off-season, much of the local and national media are already turning negative because either the Browns did not spend enough in free agency (although the best teams never do), should have given a fourth first-rounder for RG3, or are complaining because they want to stick with all white for the home jerseys again this year.
To this, I decided to sit down and figure out what would be the best possible outcome during the draft that is feasible at this point and could have experts finally writing good things about the Browns. Here comes my first dream mock first-round picks for the Cleveland Browns:
Disclaimer: Before you get mad with my first pick please read through them all.
With the 4th overall pick in the draft...  The Browns trade the 4th overall pick to the Rams for their 6th overall pick and the second-rounder they received from the Redskins, which is the 39th overall pick.
The Rams go on to select Justin Blackmon, as most experts expect. Next is the Bucs, who I think will stick with Morris Claiborne because when you look at their roster, as Browns fans know, having Eric Wright as a starting CB means you need an upgrade badly. And as I see it, I believe that upgrading over Wright compared to LeGarrette Blount is a better choice.
Whew, now the Browns finally get to draft. With the 6th overall pick in the draft...  The Browns select RB Trent Richardson.  
Now, as you all read this, you are thinking to yourself, this is not new, everyone is predicting the Browns to pick Richardson. Well, yes, he is the best running back, and that fills a need for the Browns. The best WR is off the board, and with Morris off as well, not only does Trent fill a huge need, he is also the best player available.
Now here comes the tricky part, folks.  As rumored by some, the Dallas Cowboys have mentioned possibly moving down a couple spots to get more picks. This gives the Browns an opportunity to make my dreams come true.
With the 14th overall pick, the Cowboys trade their pick to the Browns for their 22nd pick and the second-rounder gained from the Rams.
With the 14th overall pick in the draft...  The Browns select Michael Floyd.
In recent weeks there have been some scouts that say after a year of experience, Floyd will become a better receiver than Blackmon and could possibly pass him half way through the season.
When I look at it, the gap between Blackmon and Floyd is not so wide.  Blackmon had better college performances but had a great QB throwing to him, while Floyd had poor passes thrown to him all year and still blew the top off defenses. With Floyd doing more with less and having the more prototypical size, I believe he might actually be a better WR and could be a steal at 14, as long as Jacksonville does not take him first.
With these 2 trades, the Browns could finally have play-makers on the offensive side of the ball and could bring us closer to contention.  Coupled with a pick of Mike Adams or Bobbie Massie with our second round pick to fix the right side of the line, the Browns could possibly pull a Bengals-type year and make the playoffs.
Here's a look at the Draft Value chart (which no one really knows how accurate it is anymore, thanks Daniel Snyder).
| | | | |
| --- | --- | --- | --- |
| Browns Trade | Worth | Browns Get | Worth |
| 4th pick | 1800 | 6th pick | 1600 |
| 22nd pick | 780 | 14th pick | 1100 |
| 68th pick | 255 | 81th pick  | 185 |
| 132th pick | 40 |   |   |
| Total | 2875 |   | 2885 |
| Rams Trade |   | Rams Get |   |
| 6th pick | 1600 | 4th pick | 1800 |
| 39th pick | 510 | 68th pick | 255 |
|   |   | 132th pick  | 40 |
| Total | 2110 |   | 2095 |
| Dallas Trade |   | Dallas Gets |   |
| 14th pick | 1100 | 22th pick | 780 |
| 81th pick | 185 | 39th pick | 510 |
| total | 1285 |   | 1290 |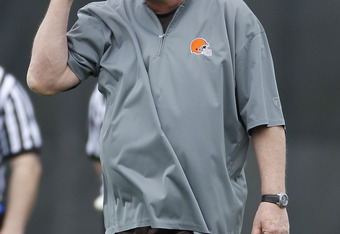 Gregory Shamus/Getty Images
After Day 1 of the draft, analysts will be praising the Browns for the first time in years because they secured themselves the best running-back to come out of the draft since Adrian Peterson and picked up arguably the best receiver as well in Floyd.
This also brings a side benefit of making Browns general manager Tom Heckert look like a draft king. 
It may also bring some good publicity for president Mike Holmgren to help save face for his comments suggesting that the deal with the Rams was as good as a deal would have been with Redskins. 
By giving the Browns the second-rounder, the Rams would prove Holmgren right.  St. Louis could have skipped all the draft day trades and done this earlier by trading with Cleveland and would have had two first-rounders this year instead of waiting.  (A little bit of me wants this trade to happen just so I can write an article on how the Big Show was right in his comment.)
But as mentioned, this is only a dream. For this to work, the Browns will have to dodge quite a few ifs and possibilities for things to go wrong.
This is assuming the Bucs don't take T-Rich, the Jags or anyone else before pick 14 don't take Floyd, and that Rams and Cowboys are actually looking to trade.
But hey, a man can dream right?