25 Most Infamous Routines in Baseball Today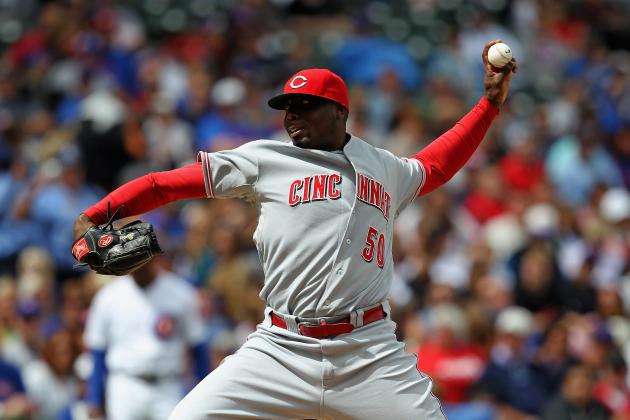 Jonathan Daniel/Getty Images

In baseball, we know of players who have their own specific routines. It may be something subconscious or something very clear, but they are very much well-known.
Those that are well-known have quite a history, and some have developed the reputation of being rather infamous, whether it's considered infamous to the media, their own team or the opposing team. There are also general shifts in the MLB landscape of late that fall into this as well.
Here are 25 of the most infamous routines currently in baseball. Admittedly, infamous is not exactly the right word for some of these, but they are certainly worth mentioning.
Begin Slideshow

»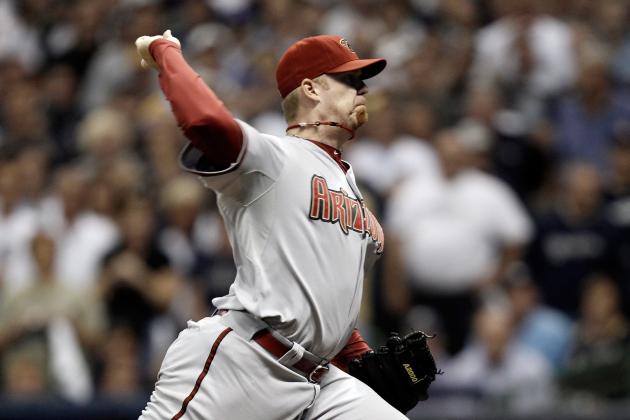 Jared Wickerham/Getty Images

Is J.J. Putz's stare in the caliber of players like Bob Gibson or Andy Pettitte? Of course not. That being said, it is still quite intimidating and perhaps underrated.
One of the biggest parts of his pitching game now that the closer has aged a bit is his stare-down of opposing hitters. It's what led him to 45 saves last year for the resurgent Arizona Diamondbacks.
Brad Hawpe's leg kick is not exactly infamous, partially since he's trying to make a team now and partially since he played for the San Diego Padres last year.
I almost wrote that he was a pitcher rather than an outfielder because his leg kick before he bats is exactly what you'd expect from a pitcher. Since he has struggled outside of Colorado, maybe he should try being a pitcher now.
It doesn't look like much in the video, but for a hitter it's more than you want to see.
When Aaron Rowand was with the Phillies, his batting stance was simply something they lived with, as he was great on defense and not afraid to make tough plays. Besides, he had a career year with Philly.
With the San Francisco Giants, his hitting quickly fell off and his batting stance became a lot more infamous, as his time with the Giants appears to be the last we'll see of his stance, which looks like he's afraid of the ball.
Ian Kinsler's batting stance is certainly unorthodox, but it's really only infamous to the pitchers who have to face it day-in and day-out.
Suffice it to say, Kinsler just keeps moving around when he's at the plate and doesn't stand still. It has worked for him so far given his great numbers, but it is rather disorienting to watch nonetheless.
Josh Outman has an unorthodox style of pitching unlike anyone else in baseball. He has been somewhat effective, but it has been in very limited playing time.
What makes his style infamous is the same reason for his limited time. He had Tommy John surgery and missed the 2010 season and has yet to be on a major league roster for a full season.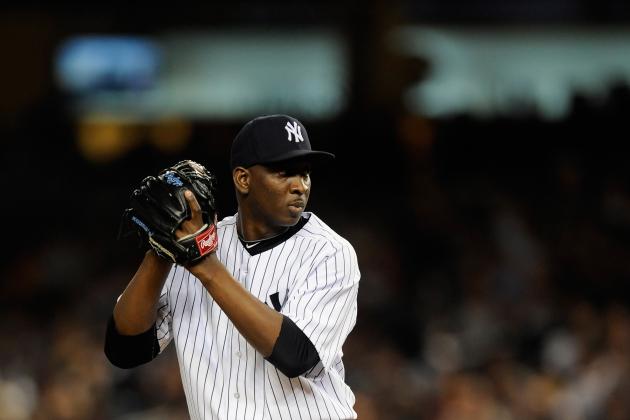 Patrick McDermott/Getty Images

This seems to be a growing trend of late, though it is still in the works. The prime examples are Rafael Soriano and Francisco Rodriguez, who are being paid big bucks to pitch in the eighth inning every so often.
It's not a good trend, since where does that end? Will teams begin signing guys to contracts to pitch in the seventh or purposely bring in a sixth starter as insurance and give him a big contract? I'm fine paying closers but there's got to be a limit, and it's a routine I consider infamous.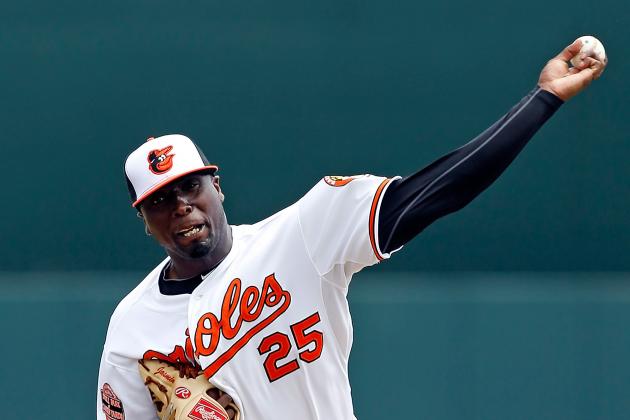 J. Meric/Getty Images

Those who have seen Dontrelle Willis' entire pitching motion know exactly what I mean here. From the start to his follow through, Willis had one of the most unorthodox motions in recent memory.
It's the same one that made him famous (winning 22 games and nearly winning the Cy Young) and infamous (the downward spiral and ineffectiveness afterward).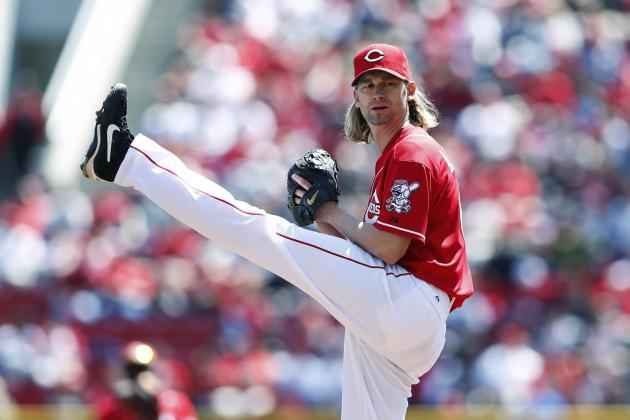 Joe Robbins/Getty Images

Bronson Arroyo has found a home of late as the veteran presence on the Cincinnati Reds' roster, but both Reds and Red Sox fans really know him for one thing: the leg kick.
It's unlike anything else in baseball, as he moves his leg so high that one has to ask how that actually helps with control or the pitch in general. Given his stats the past couple years, I don't really think it helps at all.
When a pitcher is on the mound, you expect him to have control of the baseball. As a result, having control of the person seems like common sense.
With Mike Gonzalez however, all the teetering he does on the mound practically makes him seem drunk as he pitches. It got him through nearly 400 games, so maybe he's onto something, even if the disorientation is hard on both batters and fans.
David Maxwell/Getty Images

It's only natural for a player like Jim Thome to have a routine. After all, he has played in over 20 seasons and has hit over 600 home runs. His is also a rather simple routine.
When he comes to the batter's box, he points his bat to right field before getting himself ready, in a move taken from the film The Natural. It seems to have worked well given how many home runs he has hit.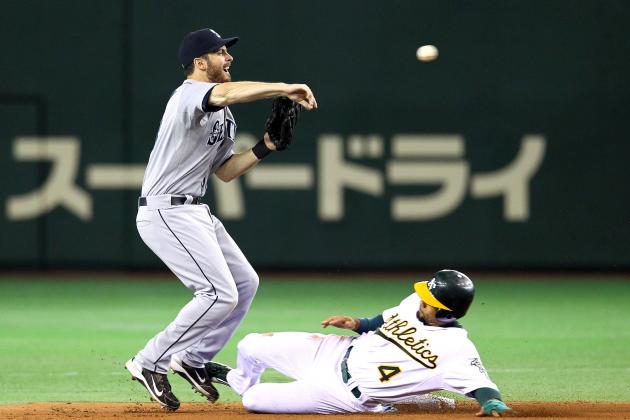 Koji Watanabe/Getty Images

Opening Day felt like it was this past Thursday, with most teams playing their first game of the season. In reality, it was back in late March, when the Seattle Mariners and Oakland Athletics played two games in Japan.
What made it infamous is that few knew about it here in America, as it was tape delayed and the two teams went back to playing spring training games afterwards. I'm fine with Japan seeing us in action, but it probably couldn't have been handled worse by MLB.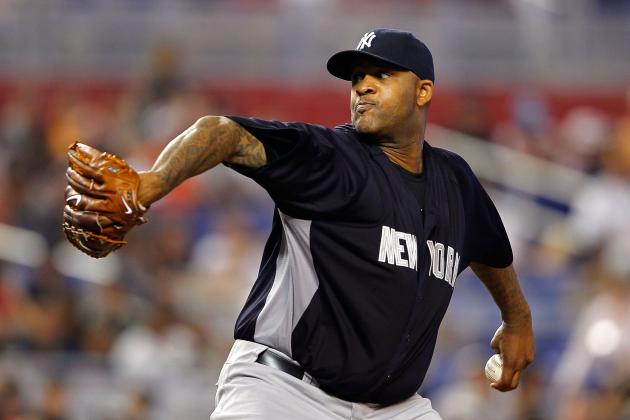 Mike Ehrmann/Getty Images

For a while, I actually thought the nickname "Crooked Cap Sabathia" would catch on. It didn't, since he's a great pitcher first and a guy who wears his cap askew second.
It's a lot less noticeable since he joined the Yankees and was more prominent while he was with the Indians and Brewers. Perhaps it's time to retire this off lists such as these, as it went the way of Johnny Damon's beard in New York.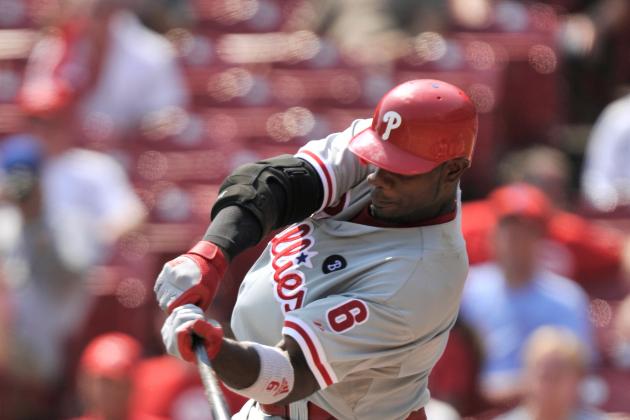 Jamie Sabau/Getty Images

Like CC Sabathia's cap, this seems to have become less pronounced over time. Especially early in his career though, Ryan Howard had one of the most open batting stances I've seen, as his legs were quite far apart.
He is productive with the stance, since he's able to move himself just enough to really get some good power on the ball.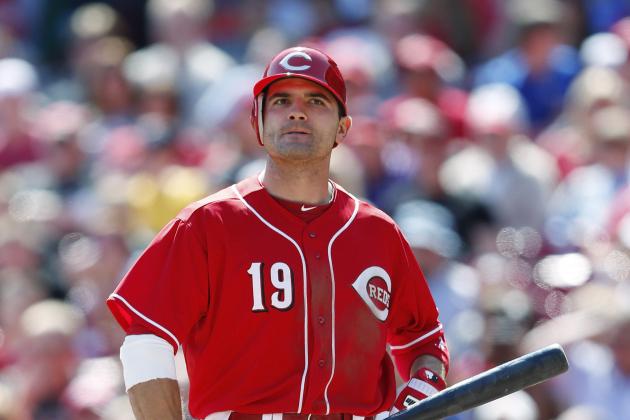 Joe Robbins/Getty Images

Maybe it's just my imagination, but with the recent deals given to Albert Pujols and Joey Votto, it feels like there's an uptick of very long-term deals.
Keeping someone around to build a franchise is great, but Pujols is now under contract well into his 40s, and Joey Votto will be nearly 40 as well. The Yankees are regretting the last chunk of A-Rod's contract, and six or so years from now these two contracts will feel that same regret.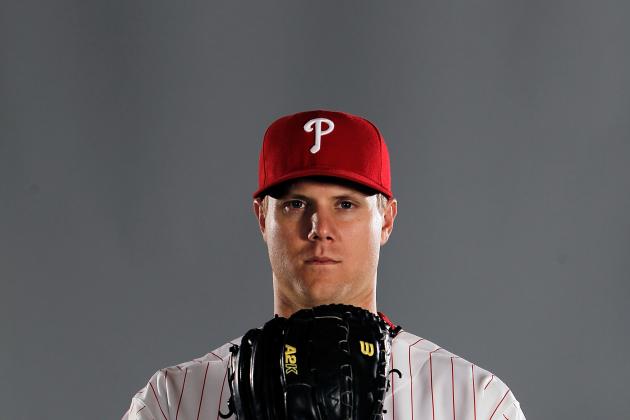 Jonathan Ferrey/Getty Images

Jonathan Papelbon is either one of the elite relievers in baseball or incredibly overrated depending on who you ask; few have opinions falling in between. One thing is certain, though: He has one of the best pitching stares in the game.
He is able to stare down batters with the best of them, and it has helped him get not only a lot of saves with the Red Sox but a massive contract with the Philadelphia Phillies.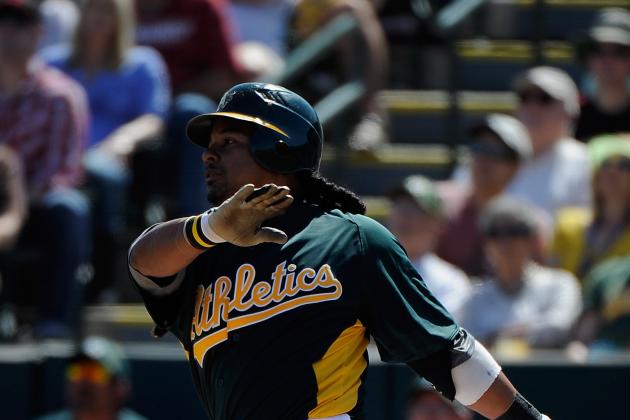 Kevork Djansezian/Getty Images

Manny Ramirez is surprisingly still around, though it'll be a while before we see him in an A's uniform.
From his time in Boston to Los Angeles and Tampa Bay, Manny Ramirez has probably been the most colorful personality on the baseball diamond, hence the "Manny being Manny" term. Once he returns later this year, I'm sure we'll see that in action again.
Andy Lyons/Getty Images

There's no question that Ozzie Guillen is the most outspoken manager in baseball, but what puts him to infamy is that some of his comments are rather strange at times.
He recent noted in an interview that he gets drunk after every game, and that's certainly an infamous routine that's new to us. Needless to say, his comments get him into trouble at times.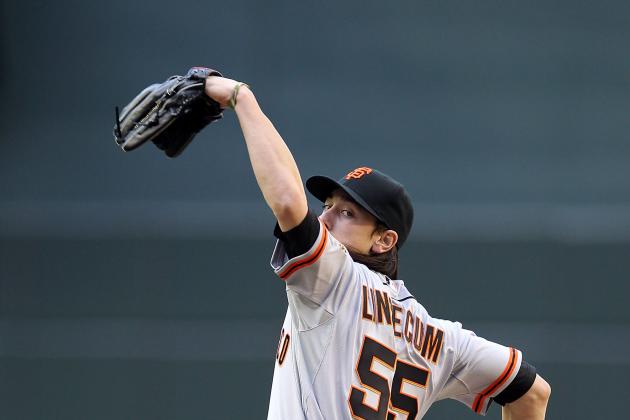 Christian Petersen/Getty Images

Tim Linecum's pitching stance isn't all that unorthodox compared to baseball's history. It's more of a throwback than anything else, putting his whole body into the pitch.
Still, what makes it infamous is that it works. He has two Cy Youngs already, and with the way he pitches, he could certainly win more over the course of his career.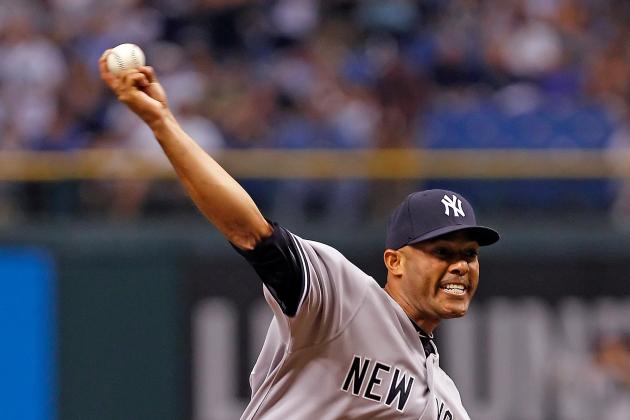 J. Meric/Getty Images

Mariano Rivera's entrance music is one of the few in baseball that nearly everyone knows. When "Enter Sandman" starts playing, you know it's time for Mo in Yankee Stadium.
Most people probably don't know the entrance music for the guys on the team they cheer for, but I'm sure they know Mariano's theme. It makes sense, since how many others have been as lights out as him?
Kevin Youkilis has such a strange and unique batting stance that I almost didn't feel the need to include a video. After all, if someone mentions Kevin Youkilis, the stance probably comes to mind very quickly.
I don't really see how holding the bat like that and bouncing around helps, but then again his plate discipline is at such a great level that it can pretty much be shrugged off.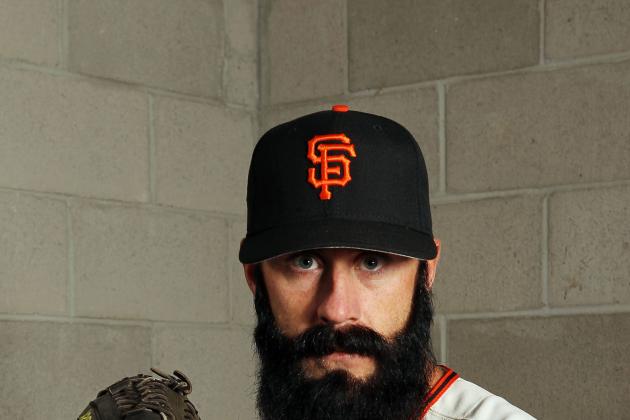 Jamie Squire/Getty Images

If Manny Ramirez isn't the most colorful personality in the big leagues, then that title belongs instead to Brian Wilson, both him and his beard.
He started growing that beard during the 2010 season and has yet to shave it. With how he's been pitching, he hasn't really needed a reason to do that anyway.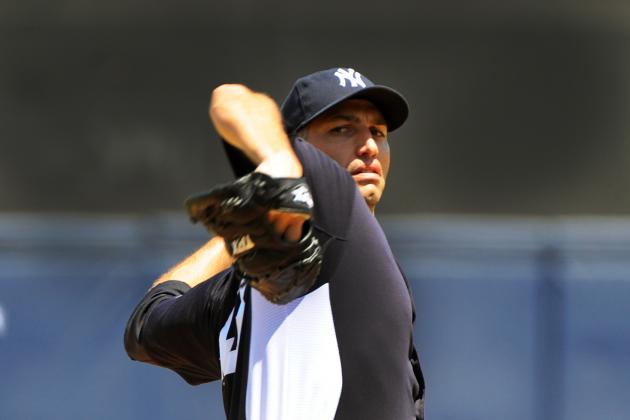 Al Messerschmidt/Getty Images

If there's one thing that takes Andy Pettitte's pitching game from great to elite, it's the stare he gives opposing batsmen, one that ranks among the greatest all-time.
His ability to stare batters down was not the main thing that gave him 240 wins in his career, but I'm sure it helped, especially when his stare was nearly on the level of Bob Gibson's.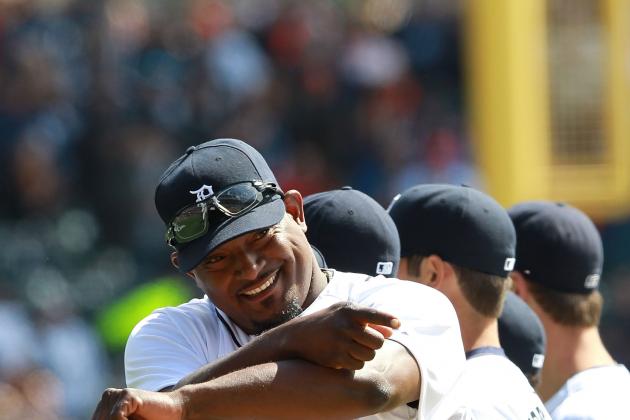 Leon Halip/Getty Images

Jose Valverde's antics are either loved or hated, and there are some who certainly find his demeanor rather infamous on the field.
Whenever he gets a save, he does get rather crazy and expressive about it. Tigers fans will take it, seeing as how he had an amazing 2011 season.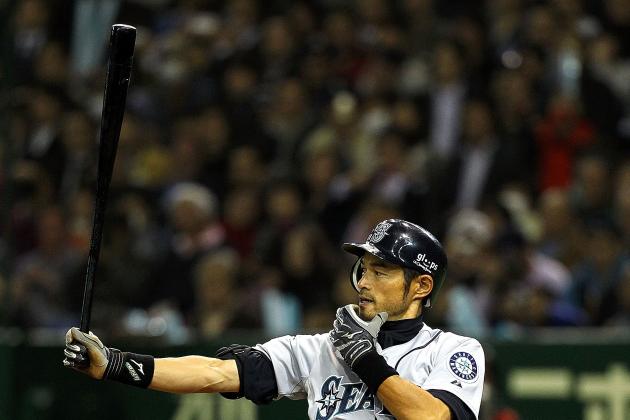 Koji Watanabe/Getty Images

If there's one person whose batting stance is almost universally known, it's Ichiro's. The bat stretched out before he goes to hit doesn't look like much, but it can be intimidating.
Besides, when a guy has the record for most hits in a season, I'm pretty sure he knows what he's doing when it comes to batting routines.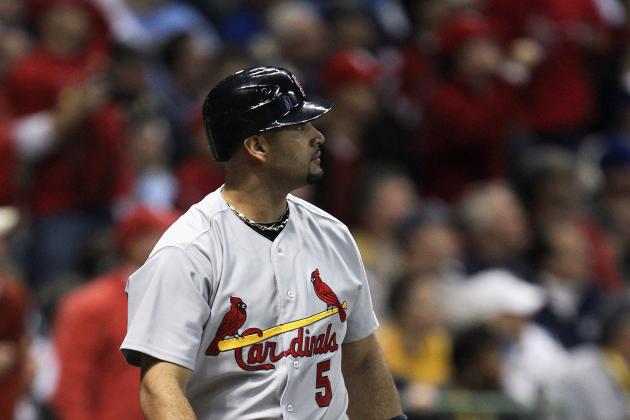 Jonathan Daniel/Getty Images

When anyone glances at a home run ball a bit too long, it's looked down upon. A player should ideally act like he has been there before rather than standing there admiring the ball.
When it's Albert Pujols, it's not only accepted but expected. He hits enough of them that he knows when they're long gone, and if anyone is allowed to stare and admire his work, it's a perennial MVP candidate.