2012 NFL Draft: Why the Dallas Cowboys Should Go with O-Lineman in First-Round?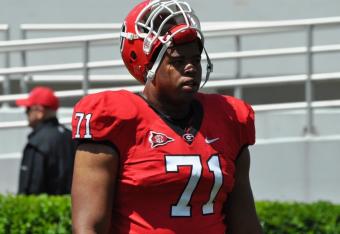 Cordy Glenn (6'5, 345)

I certainly would not hold my breath on this theory, but it makes a whole lot of sense.
How about University of Georgia tackle/guard prospect Cordy Glenn to Dallas in the first round of the upcoming draft?
Hear me out on this because you, like many others, are probably sold on the idea that a defensive player is a lock later this month with the 14th selection.
Well, it's a fair assumption that the Cowboys will look to improve a defense that is too small in the trenches with their first selection in the upcoming NFL Draft. While this move is likely, it's also a given that nobody really knows what the Cowboys will do once they are on the clock.
When holding the 14th selection in the first round, it is important to remember that 13 other teams will be choosing ahead of you and this will inevitable change the entire ballgame.
Starting quarterback Tony Romo has really been getting beat up the last few seasons, and for an offense that is very close to championship caliber, this has to stop.
The fact is the Cowboys are rebuilding their offensive line, a project that began last year with the release of aging veterans and the first round selection of tackle Tyron Smith.
Let's assume that Dallas has either already decided to address the offensive line again or that they end up deciding on this direction, because all defensive priorities are gone once they're on the clock. This would pretty much narrow things down to the offensive line once again – and rightly so.
Owner Jerry Jones recently admitted to Dallas media that the release of veteran linemen such as Leonard Davis, Andre Gurode and Marc Colombo created much more concern for Romo than perhaps he had hoped entering 2011.
Romo injury history has accelerated beginning with this 2010 hit from Michael Boley.
On that note, it really shouldn't have been much of a surprise.
Romo suffered a broken collarbone in 2010 that killed half of the season and may have gone far in leading to the firing of former head coach Wade Phillips. Keep in mind that Davis, Gurode and Colombo were all in the fold back then.
Let's recall the departure of franchise left tackle Flozell Adams following the 2009 season and also consider that Dallas is still hoping to man this position with last season's rookie first-rounder Tyron Smith and big questions remain.
On the plus side, but still opening up another question, is the recent release of right guard Kyle Kosier, a pedestrian lineman on his very best day. It's easy to see that the Cowboys essentially have to rebuild the entire offensive line, takeaway left tackle heading into 2012.
Don't get me started on the center position. And yes, Gurode needed to go long before he actually did.
Yes, the Dallas offensive line is in a state of fundamental change and a player like Glenn could go very far in determining how this offense performs next season.
Now some will say that an offensive guard does not demonstrate the value that the headline above suggests, but those people would be dead wrong.
Glenn is a massive lineman who compares in some ways to Hall of Famer Larry Allen and possibly Leonard Davis. It's not typical that one lineman possesses both the height and mass of either a guard or tackle. In other words, Glenn could play both positions that are in big time need of upgrades.
Should the Cowboys draft for offense or defense in the first round?
It's true that Free is a solid fit at right tackle, as limited experience has shown. It's also true that Free is not a starting left tackle in the NFL, which is the one reason he's heading back over to the right side.
But Free could also slide inside to play right guard as well, and with his nice combination of power and athleticism would be a significant upgrade over Kosier.
The more likely scenario could be Free staying at right tackle with Glenn moving to right guard, likely his best fit in the pros.
See the flexibility that is possible?
I think the importance of this direction is more than obvious, and the question now is how exactly the Cowboys keep Romo on his feet, while also improving a running game that stands to improve.
Taking Glenn with the 14th selection might be a reach, and I think there's a strong possibility that Dallas actually trades down rather than picking defense or even guard prospect David DeCastro. This could land the Cowboys anywhere from the 20th selection on down. Suddenly Glenn is no longer a reach at all and there could be an additional second round pick as well.
The Cowboys are not one or two players away from competing in the Super Bowl. I would suggest that they are at least that many players on both sides of the ball away from contention.
Dallas needs players and there's more than one way to accomplish this.
So come late April, don't be surprised if the Cowboys select value over substance in gaining more good players as opposed to trying to land one great one.
This article is
What is the duplicate article?
Why is this article offensive?
Where is this article plagiarized from?
Why is this article poorly edited?

Dallas Cowboys: Like this team?