2012 NFL Draft: Trent Richardson and 7 Most Explosive Players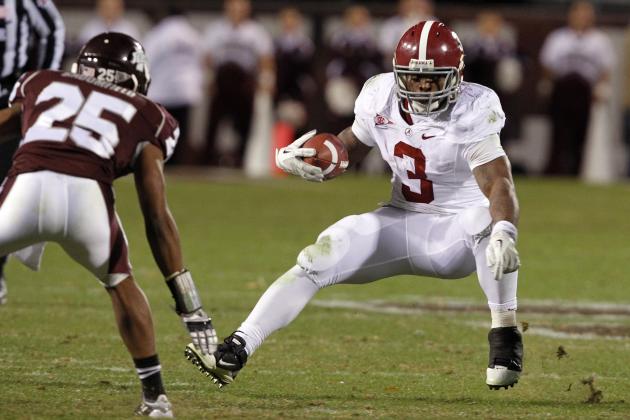 Butch Dill/Getty Images

The 2012 NFL Draft Class is one of the most athletic and deep ones we've seen in recent years. With guys like Robert Griffin III and Trent Richardson headlining the top few spots on the big board, this hardly comes as a surprise.
With Andrew Luck all but cemented as the first pick of the draft and heading to Indianapolis as Peyton Manning's successor, all eyes turn toward the rest of the draft. Players like Oregon's electric running back LaMichael James will most likely be selected outside of the first round, showing just how talented the 2012 Draft Class really is.
Here we take a look at seven guys who will most likely be regulars on SportsCenter's "Top 10" for their highlight reel plays. These explosive players will provide a jolt of energy and excitement to their new teams and especially to that team's fan base.
Begin Slideshow

»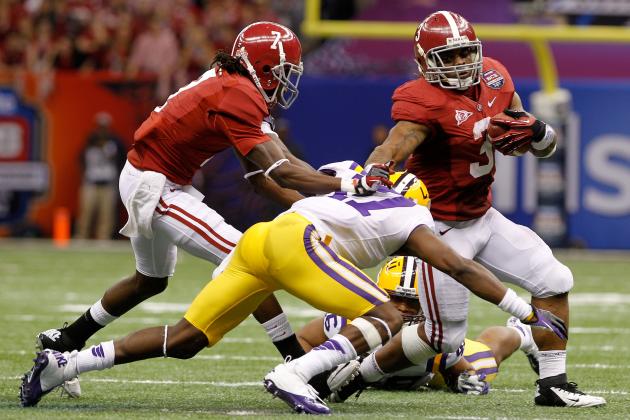 Chris Graythen/Getty Images

Emerging from the shadow of former Heisman Trophy winner Mark Ingram, Trent Richardson showed that there would be no lull in the Tide's backfield. Although Ingram was more of a between-the-tackles type of back, Richardson proved to be a little more versatile, as he could also cut it outside and turn on the burners with the best of them.
Richardson appears to be headed around the middle of the top 10 spots in the draft, possibly Cleveland at four or Tampa Bay at five. Whoever winds up getting Richardson will surely be pleased with their selection, as he is clear and far away the best running back in this year's class.
Whether he's shedding tacklers or juking out defensive backs in the secondary, get used to seeing some impressive plays out of Trent Richardson when he gets to The League.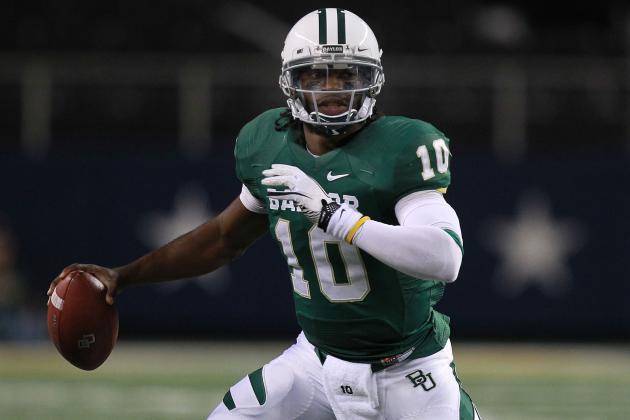 Ronald Martinez/Getty Images

It isn't too often that the player projected to go number one in the draft is not the most hyped player leading up to draft day. However, Robert Griffin III has had everyone talking and has made a lot of people forget about Andrew Luck.
To be fair, the chatter on Luck has mainly subsided due to the fact that he is basically the unanimous top choice, but Griffin has created the most buzz of prospective number two picks since Reggie Bush in 2006, when until a few days prior to draft day he was supposed to go number one.
Griffin's athleticism at the quarterback position is unparalleled by all but Michael Vick. However, Griffin has displayed a pocket presence and accuracy that we have yet to see from Vick, making his game perhaps even more dangerous for opponents.
The Heisman Trophy winner seems a lock to go number two overall to Washington, who traded up with the Rams to ensure that they would get their guy in Robert Griffin III. Should he indeed become a Redskin later this month, Mike Shanahan and company will have a true gem in their hands to polish into one of the most explosive players the league has ever seen.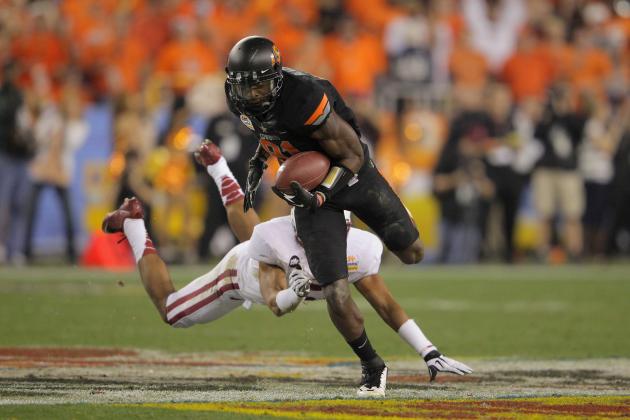 Doug Pensinger/Getty Images

Justin Blackmon, formerly of the Oklahoma State Cowboys, is as rare a talent as there is at the wide receiver position. Blackmon, at 6'1", isn't the biggest guy, but he weighs in at 207 pounds, so he certainly isn't small either. However, what makes him so much better than the rest are his hands and superior leaping ability.
Some of the plays that Blackmon has made at Oklahoma State have been nothing short of remarkable. He has flypaper-like hands and will make the catch no matter where it is thrown to on his body. A smart receiver who can be very physical off the line, Justin Blackmon seems to project as a surefire top-five selection in this year's draft.
Look for Blackmon to reel in some balls that would be uncatchable for most receivers. His play in college hints at him having some real Larry Fitzgerald-like grabs in him.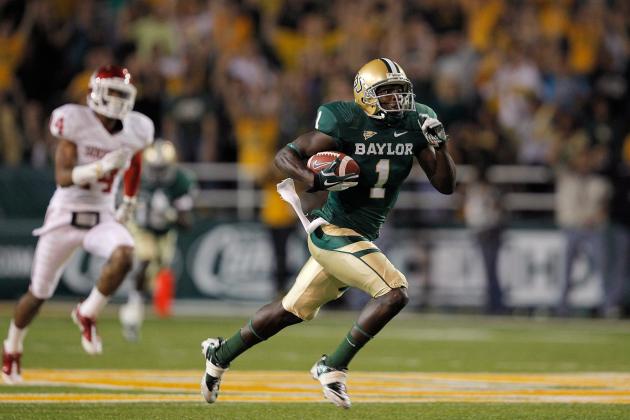 Sarah Glenn/Getty Images

The second Baylor Bear to make the list, Kendall Wright projects to be a mid- to late-first round pick. While he is slightly undersized at 5'10", he makes up for it in speed and explosiveness. He ran a 4.61 40-yard dash at the NFL Combine, which isn't Chris Johnson-fast, but will surely get him by his fair share of corners at the next level.
Wright is the ideal man to run a slant with, as he is deadly off the line of scrimmage and can immediately get a step on the defender. His athleticism is what makes him so dangerous, and he has the intangibles to make him an instant threat in the NFL.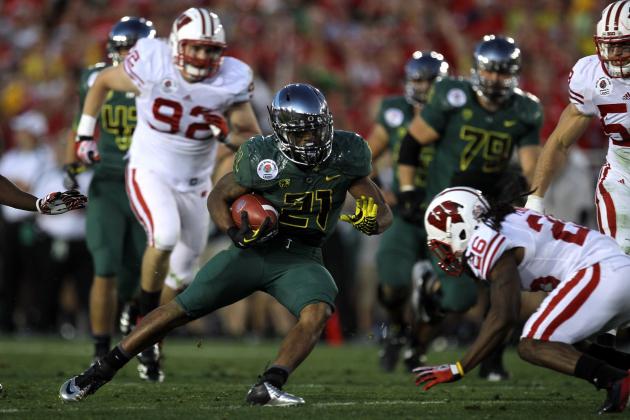 Stephen Dunn/Getty Images

It isn't too often that we see a player with the explosiveness and elusiveness of LaMichael James and not see him selected in the first round. James appears to be a second- to third-rounder at this point, most likely due to his 5'8" frame.
However, for a guy that size, at 194 pounds he has decent bulk, especially given the fact that he has top-end speed, having run a 4.45 40-yard dash at the combine. James could wind up taking on a scatback type of role in the NFL, since he has the speed and quickness for it, but he has underrated carrying abilities between the tackles.
He will need to continue to hone his ball-security skills, but if he can take care of the football, there's no reason to believe James couldn't develop into a 20-carries-a-game guy.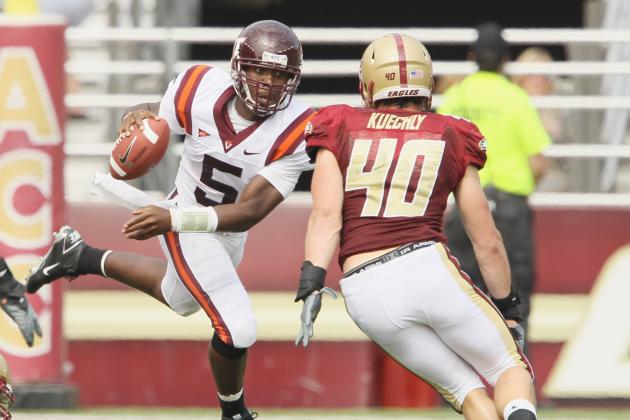 Elsa/Getty Images

When we think of explosive players, our minds tend to float toward players on the offensive side of the ball, but Luke Kuechly of Boston College is the definition of explosive. After leading the nation in tackles the last two seasons, Kuechly is no longer under the radar; the kid is the real deal.
For every play for which BC is on defense, you can be sure Kuechly was near the ball. Kuechly covers the field as well as anyone and has a nose for the ball that you just don't see often. He has a tremendous ability to shed blockers and has the speed to cut off runners coming off the edge, as his 4.58 40-time clearly illustrates.
Kuechly is one of the most instinctual players to come out of the draft in a long time and fits the mold of a true inside linebacker. Wherever he lands (most likely in the middle of the first round), he will surely step in and make an impact immediately.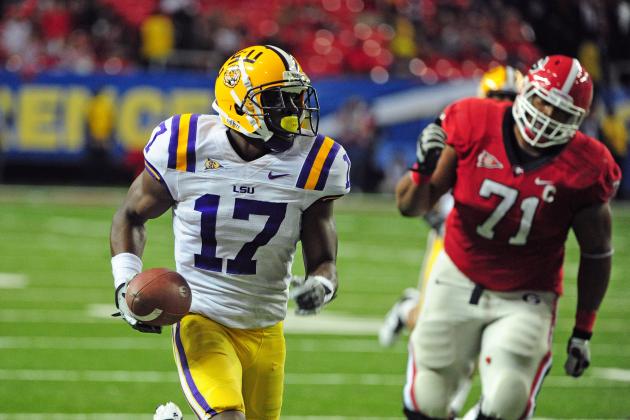 Scott Cunningham/Getty Images

Another defender to make the cut, Morris Claiborne makes it not only because of his superior play-making ability in coverage but also because he is a threat in the return game. He has tremendous size for the position at 5'11" and plays very physically, but he can hang with anyone, as his 4.50 40 suggests. He can run along any receiver's hip and stick him with ease.
Claiborne's athleticism and quickness makes him one of the most explosive players in the draft, and scouts have deemed him a top-five caliber player in the first-round on draft day. He was a key player in LSU's run to the National Championship Game and should give whoever takes him an immediate boost in the secondary and on special teams.