MLB Prospects: Every AL East Team's Rawest Prospect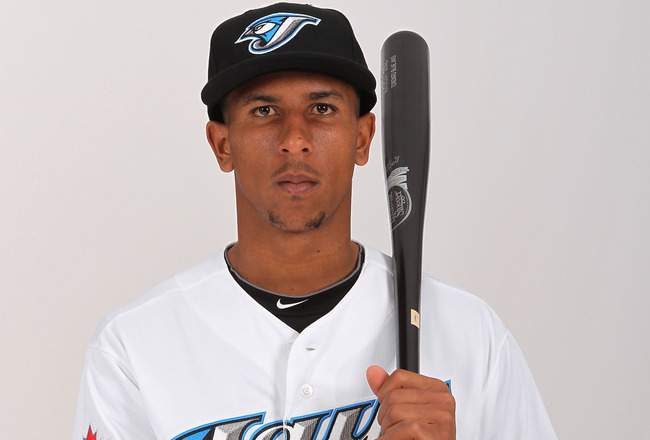 Nick Laham/Getty Images
With Prospect Pipeline's Top 50 now in place, it's time to take a deeper look at these prospects from a positional standpoint.
As I continue to put together top 10 prospect scouting reports for every organization, I'll also be ranking prospects by both position and skill set (or as I refer to them, tools).
Today, we take a look at baseball's rawest prospects, starting in the American League East. These players typically possess pure athleticism and natural talent, but their baseball skills tend to lag behind. For example, a player who runs from home to first in around four seconds may struggle to consistently put the ball in play.
Gary Sanchez, New York Yankees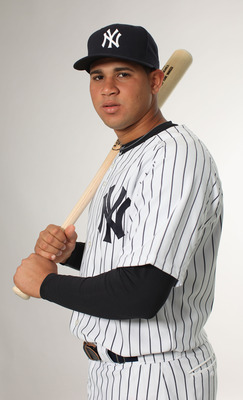 Nick Laham/Getty Images
Position: C
Height/Weight: R/R
DOB: 12/2/1992
Bats/Throws: R/R
Drafted/Signed: 2009; Dominican Republic
2011 Stats
Single-A: .256/.335/.485, .229 ISO, 121 wRC+ (343 PA)
Overview: Sanchez distinguished himself as one of the game's top catching prospects in 2010 by slashing .353/.408/.597 to begin his professional career. He has easy, raw power to all fields thanks to pure bat speed and should hit for a decent average. He knows how to work the count, often to his own detriment, and struggles with quality off-speed offerings.
His receiving skills can be poor at times and he can even come across as careless. Scouts think he'll improve behind the plate enough to keep his bat there a la Jesus Montero. He does have a plus arm that helped him gun down 31 percent of base stealers last season.
Sanchez could use some more time at Low-A to begin the season. But if he shows the same type of power that he did in 2011, he could be finish the season at High-A
ETA: 2015
Xander Bogaerts, Boston Red Sox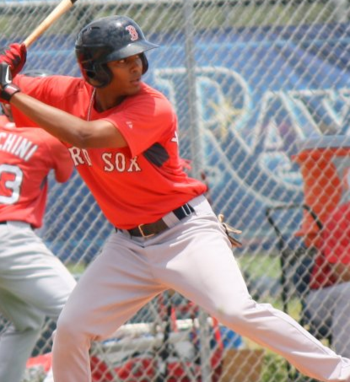 Position: SS
Height/Weight: 6-3/175
DOB: 10/1/1992
Bats/Throws: R/R
Drafted/Signed: 2009; Aruba
2011 Stats
Single-A: .260/.324/.509, .249 ISO, 120 wRC+ (296 PA)
Overview: Bogaerts put his name on the map with a .314/.396/.423 professional debut in 2010, and he followed it by blasting 16 home runs in 72 games in 2011. Only 19 years old, his smooth swing and plus power allows him to drive the ball to all fields with backspin carry. As he faces more advanced pitching, however, he'll be forced to become more selective, especially with quality off-speed pitches.
While he has soft hands and a plus arm at shortstop, Bogaerts lacks the quickness needed to remain there. Considering his other tools, he could either end up in right field or at third base—likely the latter.
He may hit a few speed bumps this season at High-A, but that's often the case with elite power-hitting prospects.
ETA: 2015
Drew Vettleson, Tampa Bay Rays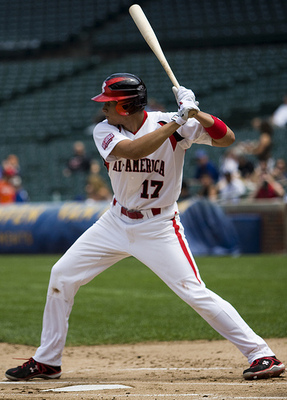 Position: OF
Height/Weight: 6'/196
DOB: 7/19/1991
Bats/Throws: L/R
Drafted/Signed: 2010; first round (HS—Silverdale, WA)
2011 Stats
Rookie: .282/.357/.462, 20 SB, .179 ISO, 123 wRC+ (267 PA)
Overview: Vettleson has a quick bat and a line-drive swing that allows him to spray the ball from line to line. For someone his age, his plate discipline is beyond his years. The lean, athletic type, his power should emerge as he develops physically, though, it will likely never be anything more than average.
He's a slightly above-average runner in both the outfield and on the base paths due to good instincts and a knack for getting good jumps. He covers considerable ground in the outfield, although his arm profiles best in right field.
He's only 20 years old, so the Rays will take their time in ushering him through their system and let him dictate his own progress. He faces a healthy challenge in 2012, as he'll likely begin his first full season at Low-A.
ETA: 2015
Anthony Gose, Toronto Blue Jays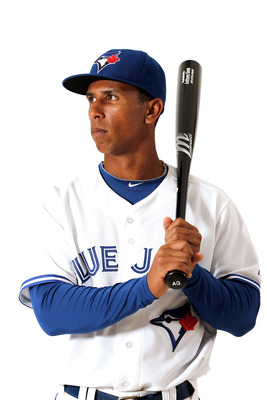 Jonathan Ferrey/Getty Images
Position: OF
Height/Weight: 6'1"/190
DOB: 8/10/1990
Bats/Throws: L/L
Drafted/Signed: 2008; second round (HS—Bellflower, CA)
2011 Stats
Double-A: .253/.349/.415, .161 ISO, 124 wRC+ (587 PA)
Overview: One of the most toolsy players in all of the minor leagues, Gose has game-changing speed that grades out as an easy 70. His plus defense and arm in center field will allow him to stick at the position, as he's able to cover an obscene amount of ground. He flashed above-average power last season at Double-A, though, he'll likely produce only average pop in the major leagues.
His hit tool is the only thing that stands in the way of an immediate spot in the Blue Jays' outfield. Although he did a better job of drawing walks last season, his average didn't reflect it. His plate discipline will need to improve even more this season—especially his recognition of secondary offerings. He's far too fast and valuable to be a player who strikes out over 25 percent of the time.
ETA: 2013
Glynn Davis, Baltimore Orioles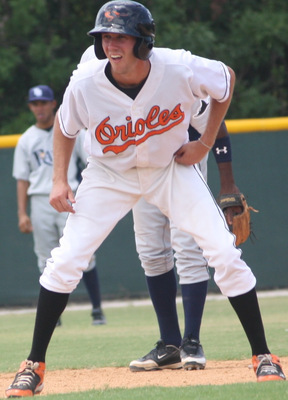 Position: OF
Height/Weight: 6'3"/170
DOB: 12/7/1991
Bats/Throws: R/R
Drafted/Signed: 2010; non-drafted free agent (CC of Baltimore County-Catonsville)
2011 Stats
Low-A: .271/.337/.337, 23 SB, .067 ISO, 100 wRC+ (286 PA)
Overview: The fastest player in the Orioles' system, Davis had an impressive pro debut in 2011. He's extremely athletic with wiry strength and double-plus speed. He's still learning how to be a center fielder, but early results suggest he could be a plus defender with slightly above-average arm strength. He'll likely never hit for much power, but his hit tool could be decent with an improved approach at the plate. He has top-of-the-order potential but is years away from any big-league consideration.
ETA: 2014
Keep Reading